Angel Voices: Justin Webb
Justin Webb, a co-founder of AgriWebb and active angel investor, shares his agricultural family roots, insights about Australia's AgTech industry and advice for fellow angel investors.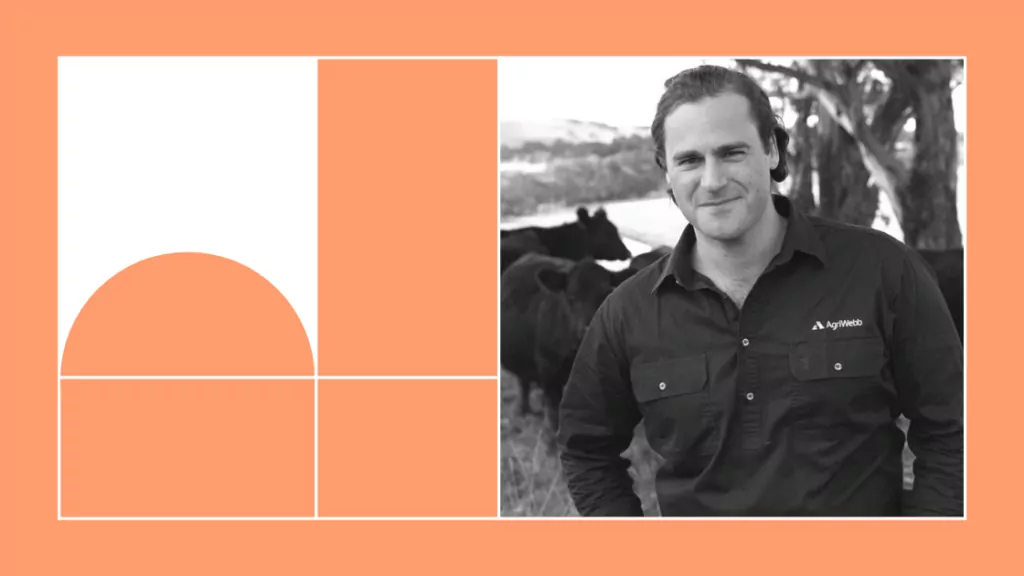 Justin's family history & background
My family's Australian agricultural heritage stretches back to free settlement in the late 19th century. In the 1890s Harry Webb, a long-time pastoral inspector for the Bank of Australasia, purchased and lived with his wife on "Comongin" near Quilpie which, at over a million acres, was one of the early broad grazing properties. The Webb family pastoral portfolio waxed and waned through generations that followed including ownership of "Babbiloora" (1m acres) "Wandsworth" (300k acres), "Cowley" (500k acres), "Big Creek" (400k acres) and other formative Australian grazing properties.
My Father, born in 1939 in Deniliquin, lived an Australian story-book childhood in the 'bush'. He was educated remotely via correspondence before attending school and university in Melbourne. His career took him internationally, spanning many countries and therefore my own upbringing was disconnected from my agricultural heritage.
I was schooled in the UK, then studied Economics and Applied Mathematics at Harvard University in the US and post-graduate MBA at Oxford. Professionally, I worked on the application of Machine Learning and Artificial Intelligence in Asset Management, founding and growing two Long/Short "Hedge Funds" before selling them to Macquarie Bank (2007) and Westpac (2010). I subsequently founded and built PacWealth Capital into a $4Bn advisory firm in the South Pacific. More recently, I was Co-Head of the $60Bn Retail Client Business for BlackRock AU/NZ.
Reconnecting to agricultural roots & building AgriWebb
During the 2010s I became more reintegrated into the management planning of our family agriculture business, and it was at these meetings that I realised the gap of data evident for forward projection and accurate decision making. How could we know where to invest in the farm if we didn't know the accurate accountability of previous decisions?
AgriWebb was born on the simple, powerful idea of digitising on-farm production data. It is a tool that literally replaces the "notebook in the farmer's top-pocket". AgriWebb has grown over the past 6 years to manage over 15m head of livestock across 90m acres around the globe with a rapidly expanding international footprint in the UK, South Africa, Brazil and the USA. Recently valued by external investment from an NYSE-listed company at over $100m.
Wearing the hat of a founder & investor
Throughout my entrepreneurial journey as a founder of four companies, I have concurrently been the Investment Director for our Family Office. My own academic training and institutional investment with applied mathematics combined with my Father's extensive Fortune 500 business experience lends a hybrid perspective pertaining to private investment. Seeking companies with robust and defensively scalable business propositions coupled to exceptional founding executive teams typically lays the bedrock of statistically reliable early-stage venture investment. Subsequent research layers on building quantitative models using non-linear tooling unlock a competitive advantage over the vast majority of institutional VC firms. Finally, we seek to uncover firms which we can lend or strengthen an unfair advantage through our own commercial relationships in the global landscape. Ultimately, we hope that the Founders we partner with are immediately de-risked on their journey to success.
Why angel investing?
Artificial intelligence and machine learning tools tend to extract alpha from niche opportunities in the public markets, therefore I gained an early insight into nuanced but critical elements of both risk and growth which are robust throughout a company's lifecycle. From this kernel, I have evolved my approach to angel investing and feel there is a tremendous amount of as-yet unexplained investment return by disciplined investment approaches in the early stages of a company life-cycle.
Engaging companies at the early stages of their evolution presents a challenge that is as much human as it is statistical. The "art & science" of concurrently evaluating the vision, the opportunity, the market context and the entrepreneur is tremendously invigorating. The subsequent ability to help, consult, influence and catalyse the business growth is commercially and personally rewarding.
The importance of AgTech
AgTech is, at its core, the digitisation of the records and protocols of food production to increase productivity. Ultimately, we — producers and consumers — are all seeking to sustainably increase output while maintaining or reducing inputs. Which, by definition, is an increase in productivity.
Technology is box-seated to be a solution to this productivity paradox. Imagine how much more value agriculture could provide, not just in billions of dollars, but in terms of traceable quality and marketable provenance? If global farmers had access to the latest tools and technology, the cumulative benefits of productivity, provenance, and robust socioeconomic benefit is immense. Agriculture is the only industry that, through encouraged and incentivised proliferation of technology and operational practices can become sustainably and demonstrably carbon negative.
In 50 or 100 years the world will likely not remember the next ephemeral social media unicorn that facilitated image sharing or ego inflation but it will robustly integrate the technology that solved the Malthusian trap of feeding 10 billion people with healthy food in ways that improve our environment, not degenerate it. I can't think of a better vocation for considerate "angel" investing.
Hope for the Australian AgTech sector
Australia's exceptional AgTech founders are motivated to help improve the lives of millions of farmers and animals globally. The application of great technology enables them to transform family-owned operations, helping them to be more productive, sustainable, transparent and allowing their livestock to thrive. Feeding ten billion people by 2050 with fewer greenhouse emissions from independently profitable farms is not something that will happen on its own. If we are to effect a demonstrable change, the best AgTech founders need aligned backers to share their vision with conviction, patience and global aspirations. Fortunately, there are millions of farmers across the world seeking to leverage data-driven decisions to sustainably produce more from their land.
Why Australian angels should invest in AgTech
Australia holds a remarkable advantage in a few areas of the global startup arena; agriculture is one of them. Despite our relatively modest population, we truly play on the world stage. We are the biggest exporter of lamb, the second of beef and the fourth of grain. In fact, around ⅔ of Australia's agricultural production is exported. All from a country that constitutes less than 1% of the total global agricultural output! By fighting above our weight, we showcase our diverse, reliable, traceable excellence of food production. This sets a sandbox for AgTech innovation to be tested by the most forward-thinking and capable operators in the world. If you can make a product successful in Australia's harsh, diverse, demanding Ag market, you stand a very good chance of exporting and scaling that globally. This is nearly unique for Australian-born startups. The finance centers of NY, London and Tokyo don't wake up wondering what happened in Australia, but from the vast plains of the midwest to the fertile lands of Latin America, Australia enjoys an unparalleled influence. This means angel investors in Australian AgTech enjoy a competitive advantage globally.
Justin's advice for angel investors
As an investor, one needs to find their own competitive advantage. A unique combination of experience and vision that will unlock your potential to identify scalable opportunities. Angel investing is time-consuming and fraught with the statistical likelihood of failure. Therefore, a disciplined approach that stacks the deck in one's own favour as much as possible is not only desirable but required if one is to persevere.
Lastly, I suggest that you find people you trust who will give you unvarnished truth and honest feedback. I've made more good decisions by saying "no" to an investment that I was previously utterly convinced following a tough conversation with a friend or consigliere. Build your own investment committee and share the wealth of insight generously in the hope that it will pay back future dividends in kind.
AgTech publication recommendation
Follow the AgFunder Newsletter announcements. You will quickly get a feel of trends, market movements and where sector bets are taking shape globally.