Canopy Community Session | Go To Market Strategy
Earlier this month, Mike from Pluss Communities chatted with serial founder and Innovation Bay Founder Scout, Graeme Caplen, during one of our special Community Sessions, powered by our partners at Stripe.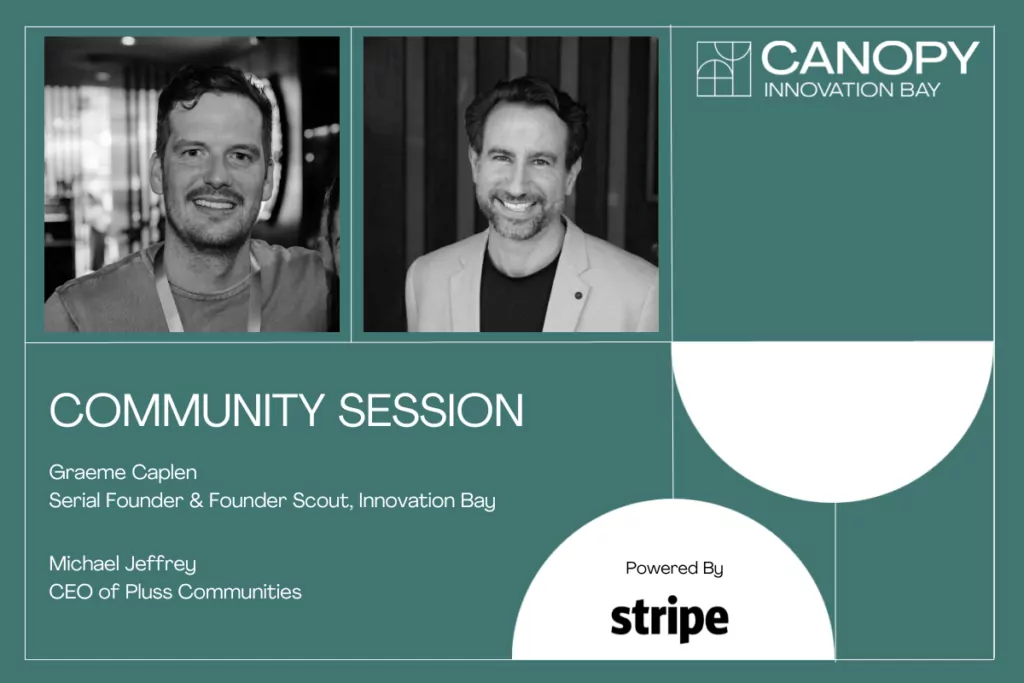 Canopy member Mike from our Canopy Community reached out to ask if there was someone in the Innovation Bay network who could advise on GTM strategy, as he was receiving several questions about it from potential investors. 
We didn't have to look too far to find a suitable expert. Our very own Innovation Bay Founder Scout, Graeme Caplen built GTM strategies in Australia, North America and Europe. He scaled from $0 – $2m ARR within 12 months (2019/2020) and built partner programs across 18 countries and had a lot of knowledge to share.
Mike's top takeaways from the chat with Graeme were:
A true GTM is lighter on strategy and heavier on tactics.
Be clear on your value proposition and who you are selling to and what it is about your product that is valuable to them. Make sure you have your profiles of your buyer personas sorted. Be clear on who the influencers and decision makers are. This is essential in any pitch deck.

Become at ease with selling.
Embrace it. Get comfortable with it. Don't be ashamed of it.
Tell investors how you will reach your next customers
9 to 10 decks don't include who you sell to and how you are going to get the product in front of them. Investors want to know that you can programatize and scale and have a plan in place to do so.
Know what metrics you actually need to track
Conversion percentages and time to close are good KPIs to be across. Be clear on your sales funnel and what numbers you need at each stage to hit the desired numbers. Be clear on your seasons and buying cycles for your customers. Focus on seasons where your customers are purchasing as your go-to priority.
We'd also like to extend a big thank you to our partners at Stripe for powering this curated Canopy Community Session.
---
More Innovation Bay content
Join the Innovation Bay community
INNOVATION BAY NEWSletter
Stay up to date
Sign up for monthly updates including exclusive interviews, pitch dates, event announcements, profile, news and much more.