Clive Burcham on How a Slower Life Is Still a Successful Life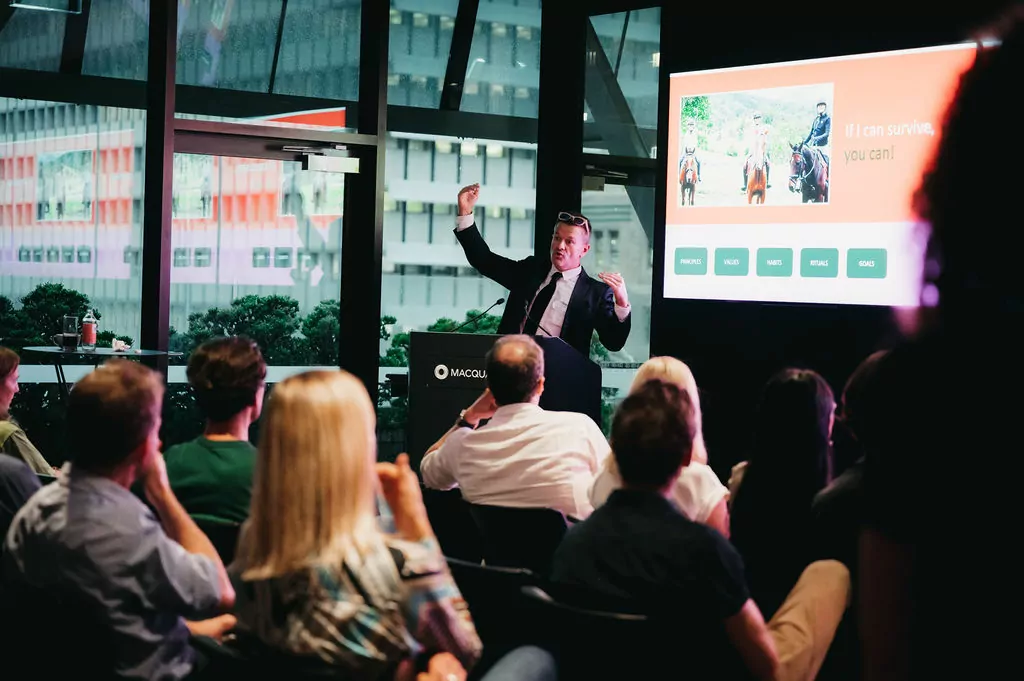 On March 23rd, our Summit founders gathered together for a special evening at the breathtaking Macquarie office in Sydney to hear about the future state of the market including macroeconomic predictions from the Head of Wealth Management at Macquarie, Jason Todd and an inside view of the SVB Collapse with ex-Associate, (and Summit member!) Jason Georgatos.
Following a dimming of the lights, we then settled in for a change of pace and welcomed Clive Burcham as our special guest speaker for the evening. Clive and our very own Innovation Bay founder, Ian Gardiner, have known each other for a long time and supported each other on their own startup journeys. Ian was right when he said Clive has an incredible story that needs to be heard – or several for that matter!
Reading Clive's impressive bio you might expect he would speak about being recognised for his work as an entrepreneur and social innovator like when he was awarded the Entrepreneur of the Year Award at the Australian Leadership Awards in 2009 or from 2010 when he was named one of Australia's Top 50 Social Innovators by The Australian newspaper…

He did share the story of his successful involvement in Global Citizen – which in case you have been living under a rock – is a social enterprise that aims to empower people to take action on global issues such as poverty, inequality, and climate change. 
And yet, what stood out most amongst the long list of accolades and amazing achievements was Clive's humility, authenticity, gentleness and generosity of spirit. And, his challenging of conventional wisdom around what a successful entrepreneur's life ought to look like. Clive brought a breath of fresh air to our ambitious group of high-growth hustlers with his encouragement for a slower, simpler and more focused way of living.
The Problem with the Modern Lifestyle:
According to Burcham, modern society is characterised by a frenetic pace of life, with people constantly rushing from one thing to the next and rarely taking the time to stop and reflect. This can lead to stress and burnout.
Burcham shared that the pursuit of success and material wealth can come at a steep cost, and that many people find themselves feeling unfulfilled and unsatisfied despite having achieved what they thought they originally wanted. He argues that by embracing a slower, simpler way of life, we can experience greater happiness, well-being, and fulfilment. Who doesn't want that?
The Benefits of a Slower Life:
So what exactly does Burcham mean by a slower, simpler life? At its core, his philosophy involves prioritising what truly matters in life and letting go of the rest. This might involve simplifying your possessions, reducing your workload, removing subscriptions, or even simply spending more time in nature and with loved ones…
Clive's presentation also helped us to see it's important to live a more sustainable lifestyle: by consuming less and focusing on what truly matters, we can reduce our carbon footprint and contribute to a more sustainable world. And that, by prioritising relationships and community over material possessions and status, we can build stronger and more meaningful connections with others.
It's these kinds of thought-provoking views and discussions, and general challenging of the status quo, that unite our Summit community and lead to such interesting memorable conversations at our Summit Sessions.
The experience has to be felt to be understood. Our Summit Sessions are real, raw and intimate. This is just a taste of some of the meaningful conversations had.
We have another Summit Session coming up on May 9th. Admittedly, this one is a bit of a different theme; looking at Exits and what's involved in preparing for a potential IPO.
If you want to know more about this or what's involved in joining our founder community and events, contact our Head of Founder Communities: Coby Sullivan. 
---
More Innovation Bay content
Join the Innovation Bay community
INNOVATION BAY NEWSletter
Stay up to date
Sign up for monthly updates including exclusive interviews, pitch dates, event announcements, profile, news and much more.