Essential Startup Reading List
5 must-read business books for startup founders and investors.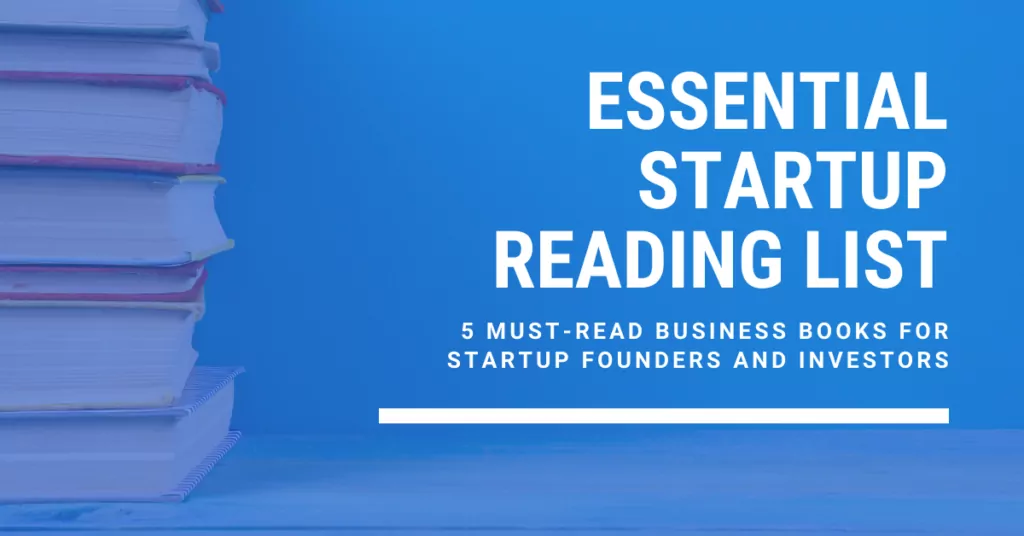 It's widely acknowledged that successful people read more. But with the nonstop hustle of working in the startup ecosystem, it's hard to imagine setting aside the time to read a whole book. With more time at home, this crisis may be the perfect time to catch up on reading.
Below are our top picks for business books to add to your reading list, sourced from the investors and founders we've interviewed on Open the Pod Bay Doors. Each of these 5 books contain valuable, practical insights about how to build a successful business. We hope you enjoy them as much as we do. Happy reading!
Both Dylan Lawrence, General Manager at New Zealand Trade & Enterprises (NZTE), and Cal Henderson, Co-founder & CTO of Slack recommended Bad Blood in their pod episodes.
Bad Blood covers the calamitous rise and fall of Theranos, the multibillion-dollar blood testing biotech startup founded by Elizabeth Holmes. It's a shocking page-turner that reveals how deception and blind faith fueled the ascension of Theranos to a $9 billion valuation.
Cal from Slack says Bad Blood is "The best book I've read in a few years." There's been some buzz about Theranos documentaries, but he recommends to "skip the TV show, read the book. The book is so much more scandalous and full of details."
According to Anil Sabharwal, VP of Chrome, Comms and Photos at Google, "some of the best business books still to this day are the ones written 20 years ago." This certainly holds true with Built to Last.
In Built to Last, authors Jim Collins and Jerry I. Porras identify 18 of the world's most successful and long-lasting companies, such as Coca-Cola, Walt Disney, Citi Bank, and Wal-Mart, and compare them with their competitors. Through their analysis, the authors identify the common practices that make these organizations stay ahead of the pack and stand the test of time.
Anil always refers back to Built to Last because he says "it really just describes how you set culture and policies and credos in your organization."
Wendell Keunemann, General Partner at Tidal Ventures recommended this book on negotiation penned by the FBI's former lead hostage negotiator.
Author Chris Voss welcomes you to the world of high-stakes negotiations, revealing 9 key principles that helped him and his team succeed and avoid disaster when it mattered most. The practical takeaways guide you through getting the deal you want in any scenario, from high-stakes situations to everyday conflicts at work and home.
Leaders at Google, Eric Schmidt, Jonathan Rosenberg and Alan Eagle, codify the wisdom of their legendary mentor Bill Campell in this essential guide for forward-thinking business leaders.
This book is so good that Ashik Ahmed, CEO, CTO & Co-Founder of Deputy, listened to the audiobook twice in one week! Ashik says, "One of the lines of the book that realize I can apply in my life as CEO…is when there's a problem in the company, most CEOs or other execs jump to solve the problem but the lesson in the book is how do you coach people? The philosophy is before you attack the problem, work the team. Can the team solve the problem? If so, you're really supporting and coaching the team."
Lucy Liu, President and Co-founder of Airwallex says Principles is one of her favourite professional books because she "always likes hedge fund stories and hearing how disciplined people can be."
Ray Dalio's investment firm Bridgewater Associates has made more money for its clients than any hedge fund in history and he certainly has a great story to tell. In Principles, Dalio shares the unconventional principles that he has honed over the past 40 years that have brought him success. Anyone or any business can adopt these principles to help achieve their goals.
For more insights and recommendations from brilliant founders and investors from the ANZ tech ecosystem, tune into our podcast Open the Pod Bay Doors!