Found at the Summit : Feature 1
Dave Harris, Managing Director of Guinevere Capital
Welcome to the very first Found At The Summit — an interview series that peeps into the every day lives of the wonderful Series A+ founders that make up Innovation Bay's Summit community. Feature #1 is with Dave Harris, Managing Director of Guinevere Capital, who discusses how his childhood passion for gaming and sport became his every day.
by Innovation Bay's, Sarah Catford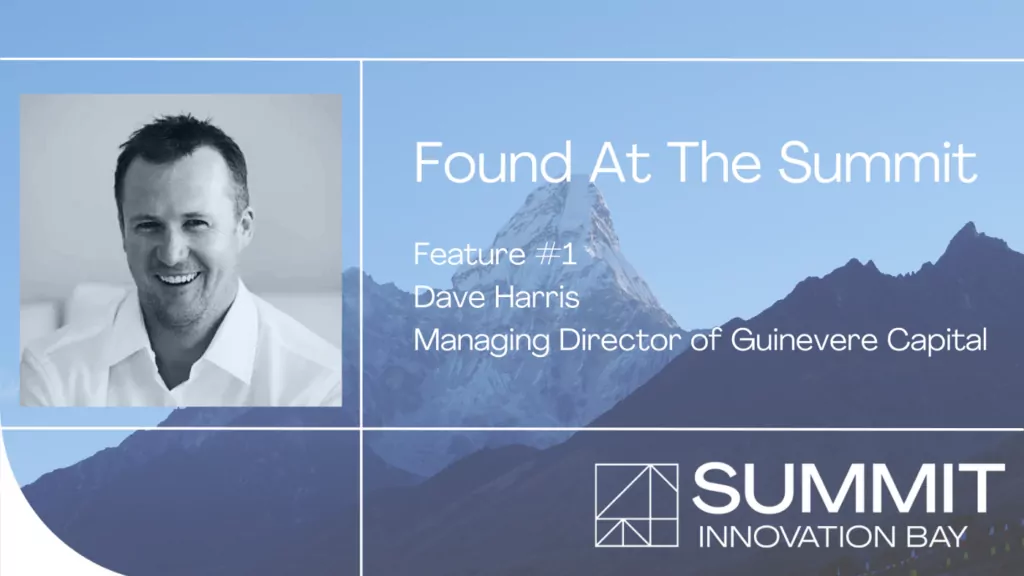 What's an average day for Dave?
I now architect my day around my mindset.
Pre-covid, I'd be away for 6 weeks at a time, living a super busy life battling jet lag. Really, I am not sure how productive I was during the franticness of these days.
Now, I compartmentalise my day through an energy level 'timer'. It looks like, 'am I energised and engaged, relaxed and focussed, or unproductive and basically killing time!' This will determine the activity I work on. I am always in a state of flexibility, working based on feel rather than blocking time to do a task that doesn't necessarily fit. It means I can make valuable use of my time.
I also find a run between my Australian work day and UK day is really helpful. I head out for a run and come back really energized, switched on and ready to go.
In saying all this, I cannot wait for the big Esports events again and a little globe trotting!
Tell us your childhood dream…
I grew up on a farm in the middle of nowhere. My father was a teacher and farmer. In the school holidays he'd bring home the school computers, the Microbee and Apple ll. I loved computers. I made computer games and played a lot of games too, both computer and traditional.
I also dreamed of being a professional sports athlete in running or AFL was always a dream.
At university in the mid-late 90s, I also created a play-by-email with a 10,000 person subscription list! And wasn't a bad income at $50k a year either! Watch this space for future re-launch.
On protecting personal time:
I am not precious about protecting my personal time. I think about my work 24/7, in a good way.
I am passionate and love what I do, so naturally I enjoy being immersed in it. I break up my day through walking the kids to school, grabbing a coffee or going for a run, and it allows space to reset my mind, relax with clarity and allow for new energy that creates a great flow state. This means I don't feel like I am burning out and I get to take the most of the opportunities that come my way.
When you are scaling a business, I understand process and structure is very important. But I have found myself going down a very different path, and I really appreciate the flexibility I have created in my days.
What's keeping you going?
A hunger and ambition to see the world.
There were a few people along the way that sent me down a path. My PE teacher encouraged me to follow sporting endeavors, sending me to Melbourne (from a farm!) and this opened my eyes to a new world, creating a sense of adventure and feeding my curiosity for 'what else?'.
Enjoying the journey and enjoying what I do has been a big driving force, and then second to this is internal locus of control, and believing there is always a way, even through all the setbacks.
Talk us through your mindful content consumption…
Other than the Habitual morning AFR read, I really try to immerse myself in the media and social media around Esports. We look to create the hype so we need to understand what our fans are thinking. My go to's:
Reddit — with a strong rule to consume not engage. It's a great way to keep a finger on the pulse and hear from the fans.
Twitter
Playing computer games
Watching other leagues
A word to your younger self:
Don't be intimidated. Don't be disheartened.
There is this anticipation that I once had, thinking every time I took the next step in my career (sporting or otherwise) the people around me would be a lot smarter and more elite. But then when I got there, I realised they too were also just trying to figure it all out.
When I look back 2 years, I know my younger self would kill to be where I am today.
A deeper dive on the early days of Dave's journey >> https://thedolanders.com/dave-harris-from-bonnie-doon-to-elite-sport-to-esports-episode-14/
Twitter: @daveharrisAUS
LinkedIn: https://www.linkedin.com/in/daharris1