Found at the Summit: Feature #3
Lisa Vincent, Co-Founder & CEO of HowToo
Found At The Summit is an interview series that peeps into the every day lives of the wonderful Series A+ founders that make up Innovation Bay's Summit community.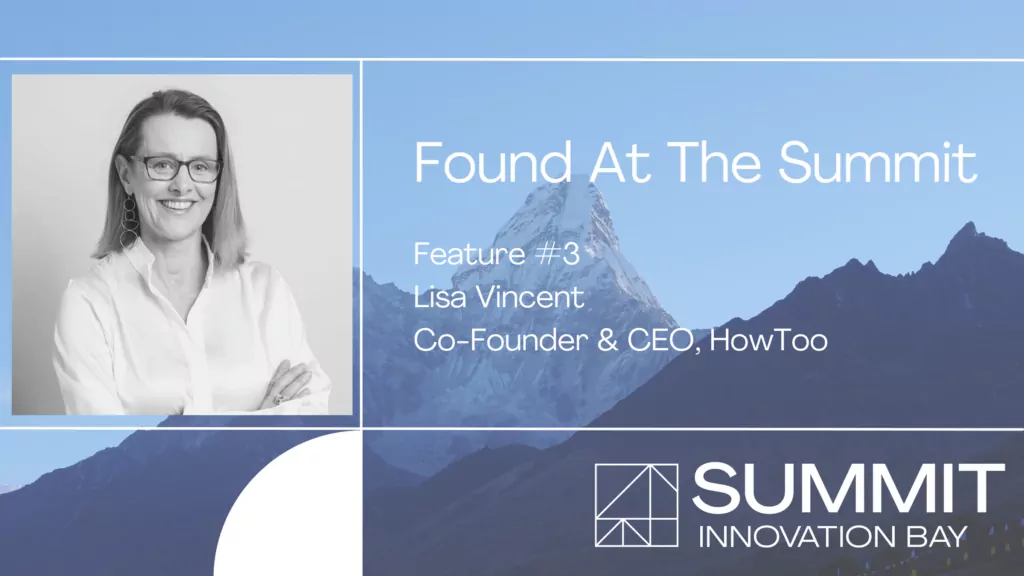 From auditor, to HR recruiter and trainer, Lisa Vincent always had a passion for learning and education and it was at EY she realised the potential for creating learning through digital.
Lisa is the Co-Founder & CEO of HowToo, an AI enabled upskilling platform that unlocks workplace knowledge and transforms it into beautiful digital courses. She is also a singer, swimmer, gym goer and life-long learner. Lisa embraces doing life differently, having fun and making an impact on the lives around her through access to education.
Read on to discover what can be Found at the Summit for Lisa.
by Innovation Bay's, Sarah Catford
Sign up to Innovation Bay's newsletter here and follow us on Instagram here.
An average day in the life of Lisa
I am at my best when I start the day with a high cardio workout at the gym or going for a swim. It gives me energy to jump into the work day. I like to map my days so I am not on Zoom or in meetings all day, so this means blocking out time to think and plan, and most importantly creating the time to think about the future.
The less optimal days still happen! It wouldn't be life without them. And these look like no gym in the morning, and straight into meetings all day. Planning ahead helps me to balance the optimal with the less optimal days.
My favourite days are collaborating with the product team and strategising.
Daily success habits
Exercise is the number one priority
Having a laugh — we have to make sure we are having fun. Working in a startup can be really stressful and exhausting, so integrating fun is really important
What I do outside of work is what feeds my energy to drive HowToo. Connecting with my friends and family, and making time for outside of work activities such as singing and reading is incredibly important. If I don't do this, I feel like my soul hasn't been fed.
Planning and scheduling — I try to schedule a month ahead, but always at least 1 week ahead so I can make sure HowToo is ready and prepared for where we are going. I like to spend a lot of time thinking about what's happening in the business, what are the issues, the concerns and what are the forward focussing activities. Neglecting time to do this is detrimental to business growth.
Lisa's inspirations and what keeps her going
I get out of bed everyday for HowToo.
The impact we are making on the world by providing equal access to education is so inspiring for me. We have focussed on building tech into our software that enables people with a disability to have equal access to learning. When I hear people say that the learning really works it lights up my world! For people who are living with a disability to be able to consume the content in the same way as anyone else, it excites me for the future of HowToo and global learning opportunities. The goal is to build a platform where anyone can create great learning, you don't need to be a scientist, designer or content expert.
My team also inspires me. They take it upon themselves to go and learn, then bring it back and apply it to the business on their own initiative. We have come up with incredible ideas, strategies and approaches from this.
Who do you look up to and why
There is a common theme across the people I look up to, whether they are entrepreneurs, friends or family. They take risks, dream big, don't follow the rules, overcome adversity, show up and give back, they are bold and brave.
To name a few:
Mike Cannon-Brookes — he backs his interest in social issues, I guess you could say he puts his money where his mouth is. I see him as the first entrepreneur to speak out on social and environmental issues.
Elon Musk — because he has created an exceptional and experiential brand.
The team at Canva — they nailed the product-led growth strategy.
Summit community — an incredible group of humans solving really tough problems!
My friends — I am surrounded by a group of powerful women, building businesses and architecting their own lives. They don't follow the norm and are extraordinary, going against traditional expectations. It inspires me incredibly. I try to harness these values and apply it to my life (perhaps not quite to the extreme that they do!)
Leaving a legacy
Through HowToo, I want to see learning accelerated globally, enable equality and accessibility, allowing people living with a disability to have the same opportunity to be successful.
My legacy will also be through my family. It's important to me to leave the next generation in the best way possible. I see my role to demonstrate growth, development, challenge perspectives, provide positive and constructive feedback and empower women. HowToo is a fully female founded and majority led company, and indeed we have a high proportion of females.
Content consumed
In addition to traditional media like the AFR, Sydney Morning Herald, ABC and The Guardian, I'm always consuming the latest on neuroscience, learning, product-led growth. And I love listening to inspiring founder stories — Open the Pod Bay Doors is a fav.
I have broader interests beyond the startup world, and read a lot, both nonfiction and fiction. There are always two fictions on the go!
Keep reading, keep learning and from a broad genre of writers. Reading in-depth means I jump into people's lives, in a different world and I see it as a chance to gain a new perspective, get outside of myself and also really help to remove stress.
Book suggestion: Educated by Tara Westover — it's about the importance of education and learning for life. Learning and knowledge is critical to overcoming adversity.
What's at the Summit for Lisa?
World's best digital learning platform and creating learning accessible for all.
We aren't so focussed on an exit, we are building, building, building to realise the full potential through knowledge sharing. A global marketplace for learning. Stay tuned!
Connect with Lisa:
LinkedIn: https://www.linkedin.com/in/lisarvincent/
Learn More:
Podcast:
Ep. 021 Lisa Vincent – Digital Learning & Creating Virtuals | HowToo
Media Ep. 021 Lisa Vincent – Digital Learning & Creating Virtuals 07 October 2020 HowToo is elated to announce that…
Articles:
How To Increase Funding For Women
---
More Innovation Bay content
Join the Innovation Bay community
INNOVATION BAY NEWSletter
Stay up to date
Sign up for monthly updates including exclusive interviews, pitch dates, event announcements, profile, news and much more.