Founder Stories with Jason Wilby, Huddle
Earlier this week we hosted another event in our Community Breakfast series. James Cameron, Partner at AirTree Ventures, was our guest moderator, and interviewed Jason Wilby, the founder of one of their portfolio startups, Huddle.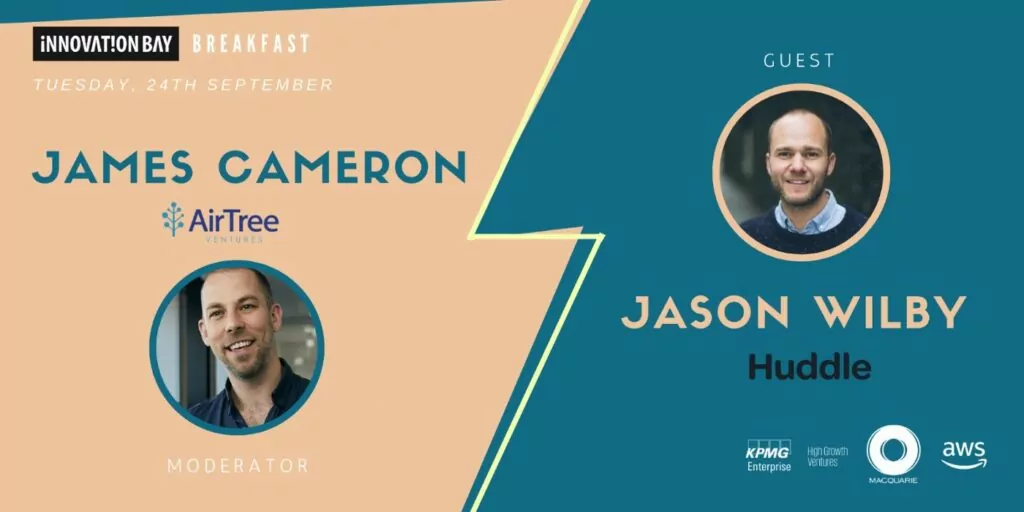 Our brekkie events bring our entire community together and explore a rockstar founder's journey and what they have learned along the way. But, one of the biggest value adds of turning the mic over to a VC is learning about the relationship between a founder and investor, and getting the inside scoop from both perspectives at once.
Huddle's got Values
Huddle is an insurtech startup focused on modernising and digitising the Aussie insurance industry. They were founded in 2016 with a mission to improve the customer experience when interacting with insurance companies. They utilise AI, machine learning, and community thinking to help customers submit forms and pictures, and receive money or vouchers more quickly.
We love that Huddle is a registered B Corp. B Corps are verified businesses that meet a high standard of social and environmental impact — they're mission driven. According to Jason, 'B-Corp is a way that holds us accountable to all the ideas that we had when we started out.' Learn more about how the Huddle team is living out their values.
Industry Insights
One of the biggest challenges in the industry, according to James, is the lack of trust. 'This is why Huddle's mission resonated deeply with us: to use technology to bring trust back to the insurance industry.' Read more about when Airtree announced they were backing Huddle. Jason echoed this sentiment and shared that, for him, trust consists of two important factors: Reliability — will they consistently deliver?, and Intent — are they doing it for the right reason?
Another challenge for the insurance industry is innovation (or a lack thereof). Jason suggests one of the reasons for a lack of innovation is because insurance is an information business (input-output) — there are tower blocks of people using input data to make decisions, irrelevant of human interest/circumstance. However, we know that machines make better, or at least more logical, decisions than people — which is one way Huddle is innovating in the industry.
Jason suggests that another reason insurance isn't innovative is because insurers are risk averse. So, culturally, it actually makes sense why the industry as a whole is slow to adapt and change. Much of this risk aversion stems from the companies that are large corporate legacy businesses that have been running for more than 100 years. They have a lot of brand clout they don't want to risk.
Huddle utilises their innovations and advanced tech to keep costs down, which enables them to have a competitive edge over big insurance companies. They use their high-end tech, involving hundreds of bots, for the day-to-day backend operations and claims.
The VC-Startup Relationship
Strategic fit is crucial to the success of VC-startup relationships. According to James, the best thing about being a VC is, 'You get to help and witness startups go from a garage to millions in revenue and hundreds of staff.' But, for him, the worst thing is the same thing, 'You get to help startups go from a garage to millions in revenue and hundreds of staff… but you're a passenger, and not in the day to day grind'.
Jason thinks the VC-startup relationship is a bit like dating, 'You don't go on a first date expecting to get married.' VCs want to get to know the founder. They want to know, 'What kind of business do you want to build?' and if 'You believe in each other?'
Words of wisdom from James and Jason:
Building trust is really important for customers
Registering as a B corp is a great way to incorporate your values into your business and indicate to customers and the wider ecosystem what those values are
When raising, give yourself a really long runway, much longer than you think you'll need
One of the most important questions for VCs is What kind of business do you want to build?
When you're negotiating with a VC, try to manufacture a disagreement/misalignment and see what happens — do you get to a good solution? Are feelings getting hurt? This can help reveal proper alignment between VC and founder
Even though we're all about the tech, sometimes it can be really useful to have a good ol' phone number for customers to call
We would like to thank Jason and James for sharing their awesome experiences, insights and stories with us. Special thanks to our ever supportive sponsors; AWS, KPMG High Growth Ventures and especially Macquarie for hosting this event at their fantastic venue.
Please share this article with your network and help continue the conversation on Twitter (@innovationbay) & LinkedIn. If you are an ambitious founder, investor, or a tech enthusiast — sign up to become a member of our community to learn more about our upcoming events!