Founder Stories with Nathan Walsh Athena
For this morning's community breakfast we handed the host's mic over to our friend Imogen Baxter, Head of Community at Square Peg Capital. Imogen invited Nathan Walsh, co-founder & CEO of Athena Home Loans (one of their portfolio companies) to share his story with the IB community.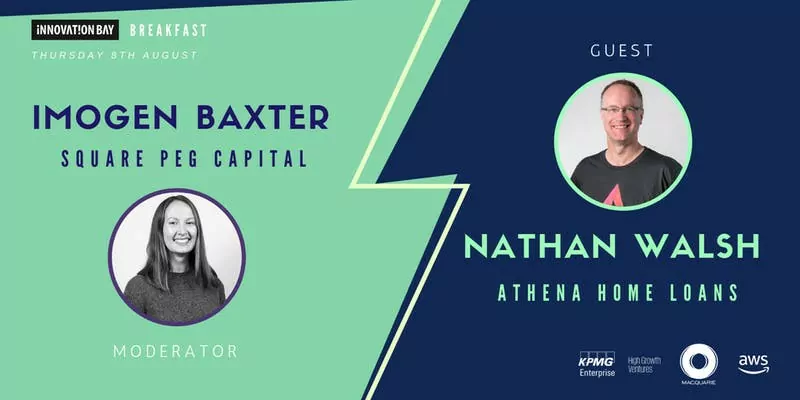 The breakfasts are all about bringing the community together to learn from a founder who has 'been there, done that' and leave inspired. Nathan's founder journey was no exception. Founded in 2017 by ex-bankers Nathan Walsh and Michael Starkey, Athena is a cloud-based digital home-loan platform seeking to provide an alternative to the big banks and disrupt the home-loan market.
Athena raised a whopping $45 million before even launching their product in the market. Square Peg participated in their Series A and $25 million in Series B funding last November.
Before Nathan took the leap into founder life and revolutionising the mortgage industry, he worked for over 10 years at NAB. His knowledge and expertise of the sector allowed him to see that the mortgage loans market was broken and ready for disruption.
Imogen kicked off the event with some thought-provoking questions which led to Nathan sharing many interesting insights. We've tried to summarise some of the highlights below:
1) Brand proposition and organisational culture are co-related: Nathan believes while creating a brand, you definitely need to build trust, although cautions 'don't be boring'. He suggests that brand proposition is the foundation on which organisational culture is built. As Athena brainstormed their business values they formed their cultural norms and business strategies.
2) Solving a real problem and focusing on the customer's pain points are key: Trust is non-negotiable. As a new startup, how do you gain trust from customers, employees, and investors? It is only possible by solving a real problem for your customers that makes an impact. For Athena, the single biggest difference they have made so far is saving a family $275,000 — that's real money back into the pockets of real families.
3) Talent attracts talent: The Athena's team is now at 95 and Nathan puts a large part of Athena's success down to their philosophy of "talent, money, business" as opposed to traditional sequence of "money, business, talent" that many startups take. From day one they had an A-team which enabled them to attract more talent as they grew.
4) Product design process is tedious, but can be done: Nathan recommends that there can absolutely be top-down bigger objectives; however, with product design the team needs to break it down into small ventures and tick them off along the way. He suggests weekly sprints, although he and his team have moved to fortnightly showcases of progress tracking and next steps.
5) Understanding the risk curve at each stage of investment: With any startup, there is a certain level of risk involved. It is essential to acknowledge that the risk curve at each stage of investment varies depending on the industry and the niche of the startup. There has to be due diligence beforehand and contingency plans accordingly.
We would like to say a big thank you to Imogen, Nathan and our wonderful community for getting up early with us this morning. Special thanks to our ever supportive sponsors; Macquarie Group, AWS and especially KPMG High Growth Ventures for hosting this event in their fantastic innovation lab.
If you'd like to know more about Athena and their products visit https://www.athena.com.au and to learn more about Square Peg, visit https://www.squarepegcap.com
Please share this article with your network and help continue the conversation on Twitter (@innovationbay) & LinkedIn. If you are an ambitious founder, investor who love or an enthusiast, sign up to become a member of our community to learn about all our next upcoming events!