From Founder Scars to An Optimistic Future
SXSW Sydney's debut event brought together an eclectic mix of brilliant minds, sparking inspiration, fostering connections, and imparting new knowledge. Innovation Bay, in collaboration with Salesforce, proudly presented The Hub at the SXSW Sydney Tech & Innovation Expo.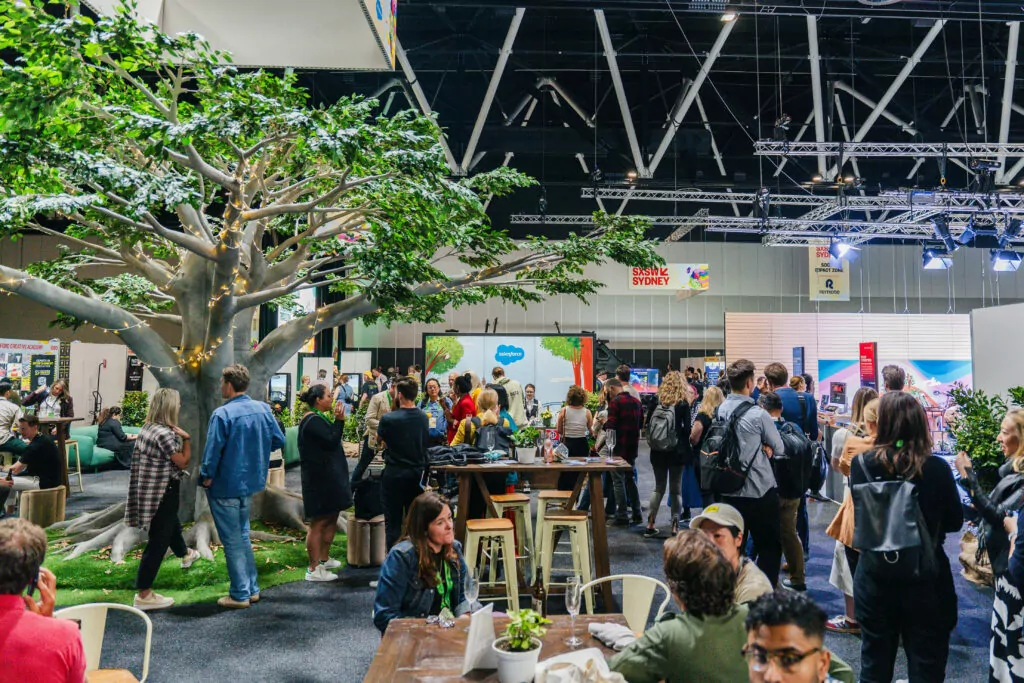 Nestled beneath an impressive lifelike tree, The Hub provided a unique space for attendees to reset and connect with kindred spirits eager to absorb the wealth of insights offered by SXSW Sydney. We also hosted an exclusive Lounge powered by Innovation Bay & Salesforce and curated a series of thought-provoking sessions.
Across our three distinct community sessions, we heard from distinguished speakers such as Ben Crowe (Mojo Crowe), Catherine Ball (ANU), Robyn Denholm (Tesla, Blackbird, Tech Council of Australia), Rob Newman (Venture Advisor), Maxine Minter (Co Ventures), Zac Zavos (Shearwater Capital), Ben Grabiner (Side Stage Ventures), Cibby Pulikkaseril (Baraja), Michael Priddis (Arena Mars), Daniel Darling (focal), and David Whitfield (FireJet), to name a few, among others. They led engaging discussions across various themes encompassing market dynamics, future trends, capital market liquidity, founder experiences, emerging technologies, global expansion, and AI investment opportunities. Angel investors also had the unique opportunity to evaluate pitches from OpoBio, AquaWatch, Guinevere Cspital, and Mass Dynamics.
In these turbulent times, with climate change, global instability, and economic challenges looming over us, it was easy to succumb to a sense of darkness. However, as we reflect on the insights garnered over our three days together at SXSW Sydney, a resounding theme emerges – optimism. Our world is grappling with multifaceted issues, but the tech startup industry shines as a beacon of hope, poised to shape a brighter future. Below, we provide the key takeaways from a number of our sessions and explore the profound sense of optimism that has left us inspired, reinvigorated, and deeply moved. In a world filled with uncertainty, one thing was clear: our future is bright.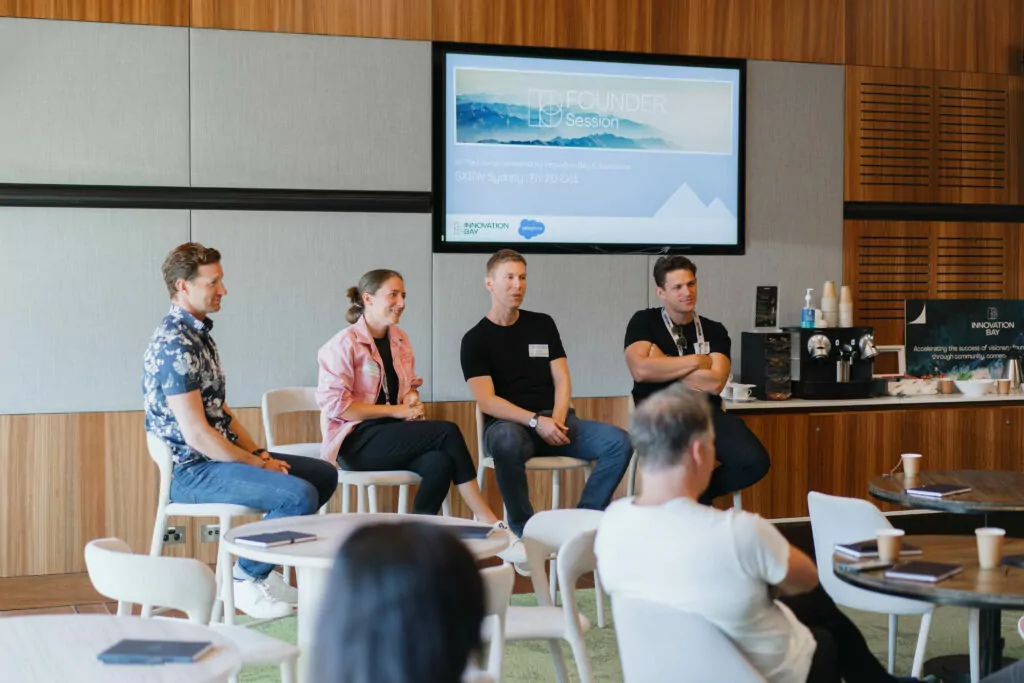 The Future – A High-Level Look At The Next 50-100+ Years
The journey began with a sobering look at the future. Environmental indicators have deviated from earlier predictions, serving as an urgent call to responsibility. The future is shaped by three formidable forces: climate change, quantum computing, and social cohesion. Urgent global action is needed, exemplified by pressing issues such as ocean heating, ice sheet loss, ocean acidification, and overfishing. As the tech landscape evolves, concerns like the carbon footprint in cloud computing and the role of governments in regulating AI to combat misinformation become increasingly more urgent to address.
Leadership
Next, we delved into the essence of leadership in today's ever-changing landscape. The Four C's of Leadership—curiosity, connectedness, creativity, and courage—were addressed as the pillars on which tech industry leaders stand. Diversity in leadership styles is celebrated, as effective tech leaders inspire teams regardless of their personality type. It was asserted that complementary co-founders and an inclusive decision-making environment are vital for success in tech leadership.
Emerging Tech – Future Industries That Will Change the World
Our journey took a futuristic turn as we explored the industries poised to revolutionise the world. Government support emerged as a crucial driver of deep tech innovation, especially in high-risk, early-stage concepts that private investors often shy away from. The multifaceted role of governments—funding, regulation, and acting as an early customer—create a vital support system for innovations capable of driving societal and economic transformation. Scaling, rather than the technology itself, stood out as the primary challenge in deep tech projects. The remarkable growth of the space industry, fueled by a significant reduction in rocket launch costs, makes it an increasingly attractive field for investors. Space technology was poised to play a pivotal role in shaping our future, symbolising a domain of remarkable growth and innovation.
Investment Opportunities in AI
Our journey of exploration continued into the world of AI, where we discovered that its true value lay not in mere presence but in its application within organisations. Traditional corporate structures could be barriers to effective AI adoption. The strategy of investing in startups with proprietary tech and data, which could later be acquired, remain a viable path to success. The Australian VC sector, distinct from the US and UK, has the potential for competitiveness in AI despite some criticism. Mars Discovery District in Toronto was used as a great example of an effective innovation hub. Identifying strengths and fostering innovation through government support, collaboration, and academic research institutes is essential for Australia's AI sector. The landscape of AI investment is evolving, shifting from a technology-focused approach to integration within business processes. Hardware limitations are closely linked to AI's developmental progress, and understanding enterprise culture and structure is vital for successful AI adoption.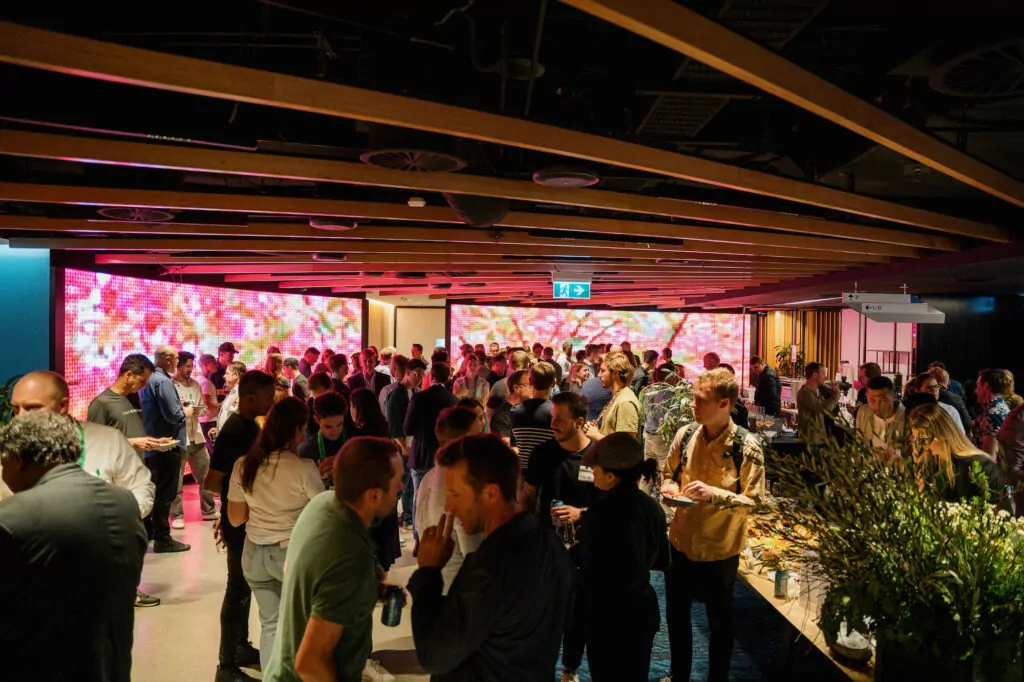 Community
The narrative then led us to the collaborative potential of the community within this group. Silicon Valley Bank's approach, with its comprehensive ecosystem map, showcased the significance of community. This community thrives on paradoxical thinking around risk, fostering a culture comfortable with high-risk projects and innovation. The ecosystem was built on the principles of "give first" and "pay it forward," where support, introductions, and assistance were readily offered. The notion of "drown the puppies" was discussed, emphasising the importance of letting go of non-viable companies to fuel new opportunities. The community's enthusiasm for second-time founders, bringing valuable experience, added to its dynamic and innovative spirit.
Future of the Market
The "Future of the Market" panel painted an uncertain outlook with a balance between optimism and caution. Anticipation of an interest rate hike up to 7% added to the economic uncertainty. Economic cycles are characterised by a downward trend, but positive developments in technology offer hope. Realistic valuations, AI-driven cost reduction, and access to talent emerged as positive aspects, while geopolitical conflicts posed threats. Optimism centered around the reopening of the IPO market, while M&A activity paused in the U.S. Seed-stage companies now require revenue demonstrations and valuations of around $7 million post-funding. It was also highlighted that the prevalence of "pay to play" funding is increasing, and that AI will play a pivotal role in reducing software development costs.
Founder Illusion Versus Reality – Scar Tissue You Wish You Saw
Next, we went behind the scenes with well-known tech founders, who shed light on the challenges they face behind their public success. The importance of approaching advice with curiosity and customisation for startups was underscored. The role of customers in startup growth and the need to align with the right ones were also highlighted. We delved into the art of balancing a founder's vision with customer feedback for product-market fit. The session advocated celebrating impact over mere financial success in the journey of entrepreneurship. It was affirmed that the CEO's role has been redefined as a visionary leader driving overall company performance. The valuable insights of "The Trust Equation" were mentioned as a guide for navigating the complexities of entrepreneurship.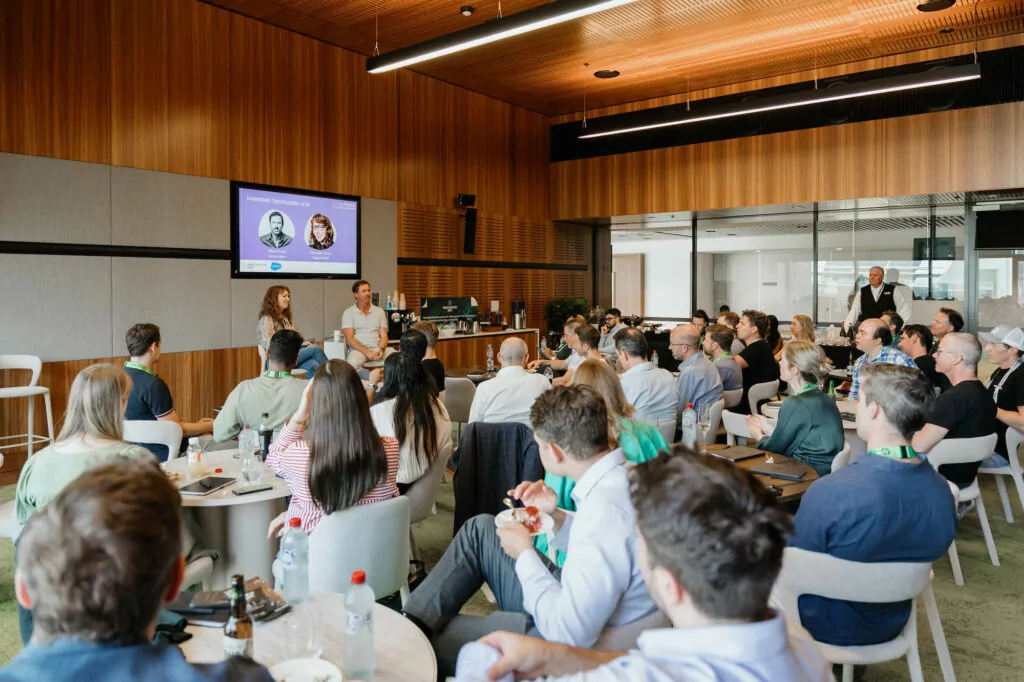 Giving it back – Secondaries for DPI
In this session we delved into the need for liquidity returns to LPs and different approaches to achieving it. To sell an asset you need buyers, and whilst there is a mix in 'quality' of these assets, strategies to maximise competitive tension and secure a favourable valuation are crucial. It's common to see discounts to previous valuations. Even with the world's best valuation policy, it's often not the market value. It's advised that managers in Australia and NZ that are looking at releasing some of their portfolio should split them up into three clusters: long tail, the mid portfolio, and the premium. Single asset deals are the ones often done on the premium – you'll have lots of buyers coming in wanting to pay that premium price. In the mid portfolio, it's likely that specialised funds will come in with a little bit more of an operating focus. From a practical perspective, the panelists flagged the importance of the buyer understanding the business. It's essential to bring the founders, the management team and the buyers along that journey. It's all about the process.
Finding Your Mojo – the Search for Confidence and Happiness
Our journey concluded with a quest to unlock true confidence. This session spoke to the unlocking of true confidence through principles like authenticity, vulnerability, and storytelling, creating a competitive advantage. In a world filled with distractions, the need for certainty and an illusion of control was acknowledged. The session encouraged us to embrace intrinsic motivations of play, purpose, and potential to achieve success. We were reminded to connect with ourselves, identify personal values and goals, and embrace our imperfections. Kindness to ourselves and the power of mantras, such as "I am enough," were celebrated as tools for enhancing self-compassion.
In light of this shared experience with our community, and further afield, the word that stands out is "inspiration." We are inspired by the amazing people dedicating their lives to make the world a better place. In a world where personal wealth often takes center stage, our community is driven by a deeper purpose: to create a positive impact. What we take away from SXSW Sydney is a profound sense of optimism and a renewed focus on addressing impactful issues, from climate to health and wellbeing, and food tech, among many others. Our journey is a testament to the enduring spirit of innovation and the boundless potential of the tech startup industry to shape a brighter future.
---
More Innovation Bay content
Join the Innovation Bay community
INNOVATION BAY NEWSletter
Stay up to date
Sign up for monthly updates including exclusive interviews, pitch dates, event announcements, profile, news and much more.