GET TO KNOW : Mike Jeffrey, Pluss Communities (Canopy Member)
Michael Jeffrey is the CEO of Pluss Communities — a self-build community platform connecting people across events, communities and organisations.
We sat down for 5 minutes to Get To Know Mike and Pluss Communities a little better.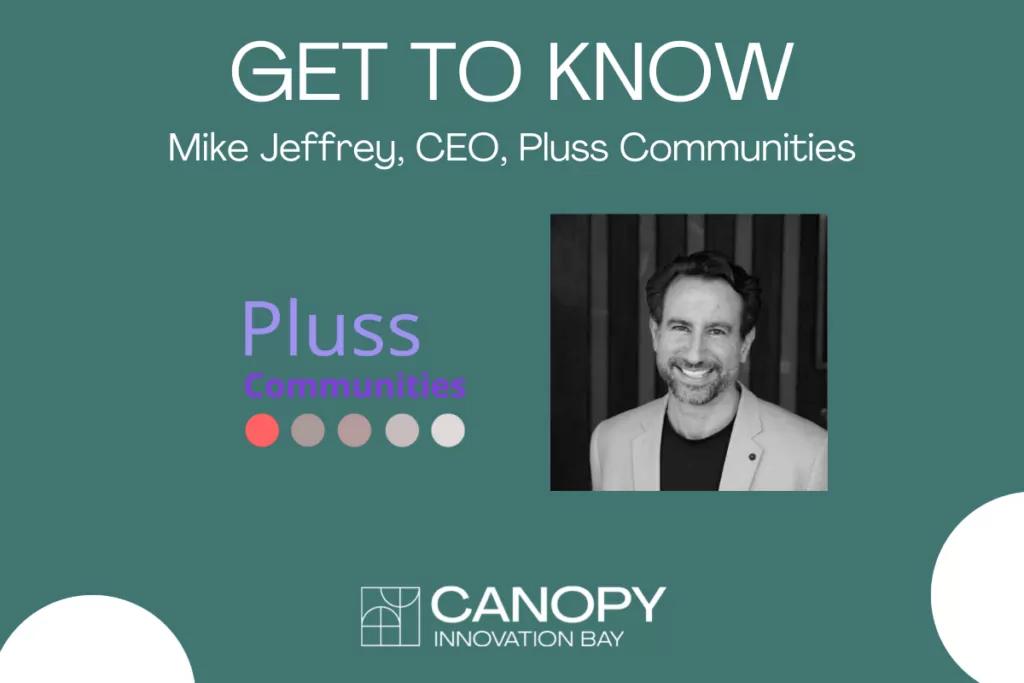 What is your background?
25 years working in community based organisations. Early career as an educator and youth worker with much of that time organising camps, conferences, events, programs, groups and developing training materials and resources. I got a taste for startups when data projectors first became a thing in the early 2000's in schools and churches. I had an idea for creating multimedia clips to be used on those data projectors by those organisations. Buying the data projector was the easy bit. Creating decent content was hard for people to do. We created 330 animated videos complete with digital sound tracks and sold them around Australia and New Zealand and through resellers in Norway, USA, Canada and the UK. I did an MBA to broaden out my skill set and dig into the whole innovation and entrepreneurship space more. A change in career led to 10 years at Wesley Mission Queensland as a Director of Marketing and Fundraising that really deepened my understanding of community and need through the 100+ community programs and services the organisation delivered.
How did you get to be here building a community platform?
When working at Wesley Mission Queensland, the director of residential aged care had an idea to improve communications between families and staff. Even though I was not in IT, I understood the need and championed the cause for finding a solution.
We reviewed a couple of platforms on the market but they were not up to scratch. One of my staff had heard about a startup that was building something for Aveo, Australia's largest Retirement Village operator. We got them in to review the software. Instantly I could tell they had built something very special. The night after I met the team and saw the software, I literally couldn't sleep. Not only could their platform solve problems for WMQ, it could solve the same problem for community organisations globally. I got in touch with the Pluss team to find out if there was anything I could do to help turn this vision into a reality. That led to an advisory role, using my weekends, holidays and long service leave to contribute to the team. I joined the team full time in February 2021 and became CEO in July.
What is your vision for Pluss Communities?
To give communities instant access to build their own no code branded communications and community app that can be tailored to their specific needs at a fraction of the price it would cost them to build their own. Long term we want to be the canva of community development allowing developers to tailor and build out their community specific applications on our platform. We have all the foundations in place to make this happen
What impact are you hoping to have?
To support community leaders globally to make it easier for them to run their community, make their community more sustainable and help their community thrive, then we will have had a sustaining impact.
Who is currently using Pluss Communities?
Our two original customers Aveo and WMQ continue to use the platform every day. We've added organisations like Tricare, The Village Group, Seasons Living and LDK meeting similar needs. What's been amazing is the organic growth taking place from membership communities and associations. We now have health and well being communities, mental health communities, sporting communities, industry bodies and associations, RTO's and NDIS communities with their own branded community app.
What is your biggest learning to date?
Get yourself a sales advisor. There is so much to sales and securing the deal. My sales advisor likes to remind me that most shark attacks happen in 3 feet of water. Don't think you are safe until you are out of the water sipping a pina colada at the beach side bar. I've experienced that first hand when the deal evaporates before your eyes and you have to fight like crazy to get the deal completed.
You're currently raising… What does the next 18 months look like?
We are launching our instant access platform for smaller communities. This gives community leaders all the tools they need to build and launch their own app in a matter of minutes. This opens up the opportunity to connect with the core needs of the 580,000 smaller community organisations in Australia that need help in streamlining communications and organising. It also fills the sales pipeline for our white labelling product that offers additional features for larger and more brand conscious communities. On the company growth side we have had a great 12 months with 300% growth in revenues and customers with practically no investment in sales and marketing. We want to grow from 3 to 4 sales a month to 15 to 18 sales a month with some investment in the sales, marketing and customer team.
Get In Touch
Pluss Communities
Mike Jeffrey
---
More Innovation Bay content
Join the Innovation Bay community
INNOVATION BAY NEWSletter
Stay up to date
Sign up for monthly updates including exclusive interviews, pitch dates, event announcements, profile, news and much more.