GET TO KNOW: Naomi Tarszisz, Founder, Replated (Canopy Member)
Naomi Tarszisz is the Founder of RePlated — a company that is revolutionising take home meals with reusable takeaway Mealboxes that save money and the planet. Made from recycled plastic, it only takes 15 washes before they're better than even compostable single-use.
We sat down for 5 mins to GET TO KNOW Naomi and Replated a little better.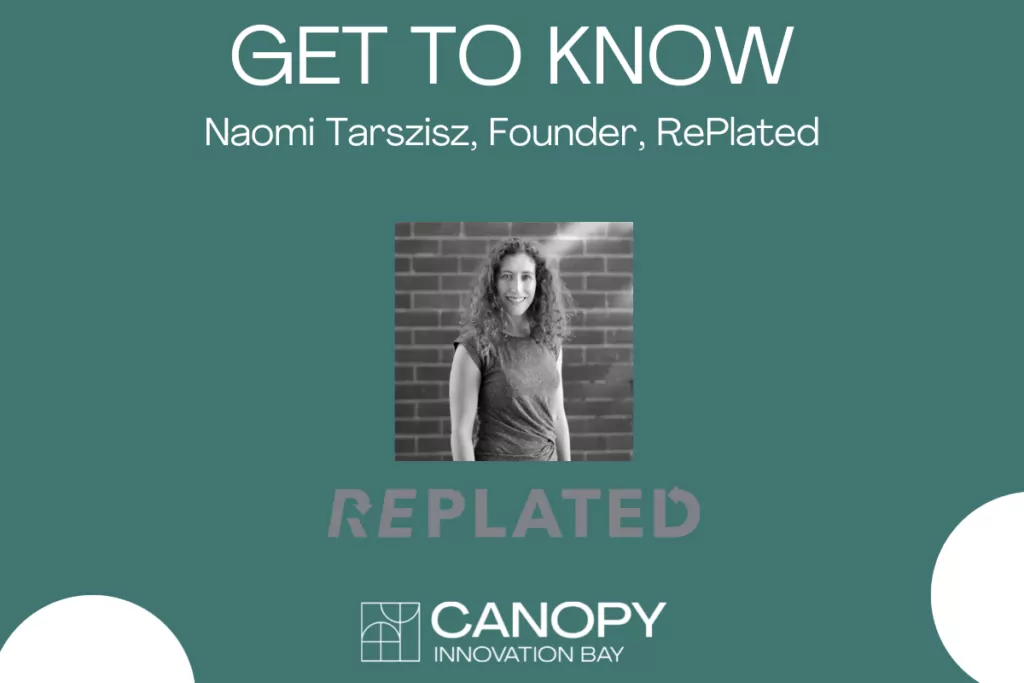 What is your background?
My background is in tech — I worked in London for 10 years as a consultant, in banking and telcos — coming back home, after a stint at Westpac I helped grow Digitas Australia from 3 to 45 people and enjoyed leading the agency as a programme director for amazing clients like Qantas. But I've always been a waste warrior. I didn't set out to make our own containers but when we started piloting in offices we couldn't find a product that met needs of our early customers — and I couldn't be prouder of our Mealbox.
What is your vision for Related?
We want to make single-use history — we are converting one building and food court at a time so that reuse for food is as easy and convenient as single-use. Not just in Australia but globally. The containers you're using today are a pilot of our rental model! Would love feedback about what you enjoyed (or didn't) about the experience.
What impact are you hoping to have?
Currently we have three councils supporting reuse programs, with more due to launch, corporates like Beyond Bank who are rolling out to their 30 branches and our favourite unicorn, Canva. We are always looking for great connections to incredible companies in Australia who would like to jump on board!
What is your biggest learning to date?
How can I pick one biggest learning! Physical product development is difficult and time consuming- everyone told me, but it still came as a shock. So many micro lessons. But the outcome and the final product is something I am immensely proud of. Hopefully products 2–5 will be a little bit easier. In terms of systems it's asking for what you need. In our case, dishwashers- When I first started this there were no dishwashers in food courts, they had been designed out. it's very exciting to be talking to some of the biggest facilities managers in the country and have them putting them back just so they can start using our systems.
You're currently raising… What does the next 18 months look like?
We are looking to raise later this year — ahead of that we want our first whole building, implementations up and running — we expect to hit 80–90% of takeaway on our Mealboxes in those environments pretty quickly. We are looking for Angels or impact focused VCs who are excited by the circular economy and its role in transition to net zero.
MORE INFO:
Video | Website | LinkedIn | Dealum Link
---
More Innovation Bay content
Join the Innovation Bay community
INNOVATION BAY NEWSletter
Stay up to date
Sign up for monthly updates including exclusive interviews, pitch dates, event announcements, profile, news and much more.