INvested in Mental Fitness
INTERVIEW: INvested limited podcast series and white paper has just launched with KPMG High Growth Ventures and Beyond the Human's Marc Champagne. We sat down with KPMG's Amanda Price and Marc Champagne to hear all about it.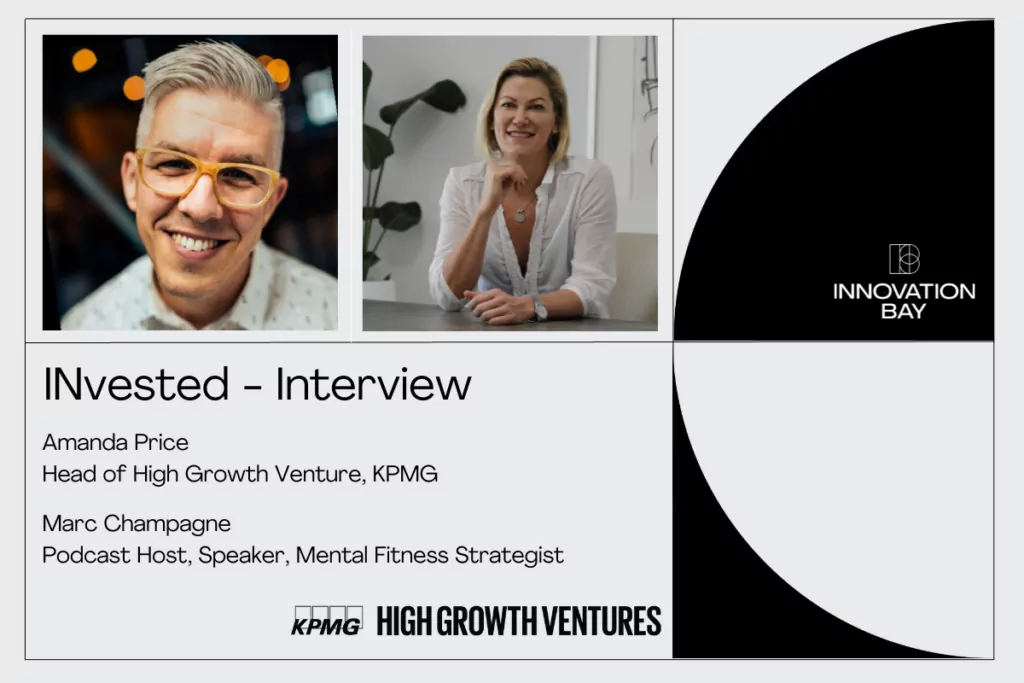 ​​INvested, a limited series podcast and white paper produced by KPMG High Growth Ventures in partnership with Behind The Human's Marc Champagne, explores the link between a founder's mental fitness and the health of the team and startup, from the perspective of investors.
Featuring in-depth conversations with some of the leading VCs from Australia and the US, INvested reveals critical insights that enhance founders' understanding of how to remain resilient and cultivate mental fitness – ultimately guiding their team and startup to success in a downturn. Born out of the recent shift in the global VC market, where capital is increasingly being funnelled to the strongest companies, INvested's aim is to provide founders and their teams with an inside understanding of what investors are looking for – and the role that they view mental fitness as playing in the success of a startup.
We were lucky enough to sit down with the masterminds behind INvested, Marc Champagne (Behind The Human podcast host and author), and Amanda Price (Head of High Growth Ventures) to get the lowdown on what to expect.
—
Listen to the first episode below
Amanda Price genuinely loves what she does. Meetings with founders, subject matter experts, and VCs fill her time, where connections are made and communities built – no day is the same as the last. Amanda's role involves forging a community that supports Australia's startup ecosystem. "But the thing that gets me most excited is the opportunity to work closely with founders and support them with the services they need as they grow," she states. As a founder herself, founding Ausmerge in 2010, a company that helped Australian based founders accelerate entry into the US, Amanda understands (from experience) how challenging and lonely it can be. Being able to support founders in a meaningful way is "undeniably the most rewarding part of my role," she says.
Marc Champagne is an author, podcast host, speaker and mental fitness strategist who studies the questions and the practices that shape lives of some of the world's most successful humans like Kobe Bryant, Robin Williams and Maya Angelou to name a few. He is the host of podcast, Behind The Human, and an experienced founder himself, co-founding the journaling app KYO which reached 86.9 million people. He is the author of Personal Socrates and facilitates mental fitness workshops and seminars for teams.
But what exactly is mental fitness? "It's really anything related to training your mind to work for you instead of against you. It's preventative training, but also in-the-moment, techniques, practices and rituals that can completely depressurise high stress situations," Marc explains. "Being mentally fit helps to prevent your mind from being hijacked by the moment and the emotions and sent on a loopy narrative that doesn't support where you're trying to go."
While also speaking from her own experience as a founder, Amanda is unsurprised that the biggest challenge founders face is burnout. The constant pressure of making important, high-stakes decisions can leave founders feeling completely overwhelmed and devoid of passion. "Being a founder is hard. There are no defined roles, particularly in the early days, which means you need to be broad with your skillset and work at pace to get things done." she explains. "Developing resilience is critical to the success of the team and the startup." This is where mental fitness, and INvested comes in…
INvested was produced to provide founders with critical takeaways and resources to enhance understanding of how to cultivate mental fortitude and guide their startup to success in a downturn. The goal of creating INvested is to provide valuable insights into how VCs see mental fitness and, in turn, empower founders to develop that mental fitness in themselves and their teams.
The purpose of INvested is to bridge the gap between investment, typically the financial lifeline for a company, and the fact that it doesn't matter what investment is received if the mind stops functioning. "Here, we are having that conversation with investors so that we can help founders navigate, not only their mental capacity, but also the financial health of their company – and realise that both of those things are so intricately linked," Marc explains. "The show is all about unpacking the minds of early stage investors to surface these actionable insights (both mentally and financially) for founders during uncertain market conditions. It's not just about surviving in this time, but how can we thrive?"
One of the key themes that surfaced during INvested's creation and research as something investors are looking for in their founders, is an ability to think clearly, stay focused and make intentional decisions. "You can't have those characteristics or be performing at a high level with those characteristics when your mind isn't performing," Marc explains. "Deeper than that though, we can't perform, period. When we feel like we're in these big fear states, or our minds are full of anxiety or depressive thoughts, it's nearly impossible to do our best work. Everything starts and stops with our minds."
For Amanda, one of the most interesting findings that came out of INvested is the need to create safe spaces for founders to ask themselves the hard questions and truly be honest with themselves and their team. "I think founders put a lot of pressure on themselves to act a certain way and have unrealistic expectations to be able to do it all. It takes incredible courage and mental fortitude to ask the tough questions, but it's ultimately one of the most important contributors to the success of the business," says Amanda.
According to Marc, the findings of INvested aren't just practical; the insights gained from participants are some that he wishes he had as a founder. "I really hope that INvested provides founders with different perspectives of thinking and some much needed clarity in an increasingly complex environment," Marc explains. "I hope that, even for the length of an episode, that pause gives enough time to think differently or subtly shift perspective within that moment," he says. On top of that, INvested is offering up actionable steps around how to create mental fitness routines and rituals to support founders, their teams and their businesses.
Officially launched on Thursday 20 October, the INvested white paper is available to download and the first two episodes of the podcast have been released featuring Paul Naphtali, Managing Partner of Rampersand, and Michelle Duval, Founder and CEO of Fingerprint for Success (F4S) – tune in.
A further 9 conversations with an incredible lineup of guests is due for release with a who's who of the Australian and US VC landscape set to share their insights. Coming episodes will feature Nick Crocker (Blackbird), James Tynan (Square Peg), Jason Shuman (Primary VC), Rachel Yang (Giant Leap), Benjamin Chong (Right Click Capital), Jenny Fielding (The Fund), Melissa Widner (Lighter Capital) and Phil Morle (Main Sequence Ventures).
---
More Innovation Bay content
Join the Innovation Bay community
INNOVATION BAY NEWSletter
Stay up to date
Sign up for monthly updates including exclusive interviews, pitch dates, event announcements, profile, news and much more.