Pitch Deck Pointers Part 10: The Ask Slide
In our final slide of the series, Georgina Turner of Tidal Ventures shares her tips for creating an ask slide that will generate investor action.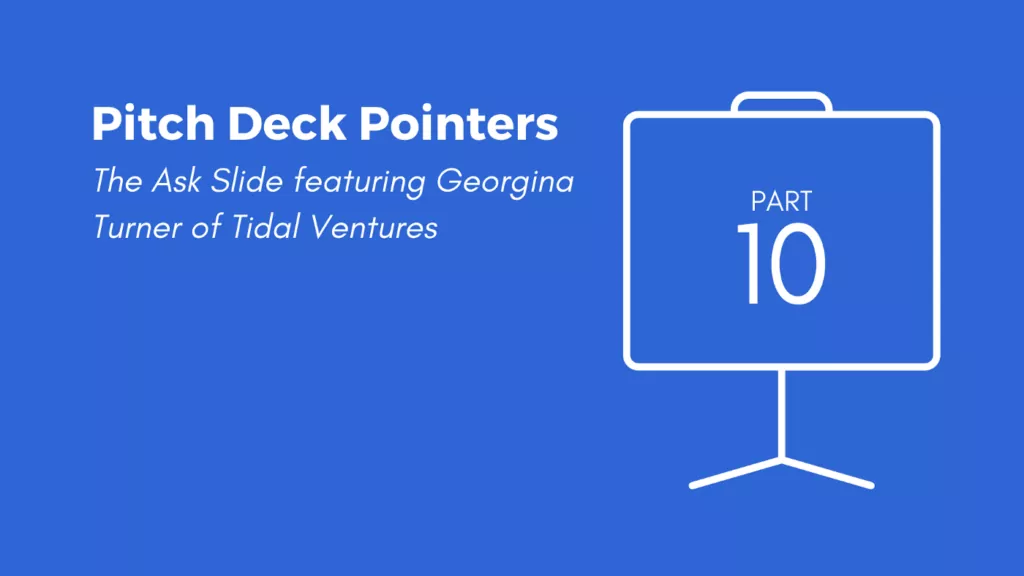 The finish line is in sight: we've reached the last slide in our Pitch Deck Pointers series. At Innovation Bay, our mission is to help startup founders along their journey, and we hope that this series has proved a useful fundraising resource. Thanks to our many friends in venture capital who contributed their expertise to Pitch Deck Pointers. If you missed our previous posts, here's the full list of the pitch deck slides we've covered:
Last up, Georgina Turner, Principal at Tidal Ventures joins us to share her investor insights on the final slide of the pitch deck — the ask slide.
Meet the VC: Georgina Turner
I'm Georgie from Tidal Ventures. We invest in product-led founders with global ambition in their Seed phase. I spend my days seeking out and assessing new investments for the fund and working with our founders as they execute their Seed to Series A plan.
The Ask Slide
The purpose of the ask slide and why it's important to an investor
The purpose of this slide is to explain why you are seeking investment and what you expect to achieve with that capital over a given period of time. It's important for the investor to understand how this capital will create value in the form of product milestones, customer wins and revenue growth. –GT
Common mistakes made on the ask slide
Founders often include the detail on this slide as a breakdown of the use of funds between areas (eg. $1m to product, $1m to marketing). The allocation is useful, but it's also great to see the quarterly breakdown of the real-life milestones you intend to achieve with the capital. –GT
Top pitch tip for founders
I find it helps me to write or draw a storyboard on one page before opening up PowerPoint. This keeps the pitch succinct and flowing logically as a story. Then I build on the detail from there. –GT
---
Keen for more insights into the ANZ tech startup ecosystem? Tune in to our podcast, Open the Pod Bay Doors. We interview some of the top investors and founders in Australia and New Zealand.
Disclaimer: At the end of the day, this series is just a guide and should not be taken as gospel. Just as every business is different, every slide deck should be different. While the general order and number of slides we'll use in the series is a good jumping-off point, perhaps a few more or fewer slides or a completely different sequence would better fit your company's story.