Pitch Deck Pointers Part 3: The Solution Slide
Hannah Field of Tempus Partners shares her investor insights on how to craft a winning solution slide.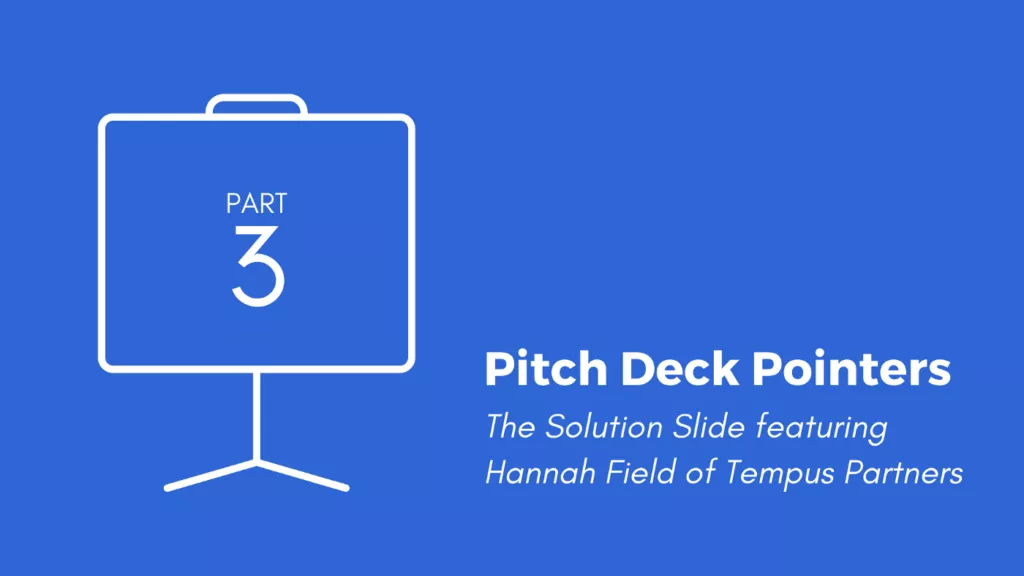 Welcome back to our Pitch Deck Pointers series. In the spirit of furthering our mission to support startup founders, every few days we're releasing a new slide of the pitch deck featuring commentary from top Aussie venture capitalists. If you've missed the previous posts in the series, check out:
Today, Hannah Field, Principal at Tempus Partners is breaking down the Solution Slide. First, let's get to know Hannah and what she does on a day-to-day basis.
Meet the VC: Hannah Field of Tempus Partners
I'm Hannah Field, Principal at Tempus, an Aussie VC backing impossible missions that make us go "hell yeah!". When I'm not meeting founders who are making technological magic happen, you can find me at the Tempus digs, drinking tea from my tacky mug, and doling out a bit of banter.
The Solution Slide
The purpose of the solution slide and why it's important to an investor:
Your solution is a simple explanation of what your product is and how it's going to solve the problem laid out in your prior slide. Be mindful of how you present this information — you want it to be a direct response to the problem, perhaps even visually linking the two slides, so that your solution is immediately understood. An investor shouldn't spend even minutes digesting the content — it should be obvious and to the point. –HF
Common mistakes made on the solution slide:
Sometimes this slide is bogged down with so much mind-numbing detail that I don't even know what the company's product is (see top tip below). Keep your solution slide concise and the visuals (whether charts or product shots) lightweight — don't distract and overwhelm readers with the minutiae of every product feature and functionality. Your value proposition and how you're transformationally improving the lives of customers and a broader market should be crystal clear. We should not come away asking, "wait…so what do they do again?" –HF
Hannah's top tip for founders when creating a pitch deck:
Say more with less. We look at a lot of companies every year (other VCs are the same!) and the reality is that we can't spend hours pouring over 50-page slide decks. It is possible to intrigue and inspire investors with very few slides, ticking off key points, without overwhelming them with detail best left for a conversation. In the same way that you're building beautiful and punchy 'ah-ha' experiences for your customers, do the same with your pitch deck. –HF
---
Next up:
Disclaimer: At the end of the day, this series is just a guide and should not be taken as gospel. Just as every business is unique, every slide deck should be unique. While the general order and number of slides we'll use in the series is a good jumping-off point, perhaps a few more or fewer slides or a completely different sequence would better fit your company's story.
Hannah was recently featured in a podcast episode of Open the Pod Bay Doors. Give it a listen to hear about her unconventional career journey working around the world at the likes of Pandora, Dropbox, and Canva led her to venture capital.