Renewable Potential: Rewards For Pitching Founders at ARENA Renewables Startup Showcase 
With Christopher Cox, Co-Founder & Director, Infravision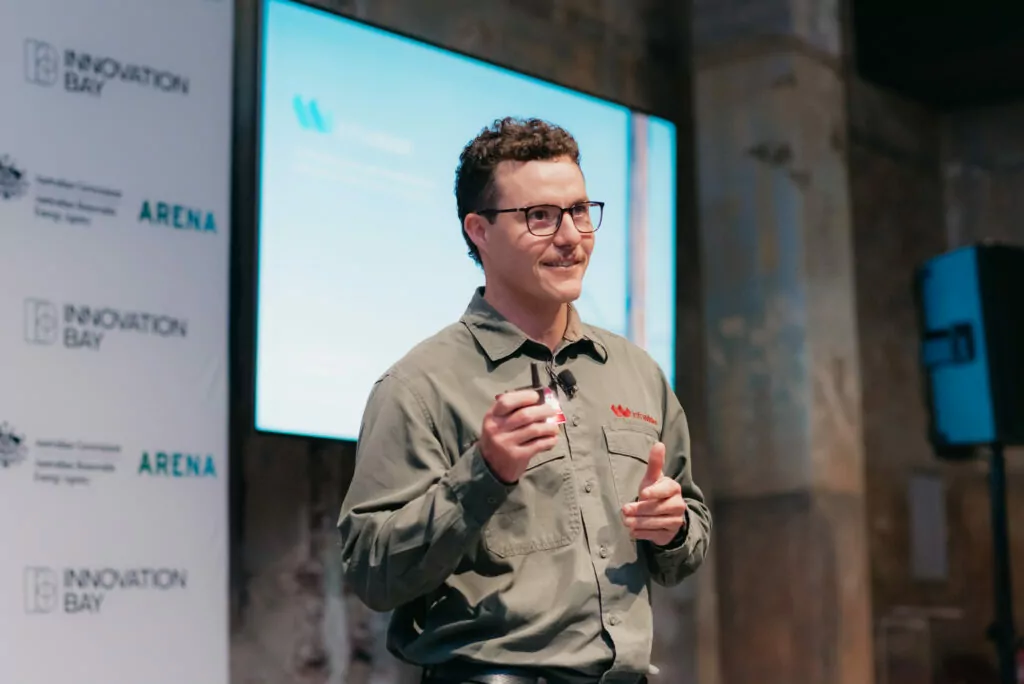 The fourth annual Innovation Bay & ARENA Renewables Startup Showcase returns in 2023 on Wednesday 1 November at Melbourne's Cargo Hall. The Showcase presents Australia's most exciting early stage renewable technology startups, pairing them with an exceptional 100+ strong assembly of the country's powerhouse players in the space, from angel investors, venture capitalists, private equity firms, and corporate venture capitalists, to supercharge founders' growth through funding, connections, and advice. Tickets are available now here.
Previous events have seen the likes of the world's leading power line stringing system, Infravision, solar manufacturer 5B, and "solar thermal" pioneer RayGen, raise capital and gain meaningful connections as a part of the event.
Four founders will be chosen to pitch at the event in 2023. With applications closing tonight, Friday 1 September at 11:59pm, we tapped on the shoulder of, Christopher Cox, Co-Founder and Director of Infravision (whose Co-Founder & CEO Cameron Van Der Berg pitched at the 2022 event), to discuss Infravision's experience and value gained from pitching last year.
Tell us about your company and what it does? What problems is it solving?
"Infravision deploys a drone hardware and software technology system for energy utilities that installs and upgrades power lines in a cost-effective, time-efficient and environmentally conscious manner at a speed and scale that hasn't been available to the industry previously.
To modernise and decarbonise the power grid – we need to build and upgrade 10X faster than we do today. It's estimated that an additional 16 million kilometers of new power lines will need to be built by 2030. Current solutions are simply too slow and dangerous. For context on just how slow they are: we can build a new solar or wind farm in about a 1 year, whereas it often takes 10 years or more to build out new power transmission lines.
Infravision solves this issue by empowering electric utilities to deliver safer, faster, lower-cost power line upgrades using our grid modernisation technology ecosystem."
What compelled you to apply for this event?
"We found out about the event through our relationships within ARENA and our existing investor network. We saw the value in the event being it was a clean energy focused pitch event (of which there are relatively few of) with an audience of decision makers, experienced investors in the energy space and key Australian energy personalities.
Infravision was also negotiating support by ARENA on a project with one of our customers and we were also beginning the long journey of raising a series A capital round. This event served as a great platform to ensure the Australian clean energy community knew about our vision, mission and solutions within the energy industry."
Tell us about your experience with the pitching process…
"It was a really well thought out and thorough selection process," says Chris. "Feedback was mixed from mentors. As you can expect, there are always differing opinions as you move through the process, however on the whole it was all incredibly useful in dialing in the story of Infravision. It gave us a great platform to begin investment conversations with bigger funds both in Australia and the US."
What was your overall experience like?
"Being a small invite only event every attendee was a valuable connection to make and communicate our story with. Following the event, Infravision was able to secure funding for a network intelligence project together with Transgrid. The experience was very valuable as an official kickoff for Infravision's series A"
What was a highlight of the event and experience for you?
"Seeing my Co-Founder and CEO Cameron pitching and winning the People's Choice Award. A combination of Infravision's past track record, future vision, and support from the Innovation Bay team in being able to communicate our story effectively to some of the best clean tech minds in the industry and being recognised for it.
What would you say to other founders who are on the fence about getting their application in?
You only get out what you put in. The experience was not arduous and benefits far outweighed the time commitment for the process itself. Would recommend it to anyone looking to make a space in Australia's clean tech scene."
Why do you think events like this are important?
"Historically, the early stage Australian cleantech and energy startup sector has previously been under-represented and under-funded compared to the size and long-term nature of the problem we are trying to solve. The sector is now hot topic on the top of everyone's minds – which is great to see and be a part of. Accelerating the energy transition to achieve global carbon targets by 2030 is a mammoth task and needs the support of the government, private industry and the population to execute in a timely fashion, events like this provide the exposure needed."
How do you feel Australia is doing in terms of addressing climate change? What could people be doing better?
"Australia could do well to take a look at how North American energy focused collaborative strategic investment firms operate, where a core of utilities (who are critical enablers and partners in the energy transition) come together with energy adjacent companies to invest with a common goal. This centralized approach to investment in companies that have direct emissions reduction impact and/or lay the foundation for a faster transformation to net zero emissions provides a supercharged ecosystem for innovation and creates funding opportunities for companies that are building deep technology solutions that don't fit the traditional VC investment criteria."
Founders in the renewables, cleantech and climatetech space have until 11:59pm tonight, Friday 1 September to get their applications in for an opportunity to pitch at the Innovation Bay & ARENA Renewables Startup Showcase on Wednesday 1 November 2023 in Melbourne. 👉 APPLY HERE 
---
More Innovation Bay content
Join the Innovation Bay community
INNOVATION BAY NEWSletter
Stay up to date
Sign up for monthly updates including exclusive interviews, pitch dates, event announcements, profile, news and much more.