Retreating To The Other Side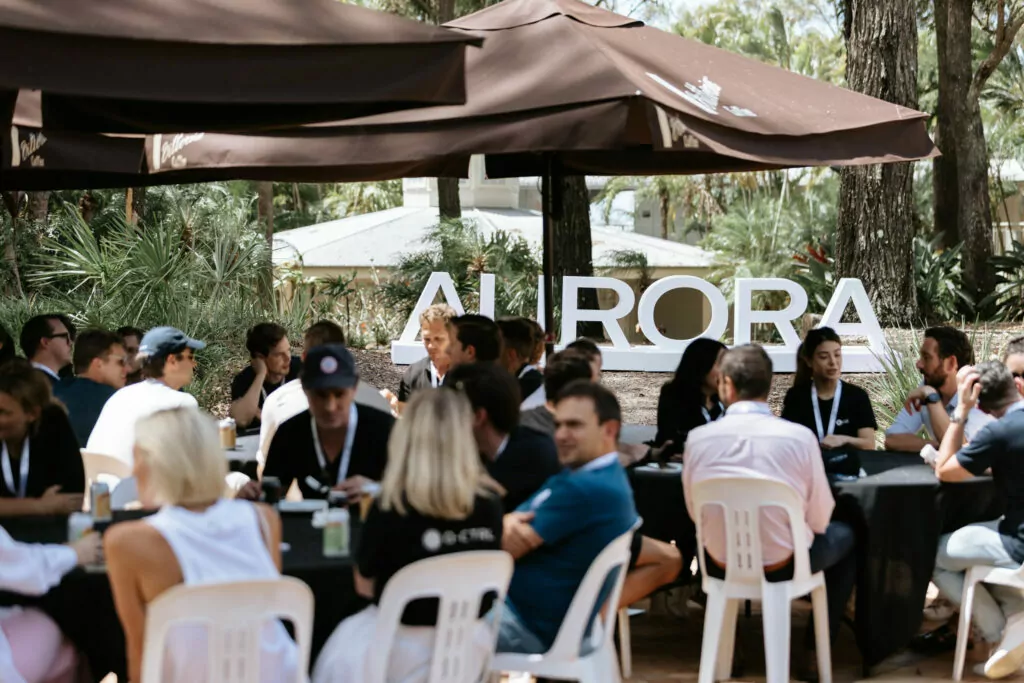 ---
Aurora is Innovation Bay's community for Australia and New Zealand's venture capital general partners. Aurora exists to shape and enable the future of the industry to thrive via more collaboration, deeper connections, and collective learning. We don't focus on deal flow, we focus on building relationships. Our next event is the biggest in the VC calendar – Venture Downunder. This year, we'll be taking over 100 ANZ VCs to Queenstown, New Zealand. If you're a VC and interested in learning more about how our Aurora community could become a huge support for you, reach out today HERE.
---
February saw 80 of Australia and New Zealand's best VCs descend upon Sanctuary Cove on the Gold Coast for two packed days of learning, connecting and team building for Innovation Bay's Aurora Retreat. The event was made possible in partnership with Advance Queensland, Queensland Government and the Office of the Office of the Queensland Chief Entrepreneur and our valued national and Aurora partners.
Aurora Retreat delivered an inspiring and engaging program centred around the human experience – all under the guise of the overarching theme 'The Other Side'. With the assistance of our facilitator Cameron Webb, Founder of Sparring Partners, the event featured keynote speeches, expert panels, fireside chats, peer-led breakout sessions and insights from startup founders.
Throughout the event, Innovation Bay took the room's pulse on a number of topics. When asked about the current economic conditions and how they are impacting deployment strategy, 44% of respondents declared they are being more cautious, conservative or slowing down fund deployment in 2023 with 21% seeing little to no impact and 13.5% accelerating or taking an optimistic view. Fifty per cent of respondents plan on making more investments in 2023 than last year, 39% the same amount and just 10% expecting to invest less than. When quizzed on their sectors of focus for 2023, 29% of respondents will focus on HealthTech, 25% on Climate/CleanTech, with 18% taking an agnostic approach and 17% attracted to AI.
Following a welcome address from our very own Co-Founder Ian Gardiner and Lea Diffey, Deputy Director-General, Innovation in the Queensland Government's Department of Tourism, Innovation and Sport, we dove head first into our programmed content with a discussion on VC, PE & Economic Cycles and what we can learn from our friends in Private Equity.
Like all Innovation Bay events, the Chatham House Rule was observed but some of the key takeaways touched on there being a special set of skills required to apply tech to private equity. It was observed that one thing that is constraining Australia from having a vibrant tech community is the supply of great labor and great people. The conversation moved to a need to change the narrative on who can work in tech, what it's like, and how to attract more women and a better stream of talent to the industry.
We spent the first afternoon at the Intercontinental Sanctuary Cove's lagoon, where our VCs broke off into teams for a raft and team building exercise with Be Challenged. Armed with a one-pager of instructions and a selection of materials and tools, each team was to craft a vessel which would later be raced across the lagoon. Team Sweet 16 came out on top with Team Unicorn taking home the wooden spoon. We weren't short of drama with black heavy clouds dropping a tropical downpour during the race – though not dampening competitive spirit in the least! We connected further over dinner that evening, taking festivities to a cocktail bar for deeper conversation and networking. More rain, no spirits dampened!
Day 2 was brimming with programmed content – the day kicking off with a Queensland Startup Showcase where five of the region's most impressive founders pitched their companies to our room full of VCs. We heard from: Uuvipak – a packaging alternatives company for a greener future; Tour Amigo – a global B2B travel tech company digitising and distributing multi-day tours globally; PicUp – digitising analogue industries through their on-demand goods movement and junk removal mobile and web app; GeoNadir – building the best map of the world using crowdsourced drone imagery to save at-risk ecosystems; and Eggy – an app for busy families to easily organise, share and manage their bills, appointments and to-do lists.
Our facilitator, Cameron Webb, was our keynote speaker and delivered an inspiring moment for the room to connect. Titled, Belonging: The Superpower of Our Species, Cam worked collaboratively with guests to demonstrate that a culture of 'full contact' collaboration and commitment is what every leader and business aspires to achieve. But most don't get there because they fail to build belonging up front. In this session we launched into the science linking belonging to collaboration and success.
The next couple of hours saw our guests break out into six different peer and expert-led sessions. Delivered "in the round", each session was intended to be a collaborative discussion, with input from each member welcomed.
Chris Gillings of Five V Capital, and Kylie Frazer from Flying Fox Ventures, led a dynamic, and even a little heated, discussion on how we can join forces titled "ANZ's Competitive Advantage: What is it now? What could it be? And what do we have to do to get there?"
Deborah Johns, Partner, Gilbert + Tobin offered an opportunity to be quizzed on all things legal. Deborah's funds practice focuses on the entire lifecycle of infrastructure, private equity and venture capital funds – from establishment, to portfolio build, to winding down. Session attendees appreciated the chance to ask questions directly affecting their companies.
Cameron Webb led "Move Mountains: Avoiding Burnout and Unleashing Your Peak Performance" discussing how great companies are built on great people…but too many of us don't feel great most of the time. We're stressed, fatigued, and operating sub-optimally. In this session we took a deep dive into what is holding us back and what can be done to ascend to our peak.
Scott Thomson, Head of Innovation, Customer Engineering at Google Cloud, offered a wonderfully informative (if not eye-opening) presentation on "Generative AI – Now and in the Future". The executive level TL;DR and fireside chat on Generative AI (with Alezeia Brown, Senior Investment Associate at Main Sequence Ventures expertly moderating) discussed where AI is heading with future themes relevant to media, personalisation and productivity as AI generates text, audio, imagery and video. If you want to dive a little deeper, Google's recent GenAI announcements are summarised in the Google Cloud VC & Startup "AI special" newsletter.
Rajeev Gupta of ALIUM Capital and Nick Gainsley of OneVentures, led "Reaching End of Fund Life: Now What?" During this session, the pair (and a jam packed room) discussed what's on the other side of the fund. With companies staying private for longer, what does this mean for fund structure?
During "The Other Side of the Coin: Portfolio and Fund Capital Raising", Llew Jury of Sprint Ventures and Karen Chan from Perennial Partners spent an hour navigating the challenges and opportunities for raising in 2023.
And finally, Cameron Webb led "Strong 4 Life: A Model For Resilience in Turbulent Times". During this session, Cam discussed how resilience is as important, if not more so, than intelligence when it comes to thriving in a VUCA world. Guests explored a 6-part model for building individual, team and organisational resilience.
Get in touch if you're keen to learn more about membership HERE. 
---
More Innovation Bay content
Join the Innovation Bay community
INNOVATION BAY NEWSletter
Stay up to date
Sign up for monthly updates including exclusive interviews, pitch dates, event announcements, profile, news and much more.