Venture Downunder 2018, that's a wrap!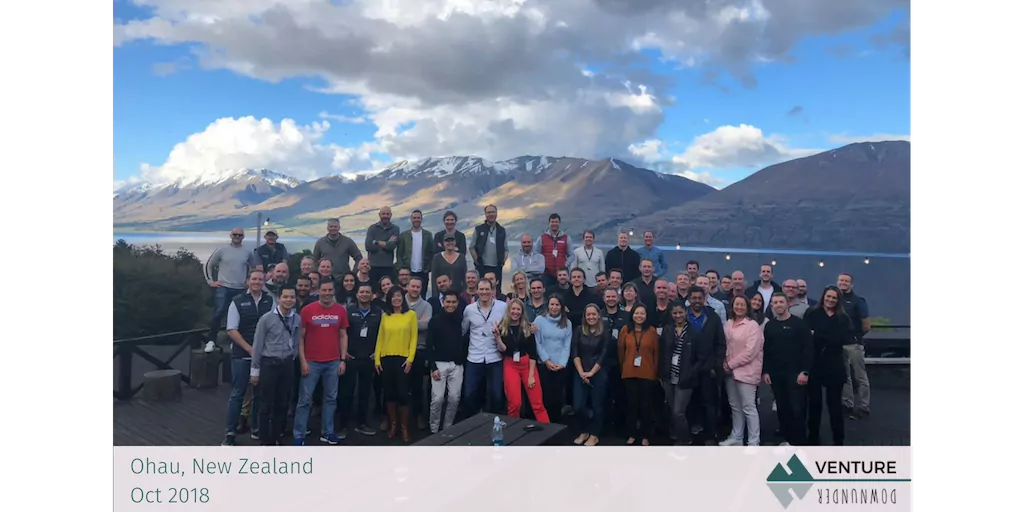 Last week, we welcomed 43 venture capitalists, 12 incredible startups, and our partners to 'Venture Downunder,' our annual VC conference set in the beautiful and remote location in New Zealand. Our aim was to bring together venture capitalists from Australia, New Zealand, Singapore, US and Europe to join us for a few days of learning, bonding and relaxing. We believe that a healthy VC ecosystem is critical to helping startups be successful.
It was 6 months in the planning but what came out from #VentureDU2018 surpassed all our expectations.
Learning from each other
The group arrived at the stunning Lake Ohau Lodge on Thursday morning, took their seats in front of the log fire and began the 'Inside VC' Day. Multiple forums led by panels encouraged the group to share insights at an industry level, and talk about the challenges every VC faces; delivering value to LP's, what's a successful exit, portfolio construction, and how to support founders.
Exceptional Pitches
On Thursday and Friday afternoon the VCs were treated to two blistering pitch sessions from 12 fantastic startups from Aus and NZ. We were all blown away by the quality of the pitches and the impressive business they're building.
Startups that pitched
Thursday (Series B): Conqa (NZ), IVvY (AUS), RedShield (NZ), Tyde (AUS), Fuel Games (AUS), Fuel50 (NZ)
Friday (Series A) McCarthy Finch (NZ), Simple KYC (AUS), Dexibit (NZ), Indebted (AUS), Orah — previously boardingware (NZ), Qwilr (AUS).
Each of the above companies are currently raising. If you can help out, or make introductions, please check out their websites. Feel free to get in touch with us — we are happy to facilitate the conversation.
Strengthening relationships
It's rare to see VC's in the one place — let alone for 4 days in the wilderness! VCs are generally busy working with their portfolio, LPs or searching for the next deal so don't have time spend with their peers. From the welcome drinks in Queenstown, the openness of the Inside VC sessions, to the activity day on Friday, and dancing late into night, it was great to see new bonds to form.
---
What we learnt is that VC's are like startups. Between managing a fund, LP's, and a portfolio, it's highly stressful, you're always raising, and the rewards don't come easy. We wanted Venture Downunder to be a place for our guests to unplug, relax, and enjoy the adventure and scenery New Zealand is famous for.
We couldn't be more proud to have hosted an event that showcases the growing strength of the ANZ venture industry.
It would not have been possible without the support of our partners, NZTE, KPMG High Growth Ventures, Gilbert & Tobin. As well as IB sponsors Macquarie Bank, AWS and CommBank.
That's a wrap for #VentureDU2018 and we can't wait for 2019.