Venturing Downunder – Kia Ora Tāhuna
"There are 89 funds in the room so the ability for us to get those learnings from all these folks that have done it before and the next generation coming through. It's fantastic to have all the knowledge from our whole venture ecosystem in Australia and New Zealand all in one room." – Stew Glynn, TEN13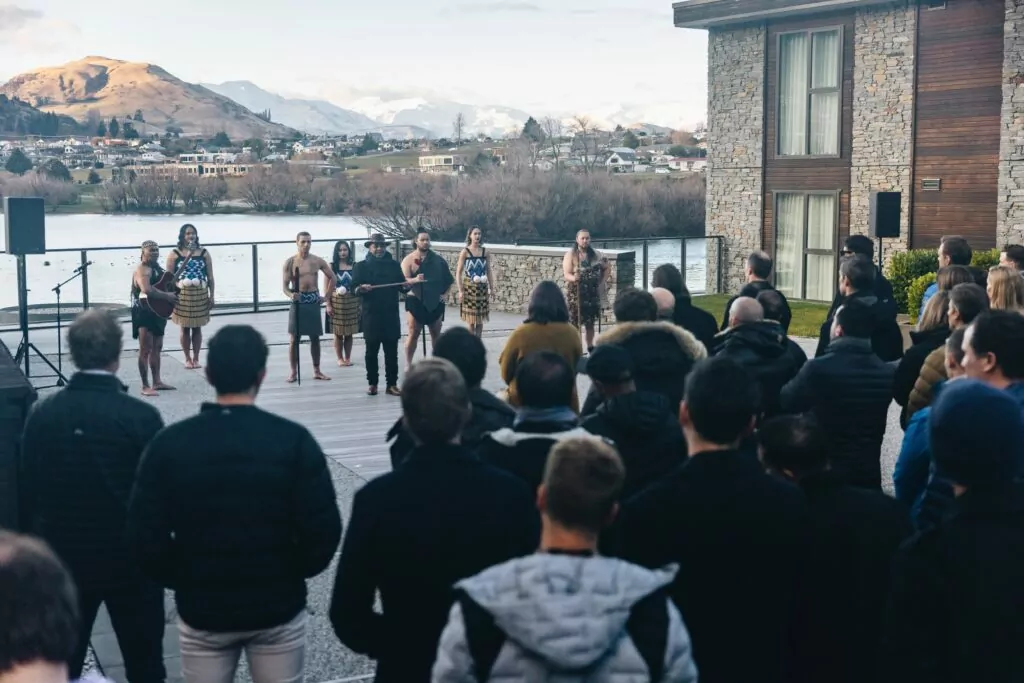 For the sixth year, our Venture Downunder event has remained a mainstay and hallmark moment on the Innovation Bay events calendar. Each year, we invite our VC community (Aurora) to gather, celebrating the camaraderie of togetherness and collaboration. Our venture members learn from one another, adventure together, and connect in a deeper, less distracted way that enriches them (and us) with new insights, new connections and a fresh view that we all can take on the road and into the wider industry. This year's VDU was a spectacular reminder of the powerful and meaningful community that has been built in Aurora and Innovation Bay.
Across 3 days and nights, with Tāhuna (Queenstown), Aotearoa (New Zealand) as the incredibly stunning backdrop, we drew a line in the sand between what came before and how we dive into the next chapter from here. 105 VCs from 89 funds collectively came together to forge deeper connections and learn valuable insights from one another.
This extraordinary event was made possible by our critical partnerships with New Zealand Trade and Enterprise, New Zealand Growth Capital Partners, our national partners Google Cloud, IAG Firemark Ventures, and KPMG High Growth Ventures, and our Aurora partners ASX, Gilbert + Tobin, FCX, Edda and Department of Industry, Science and Resources.
Upon arrival, we were welcomed by a traditional Pōwhiri, a breathtaking and deeply moving blessing from our Māori neighbours, where we let them know we came in peace – eager to forge a connection. After a lesson on the haka, hearts full and welcome, we jumped on jet boats into the centre of Queenstown. We spent our first evening at the beautiful Mountain Club, the hub of all things startup in Queenstown, where members had the chance to connect with the local ecosystem through a meet and greet with 14 of New Zealand's top founders. We then moved to a beautiful and intimate dinner at Eichardt's Grill.
The crisp morning of day 2 began with a brisk walk or an invigorating plunge into Wakatipu Lake for some eager early risers. We then headed up to arguably one of the most stunning places on earth – New Zealand High Country – where we spent the day immersed in content and learning. Innovation Bay curated a unique program which put our members in the driver's seat – a loosely framed, choose-your-own-adventure style of absorption. Kicking off the morning we heard from Rick Baker (Blackbird) and Kim Jackson (Skip Capital) who together wonderfully articulated the evolution of the VC/startup ecosystem in Australia, reminiscing on their first hand experiences of when the ecosystem looked a little different to where it is now.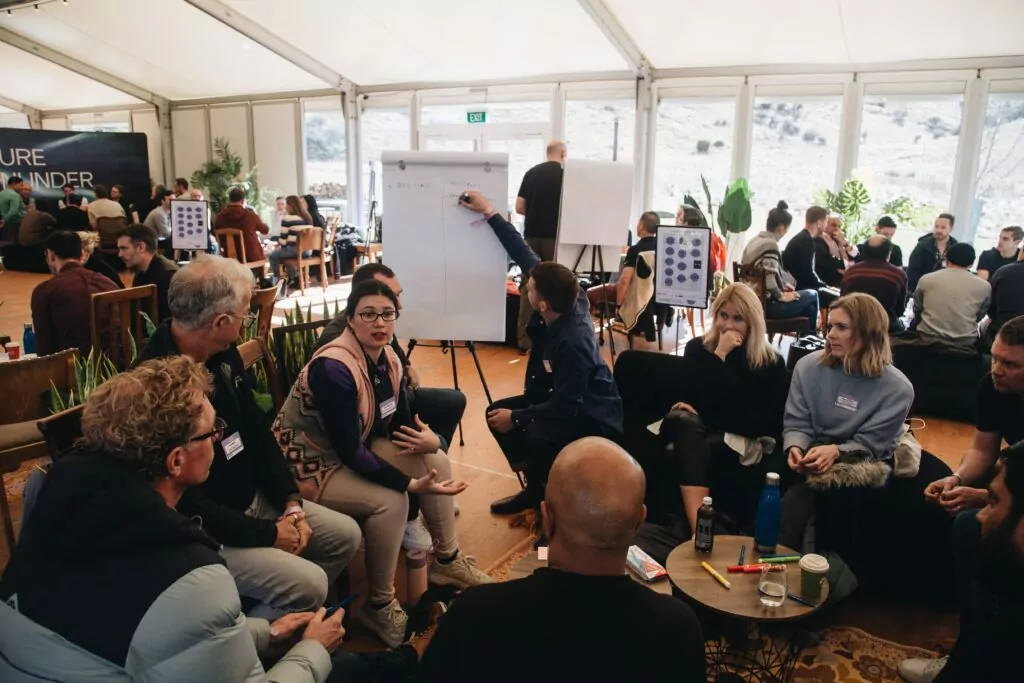 Next, we called upon 12 moderators from our community – members and partners – to facilitate learnings across three content themes Liquidity: Profit like a Pro, Beyond the Investment: Nurturing Founders, and Navigating the Macro Economic Outlook. Across the three themes we delved into four sub-themes to derive the following insights…
Nurturing Founders, Beyond the Investment
Founder – VC Relationships
Build relationships from the beginning to add value – touching base more often than quarterly
Building trust is imperative
Set clear expectations throughout the relationship and engage in conversations about exits from the beginning
Hands On vs Hands Off: How Active Should VCs Be With Their Portfolio?
VCs need to be clear upfront about where they can help
VCs want to be helpful, but knowing when to be hands off is of extreme importance
Pitching/fundraising

Coach founders through different rounds
Provide access to your network – plug them into people who could be transformational through their journey
Strategic advice – identifying the difference between a great, good and not so great strategy
Assist founders in making good decisions – be a sounding board and provide advice
Dealing With Co-Founder Breakups
Understanding when co-founder fallout is an issue is critical

Early visibility is crucial – VCs tend to gain knowledge when the issue is past the help phase

Imperative to deal with it as quickly and flexibly as possible, the resolution generally being an exit of one of the parties from the business.
A Founder vs a CEO
Self aware founders tend to have less issues
Changing CEO is like heart surgery so it has to be the right decision for the business
Have clear communication and set expectations on who is best placed to be CEO

This may mean finding another CEO – a conversation that should happen early on
Involving the founder in the search for a CEO is important and normally leads to a better outcome

Look for red flags – what are the things to consider when thinking about whether a founder might transition to CEO?

Culture
Plateauing of metrics
Staff turnover
Liquidity: Profit like a Pro
Liquidity Options
VCs should have a strong portfolio approach and view on their companies – top tier, middle tier, bottom tier – potential IPO, trade sale, M&A
VCs should look to upskill themselves in investor-led activities to generate liquidity

GP-led secondaries
Strip sale – selling part of the whole portfolio
Partial exit – can some cash distributions be made in the middle of fund life
IPO: When, Where and How
IPO option is good for ecosystem – recycling capital back to investors and founding team
Education required for VCs and founders to discover when they're 'match fit'. What size do you need to be, how do you deal with press, compliance and requirements and is it really that hard?
Where is the biggest challenge? Is it learning a few listing rules or building a billion dollar company?
There are challenges in Australian based unicorns listing elsewhere
The Future of Private Markets
VCs are generally very open to allowing founder/insider secondaries – there's a level of comfort versus too much, but certainly want to see some money come off the table.
Key focus needs to be on shareholder agreements – what's legally allowed to be sold/transacted?
Considerations with regards to the level of disclosure needed. Big focus on the balancing act for people buying into a fund on the want/need to know.
Lots of education needed both on the buying and selling side as there hasn't been a huge amount of secondary activity in the Australian market.
Growth vs Profitability / Hold vs Sell
The 2021 growth at all cost trend is now out! Capital efficient growth is in vogue!

Early stage investors still need to see growth and want to see more than 100% YoY growth. Later stage companies should be targeting at least 30% annual growth.

Hold vs Sell – VCs generally want to hold to the end (to maximise fund performance) but others are happy to take money off the table – including secondaries or cash off the table from later rounds.
Be anti cyclical – sell into the bull market.
Macro Economic Outlook
At What Speed Should We Be Deploying Capital?
On the solution focussed end of the problem – do your down rounds, get c-notes out of the system.
While you're doing that take care of your founders – when you're in down rounds, you can end up diluting the founders out of existence.
There is a lot of dry powder at the moment. And there are fewer good opportunities in the market. How do we focus on finding good opportunities? One area of focus could be improving the rate and quality of opportunities from universities in a commercialisable fashion.
What's Happening Globally? (particularly in the US)
Market sentiment now is trending upwards in a more positive direction. Although consumer tech and product investing is still tough. There is definitely more enterprise SaaS plays at the moment in the US.
Each state in the US has Economic Development Funds which are doing a lot to attract the top end of town (employers by tax breaks, startups and VC funds).
US VCs tend to be a bit more structured around deal terms than in Australia.
Immune Sectors: Where Should We Be Investing?
Broad agreement to disagree on the ideal investible profile – from having a good balance sheet to anything that shows extraordinary growth.
Healthtech and education have been safe or immune in the broader sense with the new kids on the block being defence, security, cleantech and AI.
The power of data and raising funds
Data can help raise capital. We need to be able to track better information and data from startup companies.
LPs are asking for more and more transparency and communication.
There is no magical solution. It's not just the responsibility of VCs or founders, it's about everyone working together to make things better.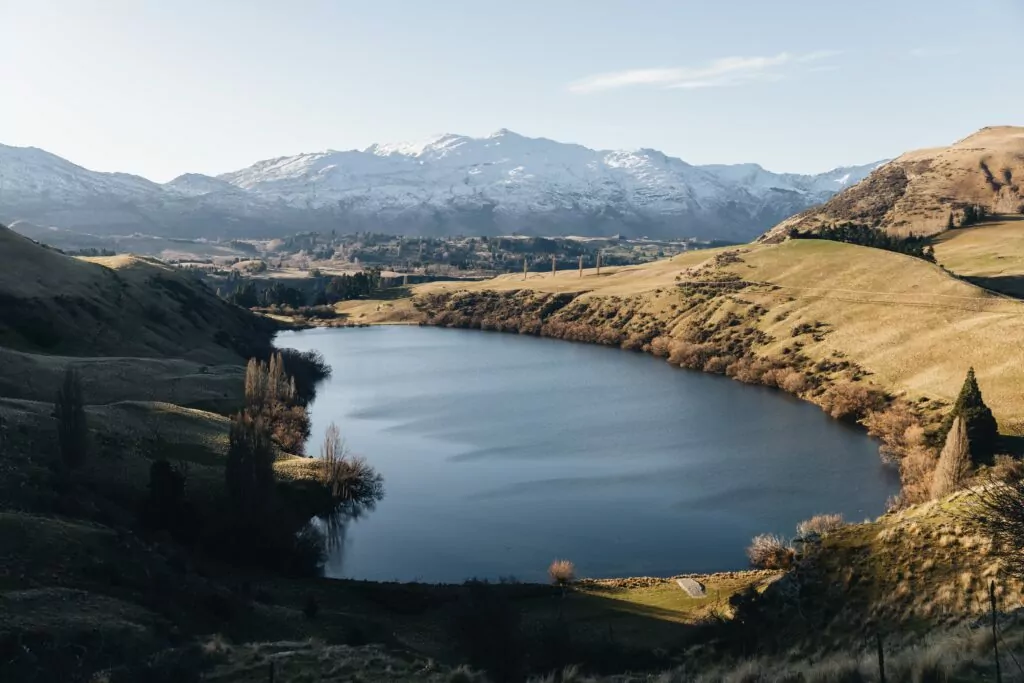 After two days of connecting and learning, day 3 was designed as a brain break – to allow the learnings to simmer and settle in our minds and cement the new and continued relationships we'd built. Our members broke out into activity groups – from skiing and snowboarding at Coronet Peak, a tour through the picturesque Queenstown wine country, to jet boating, quad biking and scenic hikes through the countryside. VDU's final night was a neon 80s apres-ski themed affair – an evening to celebrate the abundance of community spirit in the fresh Queenstown air.
There's no doubt our Venture Downunder event fortifies the VC community, but what does it do for our founder communities? Well, lots actually. VCs have different investment theses and philosophies and we spent significant time delving into each of them. We know exposure to diverse perspectives and opinions encourages critical thinking and open-mindedness. Leaders of the Australian VC community have returned from VDU energised and fuelled by a heightened sense of curiosity. This makes them aptly equipped with a wider network and incredible peer-to-peer insights, so they can better support their portfolio of founders through the scale-up journey.
For more insights on the power and purpose of events like Venture Dowunder, and their butterfly effect on our industry, please take a read of Phil Morle's (Main Sequence) recount here.
---
More Innovation Bay content
Join the Innovation Bay community
INNOVATION BAY NEWSletter
Stay up to date
Sign up for monthly updates including exclusive interviews, pitch dates, event announcements, profile, news and much more.