Web3…. What The?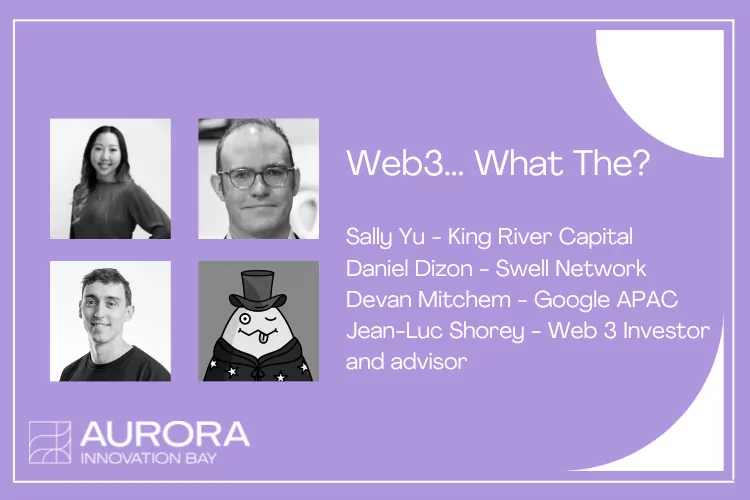 Earlier this month we held a virtual education session on the topic of Web3.
We enlisted a terrific moderator Sally Yu, Investment Associate, King River Capital and panelists Daniel Dizon, CEO & Co-founder, Swell Network, Devan Mitchem, Web3 Product Strategy Google APAC, and Jean-Luc Shorey, Web 3 Investor and advisor. These four Web3 experts generously cleared an hour in their calendars to deep dive into the world of Web3 to discuss what Web3 actually is, what they're excited about, and the obstacles and opportunities VCs should look out for.
Here are the key takeaways:
Web3 – what the??
Web3 is an emerging word. But what the heck is it? It's the idea of settling information on public record. It's censorship resistant and permission-less. Specifically, it's anything (information, finance, pop culture, accountability) that is built on a public blockchain (or public layer). Web3 removes the role that a traditional entity would play and replaces it with technology. Web3 will open up interesting ways to access the backend for new applications. As a base layer it will be really interesting and surprising to see how Web3 evolves over time.
Metaverse, Web3… what's the difference?
The Metaverse is still rather loosely-defined and not quite the same as Web3. The Metaverse is synonymous with the future of the internet. It's the rich value that we have but absorbed through sensory inputs – touch, smell etc. The Metaverse is the virtual presence and also how we navigate the information. Web3 is what the Metaverse is built on. The term Metaverse casually applies to two extremes: closed/traditional content ecosystems and decentralised/permissionless/censorship-resistant ecosystems. The differentiation between Web3 and the Metaverse is the backend – centralised vs decentralised.
There are boundless opportunities in the Web3 space.
Web3 is a fast moving area and there's a real need to push the space forward. We've recently seen investment overtake development. There are pockets of really exciting innovation with a consistency in new technology to navigate. Web3 is experimental with lots of opportunities to build transformative technologies.
Tokens aren't always necessary or required. The real value is in their transparency.
Recently a lot of tokens have been exposed for not being required or necessary. There is an art to the token – they need to be incredibly well designed and require an application that functions by itself and compliments the system. Tokens are hard to get right, which opens up opportunities for innovation.
The benefit of tokens is in their transparency. They help to identify holders of an asset. Tokens allow us to follow the narrative; to see what's happening onchain with the asset, and to watch the holder's account or address.
Tokenising real world assets (eg real estate infrastructure).
Some real world assets are starting to get tokenised and exchanged onchain. There was an effort back in 2019 to get real world assets onchain which failed due to combination regulation and DEFIs being non-existent. Debt assets are cool use cases – increasing the efficiency of real estate infrastructure. Anything that has a price feed can be tokenised but be mindful that the bridge between onchain and offchain is important. The biggest obstacle we'll face in this space is the capability of builders and how the rate of innovation is going to support them.
NFTs are onboarding to Web3. DEFI has an interface problem.
NFTs are a good 'gateway' to onboard the masses compared to DEFI which has an onboarding and interface problem with a need to be fixed. NFTs are where the greatest amount of growth will be funneled into. Where NFTs exist for culture exchange – think creative content, art, music and collectibles – DEFI is a niche game and one that requires the user to be deeply interested in technology. There is currently a bit of a blockage to adoption in DEFI but with regulation updates that is likely to change. Whatever the flavor, developer tooling is a space ripe for a big impact.
Talent, governance and regulation are Web3's biggest challenges.
There is yet to be a well established means to govern the protocols, projects or startups in the space. Regarding talent, there are a lot of builders that are currently anonymous – for their own self-protection. DAOs (Decentralised Autonomous Organisation) offer genuine community ownership of a particular protocol, and are great for community-driven decisions, however, they do require a super engaged community.
Globally, Australia is very well positioned in the Web3 space. How do we stay there?
One core factor for this is that Australians are the highest per capita gamblers in the world. We have the luxury to spend a little bit more and take bigger risks. Innovation in this sector has really picked up with the community of builders being quite strong locally. To continue the current trajectory, there are a few considerations. To sustain the current success, the VC ecosystem is going to be extremely important. We need to look at how we nurture new talent and assist startups with best practices, early and ecosystem grants access. Diversity and inclusion are, further, hugely important to continued success. Some methods to remain well positioned include community and developer meetups, and local hackathons.
Getting started: research, learn and find a community.
Remember that price history isn't always the best way to look at it. Start with the strength of the team and get deep into the industry by researching, learning and finding a group or community to join. It's essential to get native and your hands dirty. The best place to learn more about crypto in particular is Twitter (and don't forget to shine a lens on Telegram). It's important to check what protocols are out there and get stuck into them.
---
More Innovation Bay content
Join the Innovation Bay community
INNOVATION BAY NEWSletter
Stay up to date
Sign up for monthly updates including exclusive interviews, pitch dates, event announcements, profile, news and much more.