Women to the front #3
Maree Beare | CEO & Founder | Clinials (Canopy Founder)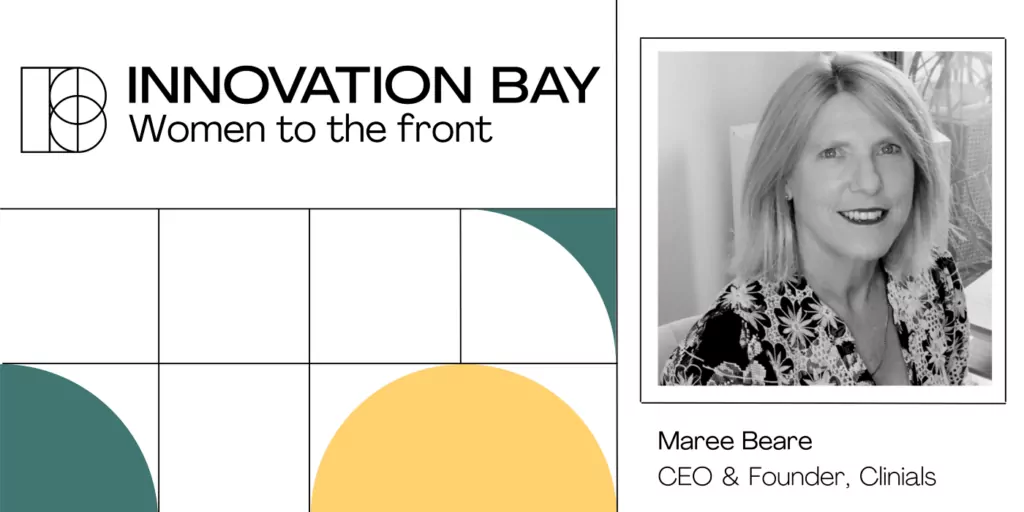 In honour of Women's History Month, March has seen us highlight just some of the wonderful women doing incredible things within our orbit. As we approach the end of the month, today marks the final feature of the Women to the front series for March. We've loved this series so much though so we may not be ready to say goodbye — stay tuned.
Today we're absolutely chuffed to direct the spotlight in Maree Beare's direction. Maree is the CEO and Founder of Clinials — a company that helps Pharmaceutical researchers create life-changing treatments by accelerating participant recruitment and automating eligibility. Below, Maree lets us in on her joys, challenges and overall journey to now.
---
1. Name, Role, Company, founded?
Maree Beare is CEO and founder of Clinials and a sector leader in HealthTech, FemTech and BioTech, and Forbes top 50 for disrupting Healthtech.
2. What does Clinials do?
Clinials accelerates participant recruitment in clinical research so researchers can bring medicines to market sooner. We are a multi step platform which uses AI to help researchers communicate medical Information to patients, improve candidate selection and clinical trials speed
3. What moment has brought you the most joy looking back on your journey to date with Clinials?
The first clinical research study customer we signed definitely had the champagne flowing, a lot of blood sweat and tears went into it. It was one of those moments we we knew what we were doing was solving the problem and could actually help people
4. What's something you think all founders should know about the 'startup' journey?
As a lifelong technologist, entrepreneurship came naturally to me. However, just like a new job, understanding how to survive as a startup and scaleup company comes with a new skill set. Being an entrepreneur has taught me the importance of being patient, resilient, and persistent during difficult times.
5. Prior to starting Clinials what were you doing?
Clinials is actually my 2nd Startup. Before Clinials I created a startup Wanngi. Wanngi is a health app and a way for people to track their symptoms and collect their health history. Call it a digital health wallet if you will. My husband went on a clinical trial in 2020 and this caused me to view the clinical trials experience from a patient's perspective. I was able to see the disconnect between the patient experience and researchers. Realising that 80% of clinical research fails to meet participant requirements, the initial potential pivot for Wanngi became centre stage and Clinials was born.
6. Name a woman that inspires you?
The woman that has always really stood out to me is my unt Sr Regis Mary Dunne, AO. I grew up having conversations on science and ethics. I am honoured that I am now helping the very sector that she was a groundbreaking leader. She worked in the STEM field as a genetic scientist, bioethicist and I believe that she was able to achieve what she did in those times due to her status as a nun! Regis was not only really dedicated to her work, but upholding values of understanding and caring.
7. As a female founder, what changes would you love to see in the industry?
Look, I'm sure you're expecting me to say something like better female representation and increased investment funding, but it's not that simple. There are networks that men are part of and women don't know about but need to have access to. What we really need is a cohesive working environment where the industry works together and shares ideas and results, on a level playing field. I think these types of values will in-itself create space for women who have previously been pushed to the side. There's plenty of space for us all!
Connect with Clinials
Website | LinkedIn | Twitter | Facebook | Instagram
Connect with Maree Beare