Women To The Front – Coby Sullivan
Coby Sullivan | Head of Founder Communities | Innovation Bay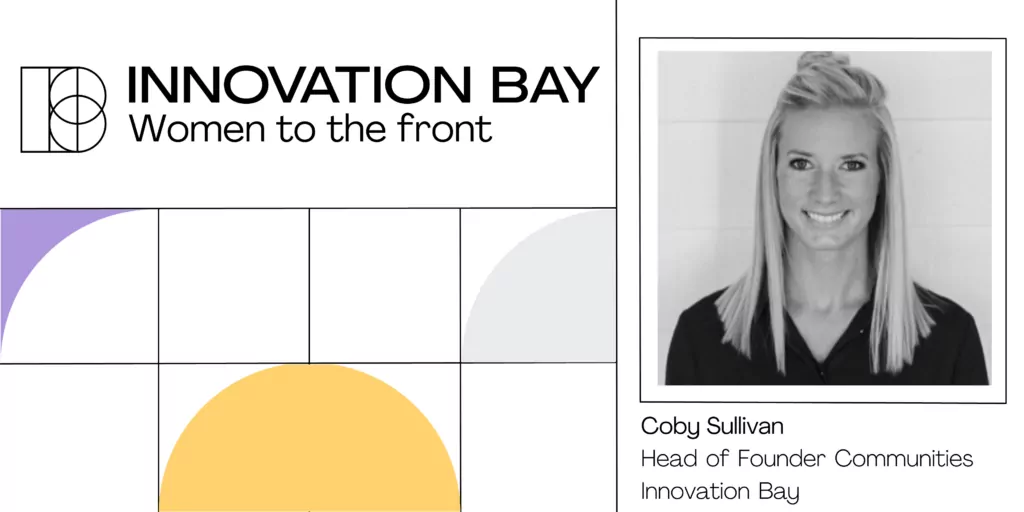 In case you missed it, today is International Women's Day. A day to celebrate all women, their achievements and unique differences, and to raise awareness on inequality and discrimination to create a world where gender equality exists.
The UN's theme for International Women's Day 2023 is Cracking The Code: Innovation for a gender equal future. Certainly one we couldn't let pass us by! So throughout the month of March (Women's History Month), we're highlighting some of the incredible change makers in our community and network, putting in the work to ensure equality for all.
Our first guest is our very own Coby Sullivan. We took some time out with Coby to reflect on her achievements, inspirations and the changes she hopes to see in the industry.  
What does your role entail?
Supporting the top tech founders across Australia so they, and their businesses can thrive. Startups are all consuming; scaling one takes serious passion, perseverance, and grit. The founders we work with believe in their solutions wholeheartedly and will do whatever it takes to bring their products to the world! It's not just a career choice, it's a lifestyle. So I support them in all aspects of that journey. This might mean connecting fellow founders to have a confidential conversation about a specific issue that's keeping them awake at night or organising an important event with thought leaders and key players in their industry.
Prior to this, what did you do?
I ran an incubator. It took a lot of energy, blood, sweat and tears but it produced a human at the end so I'd say it was successful. So successful that I've run it twice. 80 weeks all up, with a little girl and a little boy at the end of it all. Definitely the best investment I've ever made.
Why is it important to have female role models in the innovation sector?
The tech sector is still predominantly male, with females accounting for about 30% of management or executive teams. The best way to increase this representation is to model it, which is why female role models are so important. I'm proud to say at Innovation Bay we have a majority of female leaders! 
I want my daughter to know that tech is an area where she can make an impact – if she wants to, of course. I'm hopeful about the future, as this next generation seems well-supported and fearless.
Who is a woman (in the industry or otherwise) you look up to and why? 
There are many. Lately I've been reading more about Mira Murati, the CTO of OpenAI, and her story. I love that there is a female leader at the helm of this generative-AI boom.
What changes would you like to see in the industry? 
I think to achieve true gender equality in not only this industry but all industries we must all pay more attention to the micro-moments when decisions are made, and check ourselves and others for bias, be it conscious or subconscious.
Connect with Coby
Learn more about our founder communities HERE.   
Connect with Coby HERE.
---
More Innovation Bay content
Join the Innovation Bay community
INNOVATION BAY NEWSletter
Stay up to date
Sign up for monthly updates including exclusive interviews, pitch dates, event announcements, profile, news and much more.