Women To The Front – Marisa Warren, ALIAVIA Ventures
Marisa Warren's Path to Becoming a Leading Woman in VC and Why We Need More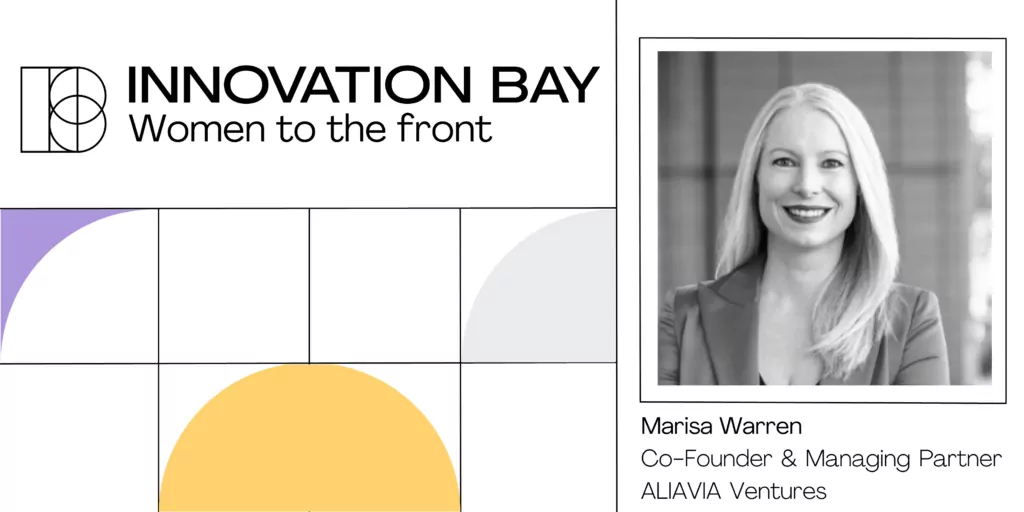 Marisa Warren is the Co-Founder & Managing Partner at ALIAVIA Ventures – a role that sees her managing all aspects of the ALIAVIA fund. She works with ALIAVIA's portfolio companies at the board level, helping them build strategies to drive customer growth, strong financial management, employee attraction and retention, expand into new markets, and product improvements.
With a tech operator and entrepreneur background, Marisa's path to VC was not what she would call "typical". At the age of 13 whilst still in high-school, she had her first part-time job serving drinks at her grandmother's art gallery where she caught the "entrepreneurial bug". 
"In all the roles I've had I didn't have any formal training, just an insane drive to do it. I've had incredible mentors along my journey that have helped navigate my path…I wouldn't be here today without their help and guidance." 
After graduating year 12, she couldn't wait to escape Canberra and start working in business. Despite her parents' objections, who are both highly educated, Marisa decided to forgo university studies and in 1997 moved to Sydney, with only a couple of people in her rolodex. "This has become a pattern for me throughout my career," Marisa explains, "Having the conviction to move to a new city, country or career with the belief and drive that I'll make it work." Very quickly, she landed her first corporate job in Sydney as an admin assistant at a training and development company where she discovered email and fell in love with tech. Marisa's next role was with Intentia Australia where she quickly jumped the ranks from admin to pre-sales.
During a holiday in Melbourne in 2000, Marisa fell in love with the city – so much so that only a few short months following, she bought a house, packed up her life and started anew in Melbourne, nabbing a job selling Navision – an ERP product later acquired by Microsoft. Marisa went on to work at SAP, Microsoft and Workday across both Australia and the US as an enterprise sales representative and in channel management roles. She spent 15 years selling ERP solutions, building channel businesses from the ground up, and helping partners build their businesses and transition to the cloud.
"Then whilst living in New York I discovered my true purpose in life – to help female tech founders be successful," Marisa recalls. In 2015 she founded ELEVACAO – a pre-accelerator for women tech founders empowering them to get investment ready and funded. "Since then we've had 175 women through the program across the US and Australia, who have raised more than $120M, and produced 3 exits."
When the pandemic hit in 2020, Marisa bore witness to the literal drying up of funding for female tech founders – almost overnight. This drove Marisa to start ALIAVIA Ventures with Co-Founder Kate Vale – the first employee and Managing Director for both Google and Spotify Australia/New Zealand. "In all the roles I've had I didn't have any formal training, just an insane drive to do it. I've had incredible mentors along my journey that have helped navigate my path," she explains. "I wouldn't be here today without their help and guidance."
One such mentor is Carol Schwartz, who through her family office, Trawalla, is an anchor investor for ALIAVIA's Fund I. Since Trawalla invested in early 2021, Marisa has worked closely with Carol and her team. "Carol is such an incredible leader with genuine warmth, always there when you need help, but also very business and outcome focused,": Marisa explains. "Carol is incredibly passionate about empowering female founders and fund managers, and driving real change in the gender imbalance we see across VC, tech, the startup world and politics."
In 2021 female founders received only 0.7% (in Australia) and 1.9% (in the US) of all VC funding (according to Deloitte report: Accelerating women founders: The untapped investment opportunity). To Marisa (and many others), this statistic is "appalling". "We need more funding for female founders and more female GP's at VC firms," Marisa declares. Today in Australia there are roughly 10 female GP's across more than 130 VC firms. "There is a real power imbalance here," she continues.
Marisa believes there are levers the industry could adopt to change these dynamics including introducing quota's and KPI's at VC funds for both investing in female founders, but also female representation at the GP and Partner level. "Quota's and KPI's drive behavior change, and real behavior change is required to start moving the needle on funding for female founders," she states. Today ALIAVIA Ventures is the only pre-Series A firm with a mandate to invest in female tech founders in Australia. "That's just not good enough," Marisa states. It's time for change!
Learn more about ALIAVIA Ventures here. 
Connect with Marisa Warren here. 
---
More Innovation Bay content
Join the Innovation Bay community
INNOVATION BAY NEWSletter
Stay up to date
Sign up for monthly updates including exclusive interviews, pitch dates, event announcements, profile, news and much more.