Cleantech sector roadmap for Australian startups
A concise guide to the renewables-focused accelerators, incubators, grants, and investors in the Australian startup ecosystem.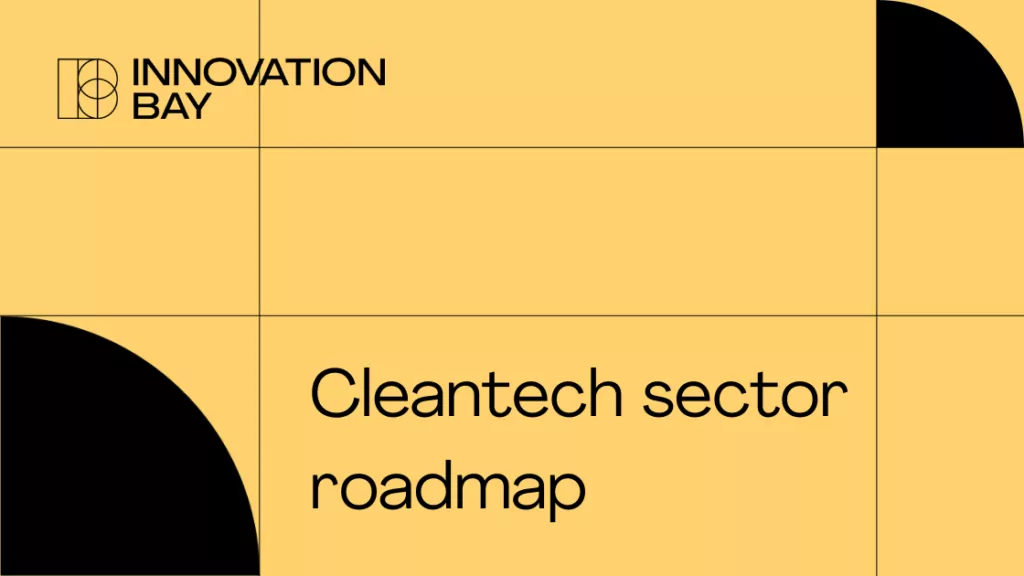 Australia has a chance to be a global leader in the production of renewable energy. Over 5 million Australians have already joined the renewable energy movement and installed solar on their homes (the highest density per household anywhere in the world). This transition not only benefits the planet, but it also presents one of the greatest economic opportunities in terms of job creation and economic growth over the next 10 to 20 years.
Startups definitely have a role to play in transforming our energy future for the better. This cleantech roadmap is an aggregated guide to the 1. Investors, 2. Accelerators & incubators, 3. Grants and 4. Membership orgs available for Australia's up-and-coming cleantech companies.
In addition to the opportunities presented below, Innovation Bay is partnering with the Australian Renewable Energy Agency (ARENA) once again to present the Renewable Energy Founder Forum this October. This event highlights the rapidly-growing renewable energy industry, explores global trends, and showcases emerging startups in this sector. If your startup seeks to accelerate Australia's shift to affordable and reliable renewable energy, apply to pitch here. Applications close 25 June 2021.
1. Investors
88 Green Ventures is a private investment vehicle formed by Mike Fitzpatrick to invest in global early stage venture capital to assist in development and commercialization of green technologies. 88 Green Ventures has well established networks with developers, investors, governments and advisors across the globe to work with companies to achieve their goals and create a more sustainable environment.
Portfolio companies: Proterra, MapAnything
Alberts Impact Capital is working to scale businesses that are working to create a better world. Alberts invests early from pre-seed to series A. Four key focus areas include environmental sustainability, mental health and wellbeing, arts, music and entertainment, and women's sport.
Portfolio companies: Sendle, Gridcognition, AirRobe, Muso, Like Family
The Clean Energy Innovation Fund is the largest dedicated cleantech investor in Australia, created to invest $200 million in early-stage clean technology companies. The Innovation Fund has a dedicated investment team that invests using CEFC capital and draws on the technical expertise of ARENA.
The Innovation Fund targets technologies and businesses that have passed beyond the research and development stage and which can benefit from early stage seed or growth capital to help them progress to the next stage of their development.
Portfolio companies: Relectrifiy, Zen Ecosystems, Wattwatchers, GreenSync, JET Charge
Giant Leap Fund is dedicated to investing in impact startups — rapidly scalable businesses that blend financial returns with real and measurable social and environmental benefits. The fund invests across three themes: sustainable living, health and wellbeing and empowering people. Check out this cheat sheet on how to pitch to their fund.
Portfolio companies: Future Super, Amber Electric, Evrnu, Full Cycle, Sendle
Grok Ventures is Mike and Annie Cannon-Brookes' private investment company which backs world-class teams solving big problems to shape a better future. Grok participates in early to late stage funding rounds.
Portfolio companies: SunDrive, Brighte, Drift, Pick My Solar, GoTerra, Sparkfund
2. Accelerators & incubators
EnergyLab is Australia and New Zealand's largest cleantech startup accelerator and innovation network dedicated to reaching net zero emissions. EnergyLab has a number of programs designed to help cleantech startups build and scale their businesses:
Women in Climate and Energy Fellowship: The Women in Climate and Energy Fellowship (WICEF) equips you with the skills, know-how and network to take the first steps in entrepreneurship. Over a twelve-week period, you'll be joined by a diverse group of future women entrepreneurs, mentors and role models to give you the knowledge and confidence to start your own climate or clean energy startup. The Women in Climate and Energy Fellowship costs $750 per person and will next run online between June and August 2021. Applications for the next program close 16 May 2021.
Climate Solutions Accelerator: The Climate Solutions Accelerator is EnergyLab's flagship program and provides the best cleantech startups with all the support they need to reach their potential. Open to startups at all stages, this program is for entrepreneurs looking to deploy solutions that mitigate climate change at scale. We'll invest up to $100k and introduce you to Australia's most active cleantech investors. We'll also help you expand your business by connecting you to our extensive network in Australia and overseas. Though what you'll enjoy most is being welcomed into an exclusive and supportive community of some of the world's most talented cleantech founders.
Energy Scaleup Program: EnergyLab's Scaleup Program is designed to help the most innovative startups and large companies work together to roll out technology that will help decarbonise the energy sector. During this free and virtual program, founders will be provided with the connections and exposure they need to unlock their next wave of growth.
The EnergyTech Hub is designed to help the energy industry collaborate on the most challenging and pressing problems facing the sector. The Hub helps scaleups test, implement, and scale solutions into the Australian energy market.
HATCH is a 14-week accelerator program designed to help you develop brilliant ideas into a not-for-profit or social enterprise venture that has a positive impact on the environment. The program involves two immersive events, weekly online workshops and a final pitch event.
The Impact Accelerator
Australia's first urban life focused startup accelerator, supported by Mirvac and implemented by INCO. The 9-month program offers access to Hoist co-working space, monthly group workshops, individual mentor sessions and preferential access to funding. The Impact Accelerator is focused on sustainably solving the challenges of tomorrow's urban areas.
The Social Impact Hub's Scaling Impact accelerator program is designed to help social enterprises and purpose-driven startups grow their business and prepare for future impact investment. The program looks for startups with a clear social or environmental mission aligned with one or more of the Sustainable Development Goals (SDGs), at least $50,000 in revenue and an ambition to scale.
3. Grants
ARENA
Advancing Renewables Program (ARP)
This grant is designed to aid the development, demonstration and pre-commercial deployment of renewables projects. Grant recipients can expect to be awarded between $100,000 and $50 million, with applicants typically expected to at least match the funding being sought from ARENA.
Recently funded projects: Tesla Virtual Power Plant, Alice Springs Future Grid Project
4. Membership organisations
The VCC is a not-for-profit member driven organisation with a vision for Victoria to be the Southern Hemisphere capital for innovation, uptake and commercialisation of clean technology. The VCC provides support to Victoria's cleantech sectors through creating stronger connections between organisations, holding capacity building events, providing business advice and export readiness support.
C4NET is an industry-led, not-for-profit company that brings together government agencies, industry and universities, to create new links across the sector and deliver collaborative projects that progress our energy system transition. C4NET serves its members, as well as a broad range of companies from start-ups to well established entities, market operators, networks, regulators and policy makers across all tiers of government, educators and the research community.