Community Event: Giant Leap & Amber Electric, Melbourne
Late last month, we hosted a community breakfast in Melbourne featuring Adam Milgrom, Venture Partner at Giant Leap Fund, Australia's first venture capital fund that is 100% dedicated to investing in impact startups. Adam interviewed Chris Thompson, Cofounder and CEO of Amber Electric, one of Giant Leap's portfolio companies revolutionising the energy industry.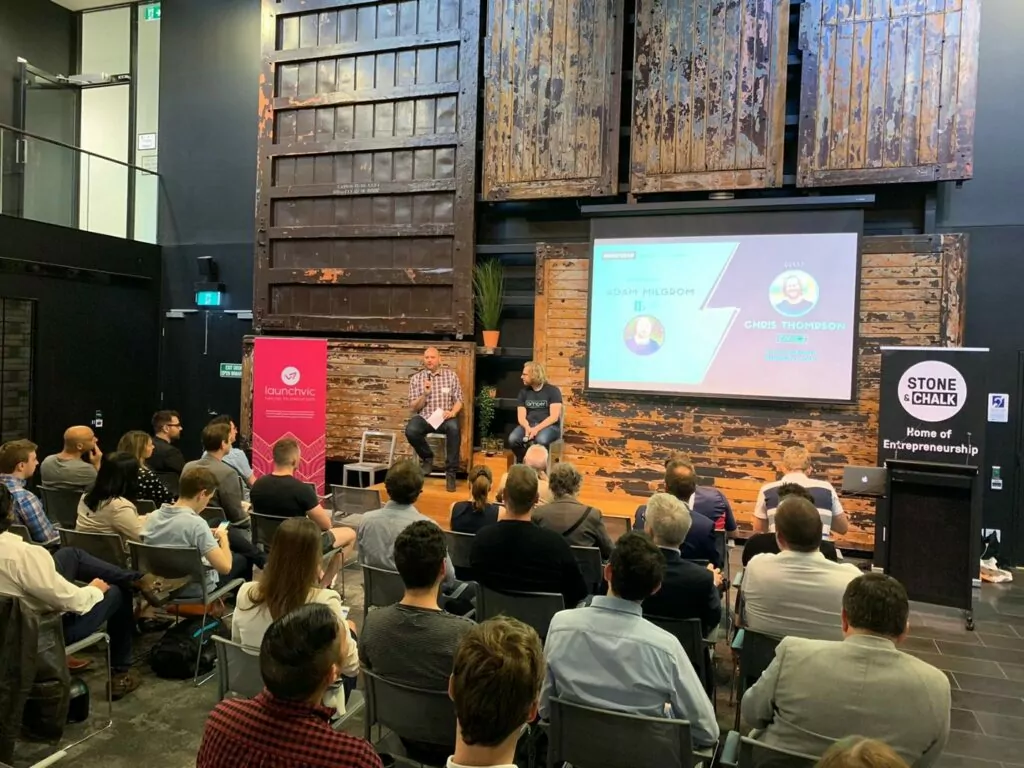 Adam and Chris talked all things fundraising, valuations, and investor value add. Read the key takeaways from their discussion, below:
Raising capital is a full time job
Chris has managed to accomplish quite a bit with each raise, and really stretch every last dollar. But, he's fully admitted that he has always raised just enough to to tackle the next part of Amber Electric's growth — raising funds in reaction to what's coming next.
He's gone through 3 rounds of funding since starting the business. Initially, he and his cofounder, Dan Adams, raised $20k, followed by a pre-seed round of $175k. And finally, a substantial seed round of $2.5M with Giant Leap, along with Square Peg Capital, Black Sheep Capital, and a number of angels.
Chris' guiding principle is to build a business with impact — so for each round he focused on the path that gave him the highest probability of success, even if it meant taking a smaller share. As a founder seeking capital, you need to find the best terms you can with the best people possible, and then ultimately, take what you can get.
For the seed round, Chris spent so much time on fundraising that he didn't have enough time to dedicate to the business. With all his energy focused on securing investors he reckons the customer experience really suffered. But, he knew it was important to get as close to closing as he could because it built energy in the round and created excitement with other investors.
Chris' nuggets of fundraising wisdom
Be all in (it will be a ton of work)
Take as many meetings and meet as many investors as you can
Create as many possible paths to capital as you can
Create FOMO with your investors
Guide investors through your data so they don't get lost in analysis
Get investors on board who see your vision
Founders and VCs have different valuation goals
Adam and Chris both said that when you start determining valuations you're always starting with a 'finger in the air' to test what a good valuation might be, but at the end of the day, a valuation is simply what someone else is prepared to pay for your business.
They agreed there is a fundamental difference between how founders and VCs view valuations. Founders tend to anchor on a valuation number and want to get it as big as possible. VCs, however, optimise on an ownership percentage basis — if you take more money it tends to be at a higher valuation, which is part of the reason why you see inflated valuations (particularly in the US).
From the VC perspective, Adam believes he wins when the startup wins so there's no point in taking so much equity that the founder loses incentive. He also said that the intrinsic value of the company is the team, the potential, the market opportunity, the smarts, and the new capital — and then, what the company creates with that recipe.
Choose investors with the most value add
How have investors been most helpful to Chris? They've helped make introductions to potential employees, customers, and other investors. Additionally, they bring in support. You want your investors to be in your camp, and to help you with their unique expertise and awareness.
Chris warns that if you don't have a shared vision for the company you're building that the partnership won't work and could kill your business. It's important to have a high level of trust. All of Amber Electric's investors have come from 'warm connections'. Prior connections build a sense of trust and place social pressure on everyone to be honest and transparent. There is also a lot of value in doing business with people who you respect.
We would like to thank Adam and Chris for speaking openly their journeys. A big thanks to our supportive sponsors: AWS, KPMG High Growth Ventures, and Macquarie who make events like these possible.
Please share this article with your network and help continue the conversation on Twitter (@innovationbay) and LinkedIn. If you are an ambitious founder, investor, or a tech enthusiast — apply to become a member of our community and to learn more about our upcoming events!