Helping women take The Next Seat
Last week, Sian and Lauren Capelin from Reinventure hosted the The Next Seat (formerly Get on Board), an initiative to bring greater diversity to startups boards.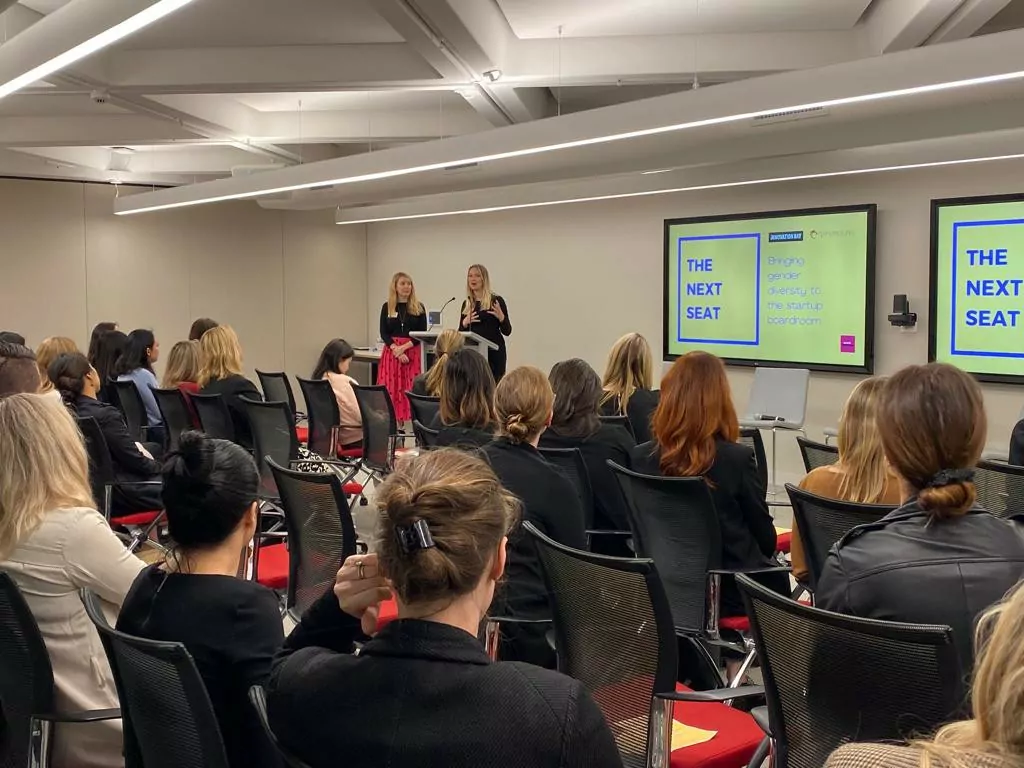 38% of startup boards in Australia have women members. According to KPMG & Think and Grow Startup Board Report
At Innovation Bay our mission is to create more connectivity within the tech industry, create greater inclusion, and drive change when it's needed. That's why we are so passionate about this initiative, in collaboration with Reinventure, to help more women take the next seat at the table, and play a role in the continued growth of Australia's startup ecosystem.
After the success of our first event for IWD2019, we were excited to be back, this time as part of Spark Festival. We invited an expert panel featuring: investor Elicia Mcdonald (AirTree Ventures), experienced non-exec director Louise McElvogue (Macleod Media) and founder, Marta Higuera (OpenAgent), with the conversation led by Lauren. The event explored the relationship between board members and startups, discussed practical steps for women looking for pathways to the boardroom, and created a space for women and startups to connect.
Here are some of the key themes from the session:
Boards enhance a founder's ability to make great decisions
Louise explained that there is a perception that startups are afraid of governance because it inhibits growth, and board members are afraid of risk because of the potential losses. But fear is the wrong lens to consider the problem. Boards are designed to provide guidance for founders.
Elicia provided an excellent analogy that founders are like scuba divers and board members are like snorkelers. As a founder, you're like a scuba diver: You're under the water exploring the coral deeply and intensely. You can see the reef up close. As a board member, you're like a snorkeler: You can see the reef under the water, but you can also look up and see the surface and the sky. Your perspective isn't as deep, but it's more holistic.
When founders and board members appreciate and respect their different perspectives then they can focus their relationship on advice and counsel, instead of enforcement.
You have to kiss a lot of frogs before you find your prince
The board-startup relationship ultimately boils down to chemistry. Board members and founders need to gel. They need alignment across business challenges, they need a shared set of goals, and they need to be able to develop a trusting relationship. Chemistry can take time to uncover, it can't be forced, and it takes a lot of personal reflection and transparency (for both the founder and the potential board member) to come to fruition.
First steps towards the boardroom
The panel suggested that women thinking about a board role, should consider an advisory role first. This is an informal way to test out the board experience, and explore the chemistry between you and the founders. Additionally, Louise noted it's a great first step because there are no legal ramifications for being in an advisory role (unlike with a board role).
For founders, the decision to have a board (at all) can depend on a lot of business factors like growth, scalability, and investment opportunities. Having advisors in non-board positions allow you to get a wider set of perspectives and opinions without business metrics attached. Importantly, it awards you more diversity — of skills, background, gender, customer perspective, etc.
It's just about committing to the metrics
Marta commented that governance becomes much less scary when founders think of it as a series of metrics. Board members just want to see that you have a tangible set of goals and are working towards them. If you can keep track of (and regularly share) a core set of KPIs, which you're likely already measuring, then governance fits nicely into your business, and doesn't have to be an overhaul of structure and operations.
Shaping a more equitable future
Elicia concluded that investors have the unique opportunity to shape the diversity metrics, too. When investors hire a more diverse set of investors, they change the landscape of the entire community. For example, AirTree has an inclusion clause written into their term sheets that mandates women candidates must be considered for exec roles. As they hire more diverse talent, and work with more diverse businesses they change the metrics at either end of the ecosystem.
Want to take The Next Seat with….
We want to create opportunities for experienced and qualified women to connect with startups. We would like to introduce you to…
FlexCareers | Marko Njavro | [email protected]
FlexCareers is ANZ's leading platform for flexible jobs, return-to work and future of work consultancy services used by over 150,000 job seekers and 2,000 employers. They offer an end-to-end solution for progressive employers looking to harness the power of flexibility to attract, inspire and retain the best talent. A flexible workplace also attracts top talent including parents, entrepreneurs, carers, adventurers, and others who are all seeking a more human and balanced life. Their latest Workplace Flexibility Report found flexibility is the #1 consideration for jobseekers when evaluating a possible employer.
Marko is looking for women candidates with experience in: Growth marketing | SaaS sales | HR & Recruitment
A huge thank you to the Australian Institute of Company Directors for hosting us, to Spark Festival for including this event in their lineup, and to all those who attended.
Learn more about AICD's training and education programs for women.
Want to attend a future event, or get involved in The Next Seat? Get in touch with Sian & Lauren