Sector Spotlight: Renewable Energy
Profiles of 5 leading clean energy startups and insights from renewable energy experts.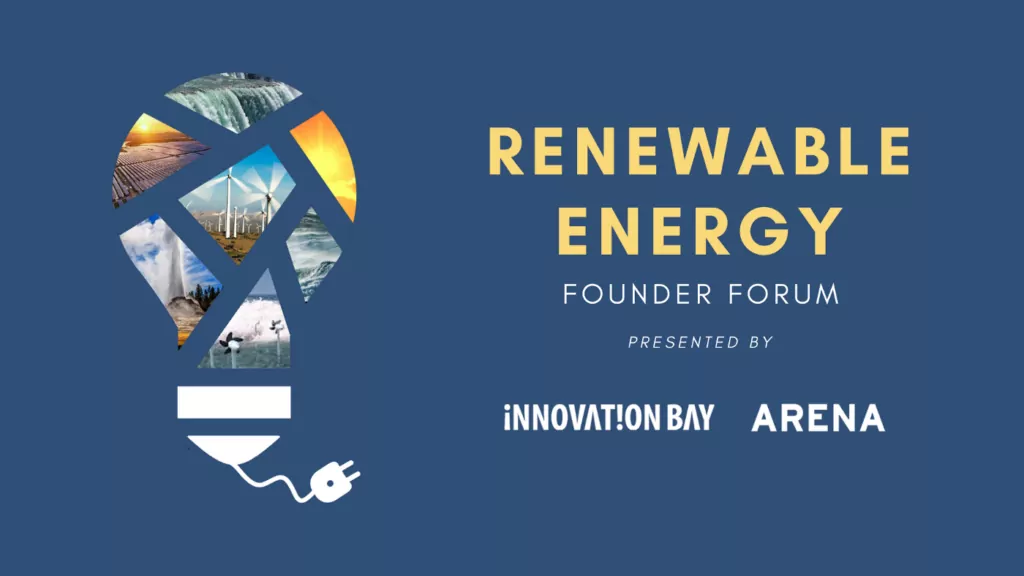 Last week, Innovation Bay hosted our second annual Renewable Energy Founder Forum in partnership with the Australian Renewable Energy Agency (ARENA). While the event couldn't be held in person like last year, 170+ clean energy investors and executives gathered on Hopin, a virtual events platform, for an engaging afternoon all about renewables. The event kicked off with a keynote presentation by Australia's Chief Scientist Dr Alan Finkel, and Dr Finkel was later joined by Kristin Vaughan (Director of the Innovation Fund at Clean Energy Finance Corporation) and Nick Carter (Senior Vice President — Energy Technology & Solutions at Macquarie Group) for a panel discussion.
The panel was followed by a showcase of five hand-selected clean energy startups. Find profiles of the five startups who presented below, as well as a summary of key insights from Dr Finkel's presentation and the panel.
---
Renewable Energy Startup Profiles
Decarbonising Australia's telecommunications network with the world's most efficient small wind turbine technology.
Founded by Joss Kesby, James Bradley, and Samuel Evans, Diffuse Energy is the culmination of over 20 years of international peer-reviewed small wind turbine research. Small wind energy has historically been plagued with low efficiencies, maintenance issues, and poor commercial outcomes for the end-user. Diffuse Energy has developed innovative wind turbine technology to directly solve these issues.
Electric propulsion technology for light aircraft and watercraft.
Electro.Aero was founded in Perth in 2014 by Richard Charlton and Josh Portlock. The company builds and assembles complete integrated propulsion systems for aircraft and watercraft. Electro.Aero obtained the world's first Light Sport Aircraft approval for an electric aircraft in 2017. Their watercraft, the WaveFlyer, is an entirely silent, emission-free replacement for jet skis and other small craft. Check out this video of their electric trike in flight, it's pretty cool!
3. Iron Matrix
Reconfigurable solar housing built by anyone, anywhere.
Founded by husband and wife duo David and Carley Morgan, and CFO Nina Hitchins in 2015, Iron Matrix produces modular, structural steel framing systems, manufactured in Australia by robots. The structures can be hand-assembled in any location. Iron Matrix replaces traditional cladding and roofing materials with standard solar panels to create structures that generate, store and deliver clean energy cheaper than fossil fuels, anywhere on the planet.
Short-term solar leasing for commercial and industrial rooftop sites.
Solpod is the world's first redeployable rooftop solar solution, providing solar to commercial and industrial rooftop sites, using multi-panel 'pods' that are efficient to install, remove and relocate. Solpod's innovative design and installation process mean businesses can benefit from short-term solar leasing, rather than committing to a long-term solar asset purchase. Solpod was founded in Melbourne in 2017 by solar executives James Larratt, James Walker, Nick Brass, and Tom Keddie.
5. Relectrify
Advanced battery management and inverter solutions.
Relectrify was founded in 2015 by Valentin Muenzel and Dan Crowley out of battery research at the University of Melbourne. Relectrify's products address the need for highly affordable and sustainable energy storage in homes, business and the power grid. Their core breakthrough is an advanced battery management system and inverter solution ('BMS+Inverter'). This mixed hardware and software solution is suitable for both new and second-life batteries, extends battery lifetime by up to 30% and provides a very-high efficiency alternating current output without requiring a costly battery inverter.
---
4 Key Insights from Renewable Energy Experts
1. Hydrogen is where it's all happening
The federal government has developed a growing interest in the commercialisation of hydrogen production. Just last month, ARENA shortlisted 7 companies for its $70 million Renewable Hydrogen Deployment Funding Round, which plans to fast track development of renewable hydrogen in Australia. In his presentation, Dr Finkel highlighted the potential opportunities presented by a hydrogen fuel economy like transport fuel, manufacturing, and a means to export energy between continents.
2. Australia well suited to be the leading global exporter of clean energy
Countries like Japan and South Korea need to buy clean energy to meet their emissions targets because they don't have adequate natural resources to generate enough renewable energy themselves. However, Australia has the land, the sun, and the wind necessary to produce mass amounts of clean energy. Australia already has a proven track record as an exporter of commodities. Competitive advantages such as expertise and infrastructure from developing energy supply chains, competitive pricing, established relationships, and a stable political system, would make Australia a preferred energy exporter for countries in need of clean energy imports. Dr Finkel cites the export of hydrogen as a key opportunity. Undersea cables present another exciting opportunity. The groundbreaking Sun Cable project is set to pipe electricity from a solar farm in Darwin to Singapore by 2027
3. Agriculture and green steel are some sectors to watch
In the next decade, as Australia scales back emissions in areas like energy and transportation, agriculture will jump up the list as a leading contributor to greenhouse gas emissions. With this in mind, Dr Finkel identified agriculture emissions reduction as an area ripe for innovation and investment. Just a few weeks ago CSIRO Chief Executive Larry Marshall shared an example of innovation in agriculture emissions reduction. CSIRO has developed a product called FutureFeed, a seaweed feed additive that significantly reduces methane emissions when fed to livestock. According to CSIRO, if 10% of global livestock producers used FutureFeed, the reductions in emissions would equate to removing 50 million cars from the world's roads
Our Chief Scientist also pointed out an opportunity for Australia to become a world leader in the production of green steel, thanks to a local abundance of iron ore and high-quality wind and solar resources. A recent report from the Grattan Institute found that establishing a green steel industry in Australia could generate tens of thousands of jobs and an export market comparable to Australia's current coal industry.
4. Investors should expect some key challenges and opportunities when backing renewable energy startups.
Kristin Vaughan, Director of the Innovation Fund at Clean Energy Finance Corporation, pointed out some distinctive differences between cleantech and other sectors a VC firm might invest. In general, other sectors like fintech are more capital-efficient, have quicker iteration cycles, and are able to sell to a broad range of customers. Cleantech companies share some similarities with deep tech. Like deep tech, investors can expect cleantech companies to iterate slower and be more capital intensive. Furthermore, some renewable companies are selling into quite a regulated market with varying global market rules. Some of the customers that renewable companies are selling to are fairly conservative with long sales cycles.
While there are some considerable challenges, it's important to remember that the urgent need to reduce emissions and clean up energy is a huge global problem that comes with a global market. Kristin has also noticed that renewable energy companies are quite resilient; in recent months cleantech companies have been much less impacted by COVID-19 than other sectors. As a cleantech investor, Kristin is seeing more and more bold Australian entrepreneurs out there doing interesting, inventive things with renewable energy. She wants other investors to know that it's not purely a deep tech game; there's a real mix of different options available from deep-tech hardware through to software.