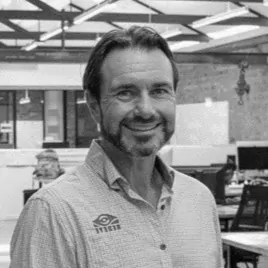 25 July, 2022
E143 – Wayne Gerard, Co-Founder & CEO of RedEye, Queensland Chief Entrepreneur
Wayne Gerard wears a number of hats. By day, he is the Co-Founder & CEO of RedEye and the current Queensland Chief Entrepreneur. He lives on a working farm outside of Brisbane, is a trail runner and is deeply passionate about innovation, entrepreneurship, the climate, helping others and making a difference with the time we have!
Wayne spent 10 years in the ARMY straight out of school, first as a tactical communications officer and later with a key role to build the ARMY's first drone. This opportunity led to a job offer with Boeing, then a Queensland tech company (Lincom) before starting his own consultancy company. Following a devastating flood that affected his property in 2011, Wayne reevaluated his position, wanting to move away from being the product of his business.
During a trip to the US, Wayne came up with an idea for a SaaS business – a single instance multi tenant cloud as a solution for engineering companies. RedEye was born with BHP the very first customer. Fast forward 10 years and Wayne has taken up position as Queensland Chief Entrepreneur – a position he will hold until the end of 2022.
His key focus priorities in this role include:
To help the existing industry to be as sustainable and successful as possible by partnering with QLD innovators, entrepreneurs and researchers
To build the next emerging industry and new economy
To focus on regional – entrepreneurship and innovation can happen anywhere, from Longreach to Gladstone or Cairns
To unlock partnerships with the Brisbane 2032 Olympics
During their chat, Ian and Wayne cover a range of topics, all highlighting Wayne's desire to make a difference and help others – particularly those in the innovation and entrepreneurship space. One of the key takeaways: Resilience is learnt as you go on your journey. Know you're not alone. It's hard work but keep going. What you're doing is going to make a difference!
QUICKFIRE ROUND
Book: Lifespan by Dr David Sinclair
Podcast: Rich Roll, The A16Z Podcast
News Source: tries not to focus on the news – prefers to focus on customers
App: Garmin, Strava – for trail running
Fav Tech CEO: Elon Musk
Productivity Tool: Redeye
TV Show: The Terminal List
Ted Talk Topic: Building resilient economies for innovation
---
More Innovation Bay content
Join the Innovation Bay community
INNOVATION BAY
Proudly supported by
INNOVATION BAY NEWSletter
Stay up to date
Sign up for monthly updates including exclusive interviews, pitch dates, event announcements, profile, news and much more.