Pitch Deck Pointers Part 5: The Unfair Advantage Slide
With help from Benjamin Chong of Right Click Capital, we're getting the inside scoop on what investors want to see on The Unfair Advantage Slide.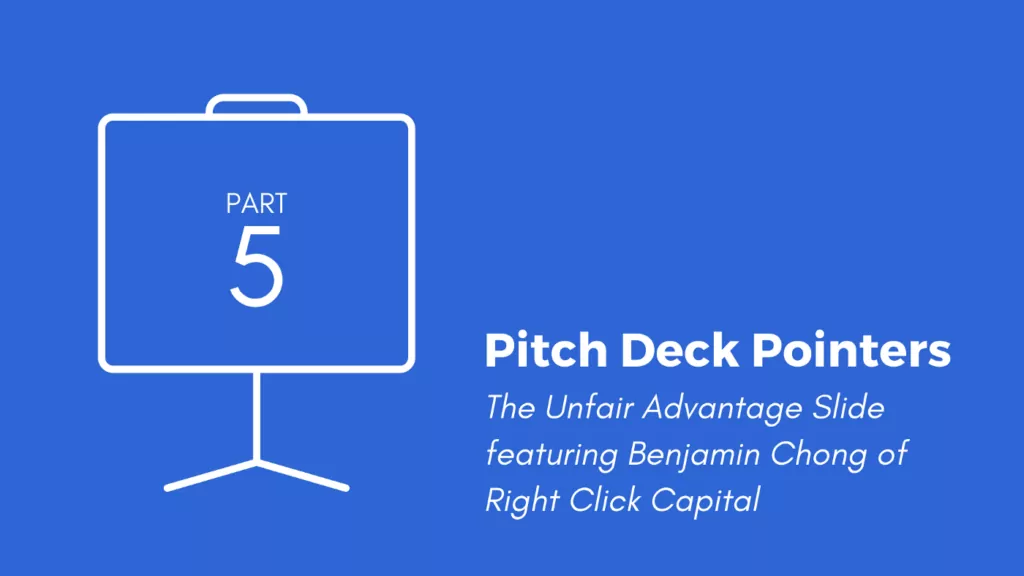 At Innovation Bay, we're all about helping startup founders on their journey. The Pitch Deck Pointers series is aimed at assisting founders to craft their perfect pitch deck. With a hand from some of our friends in the Australian venture capital world, we're covering the basics of the pitch deck, slide by slide. The slides we've covered so far include:
Today, Benjamin Chong, Partner at Sydney-based VC firm Right Click Capital will be breaking down the 5th slide in the series: The Unfair Advantage slide. First, let's meet Benjamin.
Meet the VC: Benjamin Chong of Right Click Capital
I'm Benjamin Chong from Right Click Capital, where we back and invest in courageous founders looking to change the world.
The Unfair Advantage Slide
The purpose of the Unfair Advantage slide and why it's important to investors
It's important to highlight what makes you special. If you've got a secret sauce, explain what it does. While you don't need to reveal the individual details of each herb or spice, as an investor it's helpful to know you have eleven secret herbs and spices, and that's what gives your product its unique flavour and appeal. Your secret sauce could be the unique backgrounds of your team members. If you're working on machine learning, it could be your access to a special data set that'll allow you to produce better results faster. –BC
Common mistakes made on this slide
Not including this slide or explaining how or why they are differentiated. Even if the competitive advantage is going to be developed over time, being able to communicate this clearly gives investors a sense of confidence that your startup can win! –BC
Top pitch tip
Good stories have a strong narrative that captures and holds the audience's attention. Pitch decks should do the same. There should be a logical narrative to its structure along with compelling proof points and visuals –BC
---
Next up:
Disclaimer: At the end of the day, this series is just a guide and should not be taken as gospel. Just as every business is unique, every slide deck should be unique. While the general order and number of slides we'll use in the series is a good jumping-off point, perhaps a few more or fewer slides or a completely different sequence would better fit your company's story.
Keen for more fundraising insights? Listen to our new podcast episode with Rick Baker of Blackbird Ventures.