Community of Founders & Investors Shaped The Future at The Globe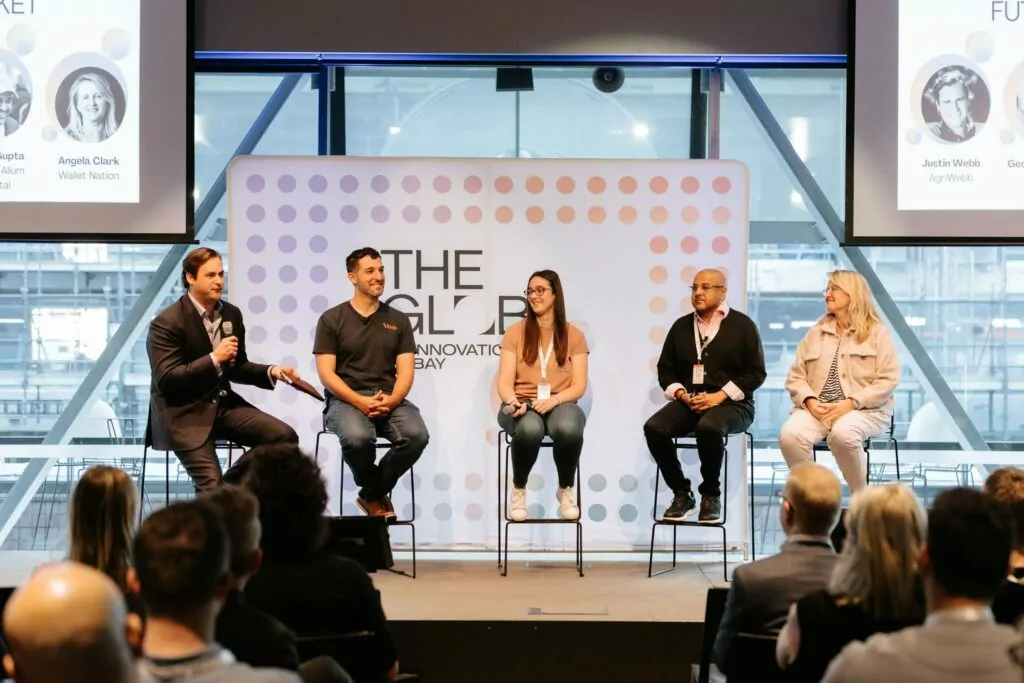 A globe is more than just a representation of the world; it symbolises unity, wholeness, and the power of collective efforts. The Globe, hosted by Macquarie Group at its global headquarters in Sydney on Friday 16 June, was a momentous occasion for Innovation Bay. It brought together the brilliant and ambitious minds of their entire collective to share ideas, triumphs, vulnerabilities, and failures. It was a time to reflect on past achievements, learn from the journey that led them to the present, and envision and shape the future together.
Innovation Bay members come from diverse sectors, but they all share a common vision: shaping the future through innovation. Recognising that investors and founders play a crucial role in addressing the economic, environmental, and social challenges facing Australia and the world, Innovation Bay has embraced the power of innovation as the key to creating a sustainable, inclusive, and profitable future.
This extraordinary event saw around 200 of the country's leading founders, investors, and thought leaders gather to explore, plan and shape the next 6-12 months and beyond. The agenda was filled with thought-provoking content sessions, keynotes, panels and workshops, covering various insightful, inspiring and future defining topics. These sessions included a keynote focusing on Global Economic Perspectives, Future of the Market, Future Unicorns, Future of Exits, Future of Work, and the Future of Investment.
We heard from a vast range of speakers from our community and network with an enviable and diverse range of skills and knowledge. Speakers and workshop curators included (among many others) Shemara Wikramanayake, CEO and Managing Director of Macquarie Group, Justin Webb, Co-Founder & Executive Chairman of AgriWebb, Silvana Williams, Executive Director at Goldman Sachs, Phil Morle, Partner at Main Sequence Ventures, Rajeev Gupta, angel investor and Partner at ALIUM Capital, and Melissa Widner, CEO of Lighter Capital.
The below article provides an overview of some of the key insights obtained from The Globe. Chatham House Rules were adopted for the duration of the event so no quotes have been attributed to specific individuals.
The Globe kicked off with a captivating keynote, addressing the impact of the global economic environment on founders and investors worldwide. It shed light on the nature of economic cycles, benefits of collaboration, impact of technological disruption, and the importance of embracing opportunity while managing risk.
"…these cycles come and go, and this one will also move through"
The Future of the Market panel, comprising early and later-stage founders and CEOs, angel investors, and VCs, explored the trajectory of the market in the next 6-12 months. This session featured lively discussions on the need for a quantitative approach in investing, the exploration of receptive regions for blockchain technology, understanding blockchain's transformative power, diversifying investment portfolios, addressing setbacks with patient capital, establishing clarity and regulations, due diligence and diverse perspectives, and the importance of engaging in pre-investing discussions. The panel also highlighted investment strategies for addressing global challenges and the supportive environment for innovators in Australia.
"We've got to go back to quantitative investing, where it is about revenue, gross margin, to operating profit, to net profit."
The Future Unicorns Think Tank session, held in partnership with Main Sequence Venture Partners and CSIRO, brought to the forefront the commercialisation of deep tech ideas into future billion-dollar companies. It was a showcase of groundbreaking projects, including pitches from founders of MacroKey, iRekon, and VoxelNet, spanning various sectors such as energy, food, textiles, artificial intelligence, medicine, and health. The session underscored the need to combine scientific invention with business expertise and emphasised the importance of securing support and expertise to propel ventures towards billion-dollar valuations. Collaboration, idea refinement, and the development of compelling pitches were encouraged, fostering knowledge sharing and networking.
"We are trying to find this sort of beautiful combination of this deep invention that's coming out of the science teams and some great sort of business savvy to actually build the rest of the business around this technology."
The Future of Exits Think Tank session delved into the changing dynamics of the exit process from both the founder and investor perspective. This engaging session explored shifts in the exit landscape, valuation fluctuations, the significance of liquidity and investor considerations, M&A activity and optimism, secondary markets and continuation vehicles, challenges in price discovery and media context, and the future outlook for exits. It highlighted the need for understanding evolving exit avenues and emerging alternatives beyond traditional IPOs and trade sales, paving the way for new possibilities and approaches.
"…one of the things as a market, we have to do much better at is actively managing those liquidity horizons."
The Future of Work Think Tank session examined how future organisations would harness exponential technologies and possess greater resource flexibility. It addressed the accelerated adoption of flexible work arrangements due to the COVID-19 pandemic and the challenges associated with adapting to a fully hybrid workforce. Key topics of discussion included communication challenges, reskilling for tech market demands, balancing engagement and productivity, nurturing culture, collaboration, and connection, overcoming the challenges of remote work and talent scarcity, and the role of technology and AI in shaping the future of work.
"…the challenge for the future of work is how do we build that connection remotely."
In partnership with Goldman Sachs, the Future of Investment Think Tank session provided valuable insights into the investment world's future over the next 12 months. Esteemed speakers navigated through the uncertainties and funding opportunities, emphasised the importance of a long-term perspective and realistic valuations, and shed light on capital structures and cash flow management. They provided guidance on the next steps for founders, the need to reevaluate metrics and adapt to evolving market dynamics, and the influence of US investors. The session also explored strategies for navigating valuations and IPOs, fostering a comprehensive understanding of the future investment landscape.
"It's a good time to be starting a business. Better to go back into the upturn with the wind behind you."
Innovation Bay's The Globe conference was a testament to the power of collaboration, innovation, and long-term thinking. The event brought together industry leaders, founders, and investors to shape a sustainable and inclusive future. Each session provided invaluable insights, encouraging attendees to adapt, embrace emerging technologies, and leverage market dynamics to position themselves for success. By embracing innovation, collaboration, and adaptation, stakeholders can play a vital role in shaping the landscape of the tech and innovation industry, driving positive change, and contributing to a better future for Australia and beyond.
If you're a disruptive founder or investor keen to harness the power of ​​connection, community and education provided by Innovation Bay, we'd love to hear from you. Find out more and get in touch at innovationbay.com.
---
More Innovation Bay content
Join the Innovation Bay community
INNOVATION BAY NEWSletter
Stay up to date
Sign up for monthly updates including exclusive interviews, pitch dates, event announcements, profile, news and much more.