Innovation Bay 2020 Year in Review
Innovation Bay co-founder and CEO Phaedon Stough reflects on what IB got up to in 2020 and shares the vision for 2021.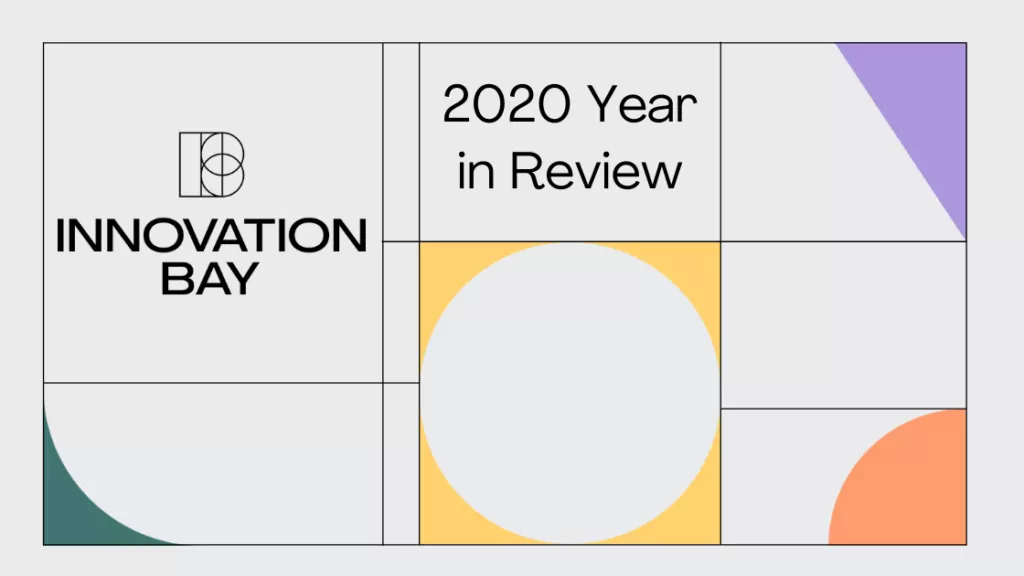 As we wrap up another year, I wanted to share some of our insights on 2020. First of all, who the hell saw COVID coming? Someone much smarter than us… I'll start by sharing my key impressions of this year and then dive deeper into what happened in different areas of the business. Let's jump into it.
What really amazed us about COVID and this year in general is:
1. How everyone in the tech community came together.
There was no state rivalry, everyone connected via Zoom and got on with it. We were amazed and humbled by the number of people who joined our webstreams and from all across the country.
2. The resilience and resourcefulness of the ecosystem.
We were especially impressed by how well the vast majority of the tech community continued to perform. Not only did we witness a nearly seamless transition to virtual, but sales continued to support growth, as did venture investment. Which leads me to…
3. How much money has been raised throughout COVID-19.
Not only did we see some of the largest venture funds to date being created (Blackbird and SquarePeg's new funds are both the biggest in Australia tech history!), but also a wide range of small, early-stage focused funds like Tidal and EVP. What we found is that money came to the tech industry, which is one of the only verticals in the economy which could demonstrate growth. And it was not only eCommerce but health, renewable, infrastructure, marketing automation and deep tech. The volume of capital raised by some of Australia's later-stage tech companies amazed us. This year will go down in history in terms of capital raised.
Events
In 2019, we ran 52 physical events across Australia and NZ with around 2,000 people attending. We started 2020 with grand plans for a bunch more physical events but instead, had to pivot very quickly to virtual. While events looked a little (okay, a lot) different this year, we still turned out 67 events and the community turned up! 7,200+ people in total attended our 57 virtual events and 10 in-person events. Our Wednesday morning breakfast panel sessions were a hit; we had over 5,000 attendees for these sessions. All of our virtual sessions were recorded and are now available on our IB Youtube channel.
We definitely miss in-person conversation and the ability to just spend time together, but we do feel we have continued to add a tremendous amount of value to our core mission, which is to help founders on their journey to creating impactful companies.
We had some amazing people on the show and yes, we called it a show. We kicked things off in style with a virtual VC panel with Craig Blair, Paul Bassat, Michelle Deaker and Rick Baker. We had ex-prime minister Malcolm Turnbull, CSIRO CEO Larry Marshall, some amazing founders including James Cuda, Mike Baukes, Tim Doyle, Patrick Llewellyn. It felt like a real who's who of the Australia tech ecosystem. We plan to keep virtual events running (at a lower frequency) next year.
One event highlight was our second-annual Renewable Energy Founder Forum with ARENA. The event featured a keynote from Australia's Chief Scientist Dr Alan Finkel and pitches from 5 of Australia's most promising renewable energy startups. Read a recap of Dr Finkel's insights and profiles of the startups who pitched here.
Top 3 Events
A Conversation with Malcolm Turnbull — 665 event attendees, 800+ views on YouTube
Virtual VC Panel: How should startups respond to COVID-19? — 399 event attendees, 1,100+ views on YouTube
IB x AWS Presents… Sam Wong (Blackbird Ventures) Pitch Deck Masterclass —267 event attendees, 900+ views on YouTube
Podcast
While the pandemic initially brought about a dip in podcast listening worldwide, our podcast Open the Pod Bay Doors still managed to have a great year! Open the Pod Bay Doors had close to 50,000 podcast listens and released 50 podcast episodes overall, 31 of our classic interview-style episodes with investors and founders and 19 news specials.
The OTPBD News Special was a new addition to the podcast in 2020; it's a biweekly deep dive into the news that matters for Australian and kiwi startups. Every other week, a rotating panel of 3 ecosystem figures joins Ian and Phaedon on the News Specials for expert takes on what local and global news stories mean for ANZ startups. 57 news panellists have joined us so far.
Top 3 Podcast Episodes
Our podcast listeners showed a lot of love for our venture capitalist guests; our top 3 podcast episodes by listens all featured VC guests.
E74 Rick Baker, Blackbird Ventures — 1,600+ listens
E84 Dan Phillips, Macquarie Capital — 1,200+ listens
E93 David Shein, Our Innovation Fund — 1,100+ listens
Content
Including this post, we've published 23 Medium articles this year. By far our most popular content piece of the year was Pitch Deck Pointers, a 10-part guide to crafting a pitch deck that breaks down the deck slide-by-slide with expert commentary from top Australian VCs.
Additionally, throughout the year we conducted spot surveys of Investors and Founders with KPMG to measure the impact of COVID-19 on Australian startups. We compiled the insights from these groups into this report, offering a unique perspective on how Australia's innovation ecosystem has fared over the course of 2020.
Top 3 Medium Posts
Pitch Deck Pointers Series — 18,000+ views
COVID-19 Startup Impact Report — 800+ views
Memberships
This year, we made a strategic decision to move from a loosely based membership network to a more defined and structured membership framework. Our driving force remains our mission to be a founder first network and we are sharpening our focus on the ways we can positively impact the founder journey. In order to do this, we continue to build and launch four key membership clubs:
1. Summit (Series A+ Founder)
We launched our Summit Club in 2019 and without doubt, it's been the most impactful single thing we have done as a company. We are immensely proud of the group and the manner in which they connect and engage with each other…and this is only the tip of the iceberg.
2. Horizon (Angel Investor)
We have officially launched our new angel network and have been blown away with the calibre of individuals who have joined. We are going to make a BIG impact in the early stage investing space with this group.
3. Aurora (Venture Capital)
Following on from the success of Venture Down Under, our annual conference for venture capitalists, this year we launched Aurora, a membership for the Australian VC community.
4. Canopy (Seed Stage Founder)
We will be officially launching our membership for seed stage founders in 2021. This group will become the largest single part of our community.
Team
As we continued to build the business, we had a bunch of changes with the team. We said farewell to our former GM, Sian Priest who was with us for 3 years. Sian did an amazing job of building IB and inspiring us with her passion for helping founders.
We also welcomed 4 new members to the team. We brought on Claire Tester at the start of the year to run events, we then brought on Samantha Clarke, as Director of Membership for our new angel club, Horizon, CJ Holden to help inspire us on new and exciting experiential events and Anna Tyndale as our new Chief of Staff. We are now searching for two key additional roles, a Head of Content and a Head of Programs for Membership. We hope to close those out early next year.
A New Look
In addition to the team restructure, we have been updating our systems and process. We decided to undertake a brand revamp, as we haven't really touched the brand in over a decade. Working with the amazing team at Luka Agency, we have now crafted new brand structures for our master brand, Innovation Bay and our membership clubs, Summit Club (Series A Founder), Canopy (Seed Founder), Aurora (Venture Capital) and Horizon (Angel Investor).
In addition to building out our amazing team, we have been working hard to evolve our systems. We have now made our largest investment ever, into a new CRM to help underpin our membership structure. We have used a very innovative company out of Melbourne called Bond Software, who focus on membership CRM's. This will not only provide a more intimate and personal way in which to engage with our members but also increase our functionality on how we understand what our membership wants from speakers to programs and key learnings. Lastly, we are finally updating our website, which will incorporate the new brand elements, but also provide us with a higher level of functionality for our membership.
Vision for 2021
For us, it's all about making a positive impact on our community of founders and investors. Helping founders on their journey to creating successful companies, through shared experiences and learnings. We are all about community and by the end of 2021, we will have built a very special community of founders and investors from across Australia. A community that is diverse geographically and in gender. A community that supports each other, shared experiences and make the journey of building and growing a company less isolated and more memorable. But specifically, we have a very clear vision for 2021, which includes:
Growing each of our new membership clubs.
Connecting Seed Stage founders with our new angel club, Horizon. We hope to see over $5M invested in 2021 across our events.
Running our first 3-day event for our Summit Club, this is going to take experience, learning and connections to the next level.
Launching Canopy, our new club for seed stage founders. We envision this group becoming the largest single part of our community.
Running our first Investor Summit, which will be held in the latter part of the year. We hope this will become a mass investment event.
Launching our Horizon 6 Degrees Club, which will provide access to a larger group of interested investors to our amazing network of founders.
Illuminating more amazing founders, investors and ecosystem supporters via our podcast. We already have some incredible guests lined up.
Running our annual venture capital conference, Venture Down Under in NZ once again. This really unique and amazing event brings together the Australian VC community.
Launching our memberships into New Zealand.
Providing a platform for Aussie founders living outside of Australia to participate.
Expanding the team, with key roles to support our membership groups.
As you can see, 2021 is going to be a huge year for Innovation Bay! Thank you for following along with our story so far. We hope you will continue to join us on our journey in 2021 in one way or another, whether it's attending one of our events, listening to Open the Pod Bay Doors, reading our articles, or joining one of our four membership offerings. Warm wishes for a happy, healthy holiday season and new year!