Takeaways from our Talent & Team Building Miniseries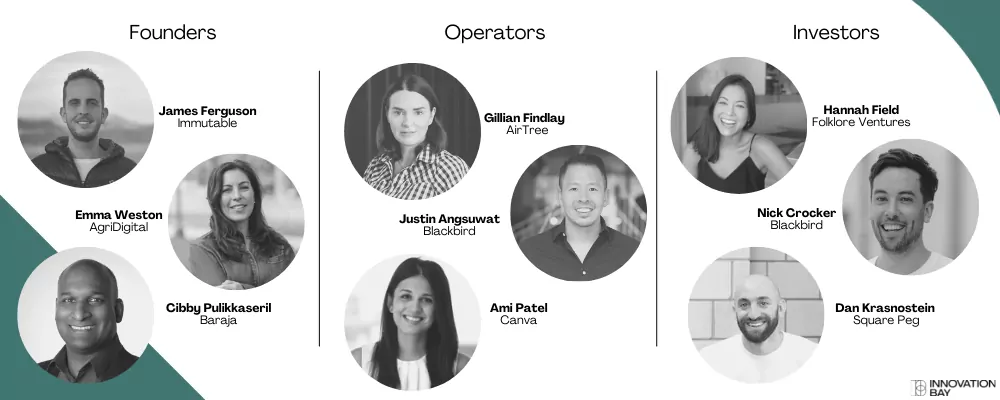 Sometimes as founders, we need a reminder that plenty of startups have successfully managed to scale and build out talented teams; we can learn from their mistakes, successes, experiences, and stories. Our Team Building & Talent Miniseries came to a close with the third and final session; it was an informative three weeks of learning, sharing stories, and invaluable insights from Summit founders, operational experts, and the investor community. Each panel was comprised of passionate members of the startup ecosystem who were keen to share their thoughts and ideas around team building and sourcing talent in startup scaling.
We kicked off the series with Part 1: The Front Line of Scaling. Emma Weston (CEO & Co-Founder @ AgriDigital), James Ferguson (Co-Founder & CEO @ Immutable), and Cibby Pulikkaseril (Founder & CTO @ Baraja) chatted with one another about their experiences in scaling their respective startups. Part 2 of our series focused on how to work with founders to scale, build team and culture. Justin Angsuwat (Chief People Officer @ Blackbird), Gillian Findlay (Operating Partner @ AirTree), & Ami Patel (Talent @ Canva) shared their thoughts around culture with attendees. Our final session featured Nick Crocker (General Partner @ Blackbird Ventures), Hannah Field (Partner @ Folklore Ventures), & Dan Krasnostein (Partner @ Square Peg) discussing how startups can lean on their investors for support with talent.
The advice from panelists sparked interest and questions from attendees, who were given the opportunity to meet with panelists in breakout rooms after the event. Each of our panelists brought a unique hiring mindset to the series, which provided attendees with varied and well-rounded advice.
In case you missed it, we have you covered with key takeaways from the miniseries:
From our panel of founders (and Innovation Bay Summit members)…
Focusing on hiring is one of the most important things a founder can do.
James Ferguson of Immutable believes a focus on hiring is of the utmost importance for a startup. A startup should focus on filling each role with the right person; quality is more important than quantity in hiring. Additionally, organisations should ensure all hires are a cultural fit with the current team. James believes every person you hire is either trending the company toward success or failure.
Hiring should be considered a sales function.
Cibby Pulikkaseril of Baraja considers hiring to primarily be a sales function. He emphasised that founders have to sell the company mission in order to get the best possible team members on board. Startups need to convince potential hires that they have a mission and vision worth investing their time and skills in.
As a founder, learning to hire is crucial.
Cibby and James agree that as a founder, learning to hire is crucial. Cibby emphasised the importance of making mistakes in order to learn in hiring. He believes it is important for the founder to ensure new hires are a fit culturally early on in the process. James encouraged founders to interview every new hire until it is no longer feasible to do so.
From our panel of operators…
Ensure you're hiring the right fit for each role.
Gill Findlay of Airtree emphasised the importance of not only finding the right person, but also the right fit for a particular role. She encouraged founders to provide a great candidate experience and have clear communication with candidates in order to ensure the right hire is chosen. Justin Angsuwat of Blackbird agreed, and noted one bad hire can have a massive ripple effect through the company. He believes that clarity and consistency in the hiring process can help founders ensure they are heading in the right direction in regard to talent.
Be clear with the candidate about the process at each stage.
Organisations should ensure they communicate clearly with candidates throughout the hiring process. Gill encouraged founders to create a positive candidate experience, including providing clarity about the purpose of each interview, information about the format, and a clear timeline. Additionally, Gill believes founders should provide objective feedback to candidates at each stage of the process. It is important that due diligence is done on both sides so that both the company and the candidate can find a good fit.
Hire with company culture and values in mind.
Ami Patel of Canva believes that company values should be at the forefront of every founder's mind when hiring. She encourages founders to use their company values in order to create a list of 3–5 specific criteria that they are looking for in a particular role. The process of hiring itself should also be influenced by the company culture. Gill echoes this sentiment, indicating that a company's culture and values will naturally attract the type of people they want to hire. She believes it is important for founders to define their EVP and mission early on.
From our panel of investors…
It is important to find and retain talented recruiters.
Hannah Field of Folklore emphasised the importance of keeping good recruiters on your team. She considers the ability to hire and build teams a make or break exercise for founders; everything depends on finding and retaining talent. If you are unable to attract talent, all areas of an organisation will suffer. Recruiters are a crucial part of the process; a talented recruiter or recruitment team will help ensure founders are placing a significant emphasis on team building.
Lean on investors for assistance in finding talent.
Nick Crocker of Blackbird used the analogy that investment firms can act as magnets for talent within the startup ecosystem. Often, those looking for their next opportunity will reach out to Blackbird for assistance. Blackbird can then connect these organic inbound candidates to available positions within their portfolio companies. Folklore is a longtime supporter of the Startmate Women Fellowship program, which looks to build a talent pipeline of women who they can then funnel into startups. Additionally, they support Textbook Ventures, which seeks talent from the university level. Dan Krasnostein of Square Peg explains that supporting founders with hiring is fundamental; Square Peg recently built an internal tool in order to source talent and build candidate pools.
Be thoughtful about what you're looking for from Day 1.
Nick emphasises the importance of founders being thoughtful about their employer brand as early in the process as possible. Investment in the employer brand pays huge dividends within an organisation. Nick believes early hires are critical, as they have the power to become beacons within the ecosystem; he encourages founders to be purposeful about early hires.
Explore what is best for your company based on your goals.
While it is inspiring to hear stories and advice from other founders and organisations, Dan believes that there are very few hard and fast rules that founders must follow in order to be successful in team building. Instead, founders should find which elements and ideas work best for their organisational goals, people, and culture. He encourages founders to incorporate pieces of advice that work for their organisation.
---
Keen to hear more? Watch the recordings here: Part 1, Part 2, & Part 3.
Sign up for our newsletter to stay in the know about upcoming events.
This series was presented by Summit, a peer collective for Australia's leading tech founders. Interested in hearing more about our founder communities, Summit and Canopy? Get in touch with Sarah or Gav today:
Sarah Catford, Program Manager, Summit
Contact: [email protected] or linkedin.com/in/sarahcatford
Gav Parry, Program Director, Canopy
Contact: [email protected] or linkedin.com/in/gav-parry