Found At The Summit : Feature #2
Paula Burton, CEO and Co-Founder Mass Dynamics
Found At The Summit is an interview series that peeps into the every day lives of the wonderful Series A+ founders that make up Innovation Bay's Summit community.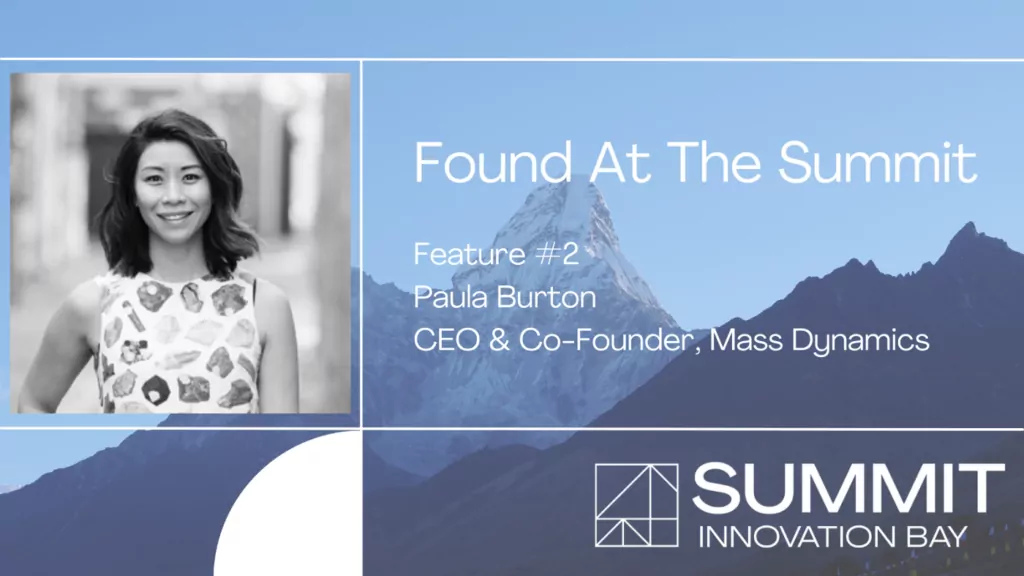 Feature #2 is sees us chat with the Paula Burton, CEO & Co-Founder of Mass Dynamics — a company that helps global life scientists accelerate complex scientific decision-making by integrating modern practices in business, software engineering, computational biology, machine intelligence, biostats, product design and analytical chemistry.
Paula's conviction is undeniable. After a couple of life-changing experiences altered her perspective on life, Paula is driven daily by the Mass Dynamics mission — "free humanity from the burden of disease". Every minute of Paula's day has a purpose; her ambitions and motivations are almost palpable.
Read on to discover what can be Found at the Summit for Paula.
by Innovation Bay's, Sarah Catford
Sign up to the Innovation Bay newsletter for our monthly 'Found at the Summit' series, featuring stories from our CEO and Founder community, Summit.
---
An average day for Paula
I do my best work in the evenings, so I keep the morning clear for phone calls and team meetings, but the day doesn't start till I have my 2 short blacks (no more and no less!). I make sure to spend quality time with my 2 kids before opening my phone and laptop to prepare for the day ahead. This wouldn't be possible without my awesome husband! We have created this epic routine, where he runs the mornings with the kids and I run the, evenings.
Mass Dynamics is set up as a remote team, so at 9.30am we religiously hold a team stand up, check-in to ensure there are no roadblocks so we can move forward productively with the day.
Right now we are capital raising so my days are a little different than usual. Otherwise, a typical day would be all about strategy, workshops and communicating with all stakeholders — customers, team members, investors, partners and our broader community.
Childhood Dream
I loved sports as a kid. I played softball up until my 20s, and my dream was to represent Australia at the Olympics. I came so close! I made a couple of Australian squads and trained at the Australian Institute of Sports. It was an incredible experience and quite transformative in that I learned how to communicate and motivate a team to drive towards a common goal — using both physicality and the mind. Without knowing that I would start my own company back then, it really helped set me up to lead Mass Dynamics today.
I also loved puzzles! My mum would always bring home a new puzzle from the library so it seems inevitable that I would do something in my career that involved creativity and problem solving.
A key moment that changed the course of life
"There are things worth fighting for, and it's life".
Having my first child was transformational in all of the best ways. It gave me so much perspective, and I decided that every single minute of every single hour in my day needed to go somewhere it can be fully realised. I was ready to do something that was impactful and I wanted to do it to its greatest potential.
Maternity leave gave me the time and flexibility to think. I am really grateful for it, as it allowed space to form a new perspective that started to fuel the fire for Mass Dynamics. There was now something beyond me that was worth fighting for and leaving a legacy for, which was my child.
The second moment that changed me forever is one of my biggest inspirations to date. A friend's two year old daughter, Ava, was diagnosed with a childhood cancer known as Neuroblastoma and needed care (only available via a clinical trial in New York) that would cost $350,000, all up. We rallied incredibly hard to raise the funds she needed to get that treatment. And we did it, we raised the full amount!
In that moment I realised two things; that life is too short to not use your super powers for good, and I could raise money. This is what sparked my inner drive and belief to start raising capital for Mass Dynamics. Within the next month, we had two angels believe in what myself, Andrew, Giuseppe and Aaron were trying to do and invested in the company. Things have steam-rolled from there, and importantly Ava is also healthy and well now.
Daily success habits
I try to create space between work and my personal life. It's not always easy working from home. Here are a few things that personally set me up for success:
I don't touch my phone in the morning until after I have spent time with the kids and am ready for the day. I have the same principle for the end of the day. I am mindful and intentional about the time I spend with my family before they go to bed. The phone often stays in the office but after the kid's bath, books, and bed it's game on with getting back on the tools as that's when the rest of the world is awake!
I have two short blacks every morning — without fail.
I build incidental exercise into my day, taking 1:1 calls and meetings while pounding the pavement!
My best work is done after the kids have gone to bed and when I am away from the keyboard, so I leave my creative, strategic and visionary thinking until then.
What inspires you / keeps you going
The Mass Dynamics mission, "free humanity from the burden of disease". Every day I wake up and bring together the people we need to achieve this mission. I see more and more people around me who are ageing faster due to illness. We should be ageing with good health.
If I ever have a moment of doubt about what to do next, I often ask myself "What would Beyonce do?" and that always leads me to the answer of pushing out of any comfort zone and doing whatever is needed — regardless of the risk of failing or being uncomfortable. I want my little girl Kit to feel the same!
Who do you look up to and why?
People who are doing things differently, who are brave and noble in their endeavors. Business leaders like Mel and Cliff at Canva, through their philanthropy. It's simply next-level what they're doing, making waves through their business and doing good at the same time. I look up to people who are brave enough to throw their power at things that matter. I also look up to anyone taking a risk and trying to give something new a crack.
Do you want to leave a legacy?
YES. Everyday. I want to instil the values that I hold in my kids. That's why I always try to engage my kids in what mum and dad do, why it's important that we both get the opportunity to work and contribute to the world. I also bring these values into the business world. We have open dialogue and encourage people to share when they are taking time off to be with their family. We want to normalise dads taking time out to do things that are traditionally seen as roles of the mum. This is one of the ways we are going to get to being a more balanced workforce. As Annabel Crabb famously quotes "If we are serious about equality, stop worrying about women's ease of access to the workplace and start worrying more about men's ease of egress from it. Women have trouble asking for pay rises and men have trouble asking for time off".
Mindful content consumption
Short form
I love the candid nature of Twitter
Blog posts and forums — shows human connectivity with people tempering the argument back and forth. I enjoy watching this unfold.
Podcasts — anything related to biotech and the startup and product world
Long-form
Scientific papers — I am not a scientist, however what I am looking for is getting into the minds of scientists, how they think, how they communicate and what is important to them
Books and audiobooks — I often find myself coming back to them a couple of years later and they relate differently.
What's at the Summit?
To be the best mum, wife, friend, business partner, CEO I can be while fiercely upholding my values of kindness, empowering others, integrity and creating shared value.
I exist every day for that end goal, freeing humanity from the burden of disease. I think every day, 'how can I contribute my super power, and what is the most important thing I should be doing right now?' Mass Dynamics brings together the best people to create a platform for life scientists to succeed. In the spirit of creating shared value, I see the human platform we are creating for peoples with so many different skillsets to apply their mastery and their own platforms and networks to achieve their own life mission. If I can see the application of my hours over a lifetime go into creating a platform that others can create value and happiness from, I will be very happy.
–
Connect with Paula
Hear from Paula at the Pearcy Foundation conference: HERE
A piece by Paula on cognitive diversity: HERE