Preacta Partners with Innovation Bay's Founder Communities
Introducing Derek Macartney, CEO and Founder of Preacta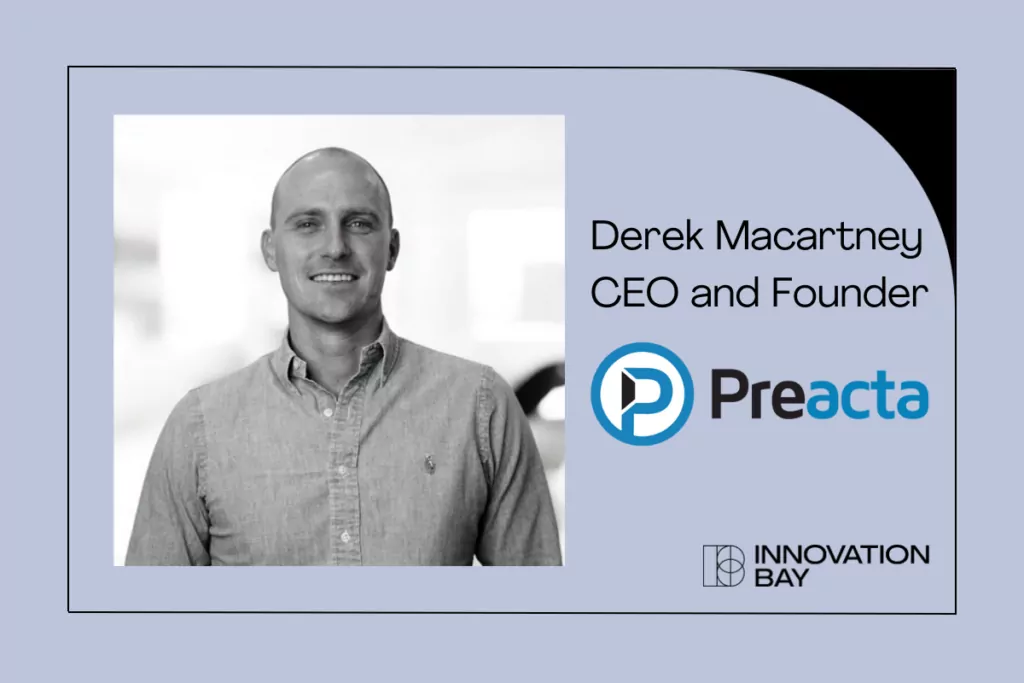 We're thrilled to announce our founder communities have forged a partnership with talent and recruitment visionaries, Preacta. Preacta; derived from the ability to pre-empt and act, ahead of the game.
For 10 years Preacta has been scaling tier-1 Tech companies such as Atlassian, REA Group, Carsales, Typeform, and Miro, across APAC, Europe, LATAM, and the USA, through a range of talent solutions. Determined to set a new benchmark in talent, Preacta is driven to help companies scale in a sustainable and ethical way. They play upstream to solve future problems that you are not even aware you have yet.
Preacta applies global best practice thinking into emerging start-ups and scale-ups, working to ensure their talent strategy is established and future-ready for the complexities of scale as early as possible. Preacta have helped their partners undo dysfunction and build excellence through their Talent Intelligence-led approach. Removing hearsay and flippant advice, they bring data and empirical evidence to the heart of talent decision-making, and ensure their clients are achieving hiring success with your strategy as early as possible.
We sat down with Derek Macartney, Preacta's CEO and Founder, to learn a little more about how Preacta can solve for the Innovation Bay founder communities and vastly beyond.
Derek, tell us a little about your role…
As the Founder of Preacta, I am privileged to lead a team of some of the best talent and recruiting consultants in the world. We get to solve the most complex hiring challenges, as well as build and execute incredible Talent Strategies for awesome companies. My vision is to create the leading management consultancy for Talent in the world, whereby we can shift the needle in how our work can have transformative impact on our ecosystem of clients and industry. I truly believe Talent Intelligence is the differentiator between how companies scaled for the past 20 years to how they can scale more efficiently in the future as the tech talent market becomes under-supplied. I get to bring this to life through my amazing team and clients each day!
What can the IB founder community come to you for?
The IB members can come to Preacta for advice or an expert ear on everything talent related. We're here both informally and formally for recruitment and hiring needs, technology advice, process, optimisation, strategy definition and workforce planning / strategic hiring advice. Any talent, people, and operations questions, you can come and bounce with us. We also have an ecosystem of trusted partners we can introduce you to if your need is outside our scope of expertise.
Why is supporting the Innovation Bay founder community important to Preacta?
As an Australian company we want to support emerging Australian organisations in developing their people strategies early on, providing the framework for scale.
Often you'll find that the "people" and "talent" side of a start-up or scale-up is a real struggle for entrepreneurs. They'll frequently come from a commercial or tech background rather than HR, People, or Talent. People, culture and talent are the keys to the puzzle in many ways. By providing free consultation advice and support at the early stages of growth, we hope to clear up the fog surrounding people & talent, giving the founders the opportunity to leverage our expertise to flourish.
Learn more about our Founder Communities HERE.
---
More Innovation Bay content
Join the Innovation Bay community
INNOVATION BAY NEWSletter
Stay up to date
Sign up for monthly updates including exclusive interviews, pitch dates, event announcements, profile, news and much more.